Prosecutors on Thursday charged Chamber of Deputies speaker Eduardo Cunha (pictured) with taking $5 million (about 4.45 million euro) in bribes related to contracts for two drilling ships.
"I will continue to perform (the duties) that I was elected to do by a majority of the chamber. I am completely at peace with that," Cunha said, maintaining his innocence.
Senator Fernando Collor de Mello, who served in the early 1990s as Brazil's first directly elected president following years of military rule before he later resigned amid another corruption scandal, also had charges filed against him. The details of those were not made public because the investigation was ongoing.
Both of the men have refuted the charges. Under Brazilian law, charges against such high-ranking officials can only be filed and tried at the country's highest court, the Supreme Court.
According to prosecutors the Petrobras scheme involved huge bribes being paid to politically appointed state-run oil company executives, in exchange for inflated contracts. The scandal ran for more than a decade and the investigation, dubbed "Operation Car Wash", has netted several of Brazil's elite. Cunha is the first sitting politician to be charged in the scandal.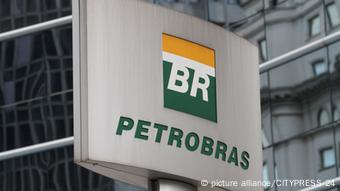 The probe into corruption at state-run oil company Petrobras has netted several high-ranking figures
Impact on the president
Brazil's President Dilma Rousseff had served as chairwoman of the Petrobras board during the time when the alleged corruption scheme was underway – though she herself has not been accused of wrongdoing. Nevertheless, Rousseff is currently facing rock-bottom approval ratings due to an economic downturn as well as the scandal surrounding Petrobras. This week she has hosted a German government delegation, including Chancellor Angela Merkel.
Analysts on Thursday offered several interpretations of how the charges could impact Rousseff, her governing coalition and her Workers' Party, which itself has had several members arrested in relation to the scandal.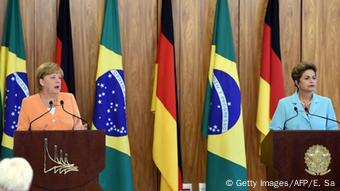 Brazil's embattled president (right) has been hosting Germany's chancellor this week
Cunha, a member of the Democratic Movement Party, has been a key figure in the country's current political crisis, opposing Rousseff's attempts to impose austerity measures to revive the country's struggling economy. He has been among those trying to get her impeached.
David Fleischer, a political science professor at the University of Brasilia, told the Associated Press news agency he thought Cunha would now go after Rousseff with more "passion and hatred" than before.
"The consequences of this may be dire and produce a worse situation for Dilma ... he will vent his anger toward Dilma and spare no effort to get her impeached," Fleischer said.
se/lw (AP, Reuters, AFP, dpa)