"We continue working for all Peruvians," the 78-year-old said. "We want all Peruvians, those from the High-Andean Plateau, the jungle, the Andes and coast to have clean water at home. We also want drains not to pollute," he expressed.
Kuczynski made the announcement on Friday during a visit to the lake, the highest navigable lake in the world, spanning a length of 190km and width of 80km.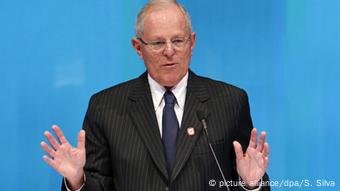 Peruvian President Pedro Pablo Kuczynski
Kuczynski said the plants that will be built on rivers emptying into the lake will cost $437 million. He stressed that ultimately the project would directly benefit over one million people and their well-being.
The rapid expansion of towns and factories near the lake has contributed to runoff that has turned once-crystal azure waters a murky green and destroyed the livelihood of thousands of fishermen.
Each year, some 750,000 tourists visit the 12,470-foot-high (3,800 meter-high) lake.
Along the shores of the lake that lies on the border of Bolivia and Peru, the water has a weird foam layeron the surface.
Besides contamination, the lake might have another problem to face. In November 2015, neighbouring Lake Poopo in Bolivia dried out.
jbh/kl (AP, EFE)