German copyright rules require anyone who copies sheet music pay fees to Germany's music licensing agency, GEMA. The organization has begun notifying kindergartens and other preschool facilities that if they reproduce music to be sung or performed, they must pay for a license.
"If a preschool wants to make its own copy of certain music - if the words of a song or the musical score is copied - then they need to buy a license," GEMA spokesperson Peter Hempel told Deutsche Welle.
The rules have been in place for 25 years, but they have only recently drawn attention. GEMA began at the beginning of 2010 to send out reminders to daycare centers stressing that they need to sign contracts before making copies of sheet music for the children to sing from.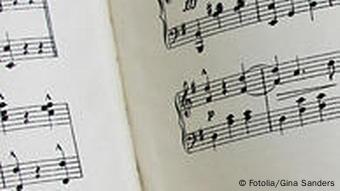 If copies of music are made, the fee needs to be paid
GEMA said that the need for licenses would not have any effect on singing in kindergartens.
"It doesn't cost anything to sing in kindergartens," said Peter Hempel. "If a kindergarten or school does not make any copies of music, then of course they don't need to pay anything."
Traditional songs are copyright-free
The copyright rules only concern the rights for modern songs. Songs written by an author who has been dead for over 70 years are automatically in the public domain.
"For old songs, for traditional folk songs for example, it costs nothing," said Hempel.
Fees start at 56 euros ($74) for 500 copies of a song, a rate charged annually, not per child.
GEMA - the German abbreviation stands for the Society for Musical Performing and Mechanical Reproduction Rights - exists to make sure that the intellectual property of musicians is protected. It is the collection agent for another group, VG MusikEdition, which monitors copyright for musicians and distributes the profits from the licensing fees back to its members.
Author: Catherine Bolsover
Editor: Nancy Isenson