Khodorkovsky has been found guilty of stealing 218 tons of oil he owned as head of the Yukos oil company and of embezzling the proceeds. The oil magnate, a vocal critic of the policies of then-Russian President Vladimir Putin, was first tried for tax evasion in 2003. Since then, he has been in a Siberian prison, and the trial led to the breakup of his multimillion-euro oil concern. The EU has called on Russia to respect international rights in its sentencing which is expected in the next few days.
The Moscow prosecutor's office is seeking a further six-year sentence - which observers note would keep the Putin political rival locked up beyond the next presidential elections, in 2012.
A number of human-rights activists say the real reason Khodorkovsky was tried a second time is because he dared to openly criticize Putin, as well as actively support opposition candidates.
Constant media presence
Khodorkovsky's lawyer, Juri Schmidt, says the trial was the Kremlin's way of dealing with its fear of the public response to a vocal critic.
"Khodorkovsky …is more present in the press than ever. I think this fear is one of the main reasons that the trial against Khodorkovsky and (Platon) Lebedev is even being held," Schmidt said.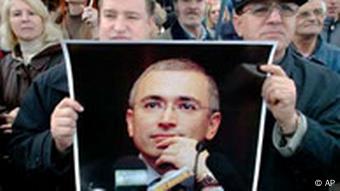 Regular marches to free Khodorkovsky are held in Moscow
His omnipresence in the media has made Khodorkovsky a symbolic hero for the Russian opposition, as well as for human-rights activists, Schmidt added.
"The government didn't expect such an enormous resonance among the public. The apparently restrained reaction to the first verdict made them think that it would be the same in a second trial. But they made an error," Schmidt said. "Opinion polls show that society is increasingly looking up to Khodorkovsky. This only serves to make the government more afraid."
Khodorkovsky overstepped limits, Kremlin supporters say
Political scientist Vyacheslav Nikonov, known for his close ties to the Kremlin, disputes the notion that Moscow is afraid of Khodorkovsky.
"The Russian government isn't afraid of any oligarch, whether he is banned or active. The state has many more ways to pressure an oligarch than the other way around," Nikonov said.
"The Kremlin's image won't suffer measurably from the Khodorkovsky trial, and Khodorkovsky has little influence on political power at the moment."
According to Nikonov, Moscow pursued this trial for the nation's best interest alone. The oil magnate was arrested not because he started any election campaigns, but because he had "bought the control of meaningful committees" in Russia's parliament.
"Without his say-so, even the Finance Ministry couldn't complete certain operations. And when a person like that starts to attack the state, by not paying taxes - that goes well beyond the limits of what is allowed," Nikonov said.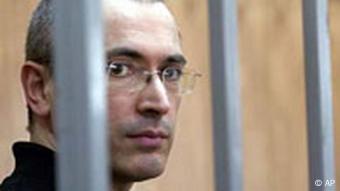 Khodorkovsky could spend six more years behind bars
But the president of the Moscow-based research institute Panorama says he thinks other motivations are in play in Moscow's decision to prosecute Khodorkovsky a second time.
"If he's free, Khodorkovsky could start legal proceedings against those who stripped him of his business - namely, Putin and his then-deputy Igor Sechin," said Vladimir Pribilovsky. "Besides, they are afraid that a free Khodorkovsky would unite and lead an opposition."
Another Khodorkovsky lawyer, Vadim Klyuvgant, said the government did everything it could to see that a "guilty" verdict was handed down.
The trial was anything but fair, he said: "It is all fabrication - simply fabrication from start to finish. From the first word to the last, written or spoken. It is all just made up with a single goal: vengeance."
Westerwelle weighs in
Western leaders, including German Foreign Minister Guido Westerwelle, have been keeping an intense eye on the trial. The German minister made known his concerns about the conditions of the trial when he visited Moscow in early November.
He told his Russian counterpart Sergei Lavrov that Russia needs to take the West's concerns seriously. Lavrov replied by stressing the independent nature of Russia's justice system.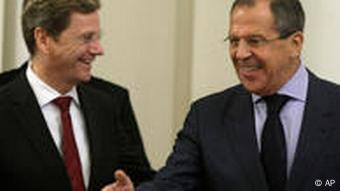 Westerwelle (left) let Russia's Lavrov know the West is watching
In fact, a Russian court can freely decide on a verdict - but it needs to have the right information to decide with, said Oleg Orlov, chairman of the board of Memorial, a center for human rights. He and other trial watchers believe the court was putting too much pressure on the judges to deliver a fair verdict.
"The judge ... is in a very difficult position. I can't imagine how a justice with any self respect can give a guilty verdict under these conditions. But in today's Russia, everything is possible," Orlov said.
The defense started hearing closing arguments on 27 October. Khodorkovsky took the chance to speak, and he talked for three hours. In the end he didn't ask the court for mercy, but he asked them to keep an open mind.
Likely outcome: six more years
Speaking with irony, he asked the court to honor the prosecutor's enormous efforts at fabricating a case against him, saying: "Honorable court, I agree that a not-guilty verdict would be almost a utopian outcome. … The prosecution has done everything in its power to see that the court has no legitimate chance to declare me not guilty. You should respect these efforts, because next time, the prosecution can just spit on an empty sheet of paper, put a rubber stamp on it, and demand 14 years of prison. It would amount to the same thing."
Observers say that Khodorkovsky will likely be sentenced to six more years in a Siberian prison camp - in which case he wouldn't see freedom until 2017.
Khodorkovsky's father, 78 year old Boris Khodorkovsky, said he fears he will never see his son again.
"I'm old, and am afraid that after this trial, I won't see him again, if he is sent to Siberia. I can't fly anymore, because I have bad eyesight. I don't know what I would do," the elder Khodorkovsky said.
If he is convicted, Khodorkovsky said he would take the case to the European Court of Human Rights in Strasbourg.
Author: Jegor Winogradow (jen), (AFP,AP, dpa)
Editor: Rob Mudge