Before the September 2013 attack, Westgate shopping center was seen as a totem of Kenya's rising middle-class, but that image and the building itself were badly damaged when four al-Shabab gunmen stormed the mall, tossing grenades and shooting shoppers and staff.
Atul Shah, the Director of Nakumatt, the leading supermarket in Kenya, told DW their business suffered massive losses. But after undergoing renovations, Shah said he is optimistic that Westgate's Nakumatt branch will once again emerge as a premier shopping mall in Nairobi.
"We are ready as Nakumatt. Westgate is of course ready. It is a new beginning for Westgate. It is a new dawn," Shah said. The businessman of Indian descent said they were hoping to stabilize and "to fully land back on our feet ".
A number of major Western brands, which include the fast food chains, Subway and KFC will start doing business in Westgate. Converse, a company known for producing shoes is also on board.
Safest mall in the world?
Alex Trachtenberg, one of the shareholders of Westgate mall said security measures had been put in place before it re-opens on Saturday (18.07.2015). "We have complied with the international anti-terrorism unit who have recommended what to do and what to enhance, so we are working together closely with them," Trachtenberg said.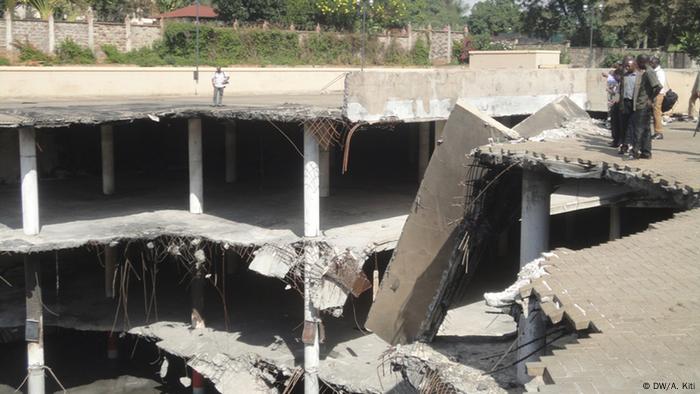 Badly destroyed Westgate car park is reportedly not yet open to the public
A private Israeli security firm known as I.R.G, will be incharge of security at the re-opened Westgate mall. It boasts 25 specialist staff supported by about 55 guards from the G4S security firm.
According to Cohen, one of the I.R.G employees who did not wish to be identified by his full name, new security features will include explosive detectors, luggage X-rays, scanners to check underneath cars, bollards to prevent car bombs, and bullet-proof guard towers. "This will be the safest mall in the world," Cohen said.
Kenyans not prepared for attacks
Agina Ojwang, a Kenyan analyst told DW in an interview that Westgate's security situation is more pronounced and much more visible than any other shopping mall in the country. But Ojwang said the people who frequent these malls have not been given any guidance on how to react when there is an attack. "It is most likely that if there is one [attack], the same mistakes which were made will be repeated all over again. " Ojwang said there is need for the populace to be taught on how to shield themselves from any potential shootings or explosions. "
Despite the security improvements at Westgate, Mill Dodia, a businessman who lives nearby, told DW he was still not impressed. "I always go there over the weekend but the security is not good," Dodia said. "Many changes have to be made," he added without elaborating.
Johnson Mwangi, a teacher who also lives close to the mall is of the opinion that although the place is ready for re-opening, the authorities should make the security of both the clients and workers a top priority. "They should delay it a bit. I think they should check on security. So many people lost their lives," Mwangi said.
John Njenga, a florist operating near Westgate said the attack on the shopping center had diminished the fame and popularity of it. He said it now required heightened security if it is to regain its past glory. "Definitely, it will not be the same. They [authorities] don't seem [to be] concerned about the security".
Symbol of national resilience
While taking reporters on a tour before the re-opening, Evans Kidero, the Nairobi governor, described the Westgate attacks as "one of the saddest days in Kenyan history" but praised the mall's re-opening as a triumph of national resilience in the face of militant attacks. "They killed... our friends and relatives, but they did not kill our spirit," Kidero said.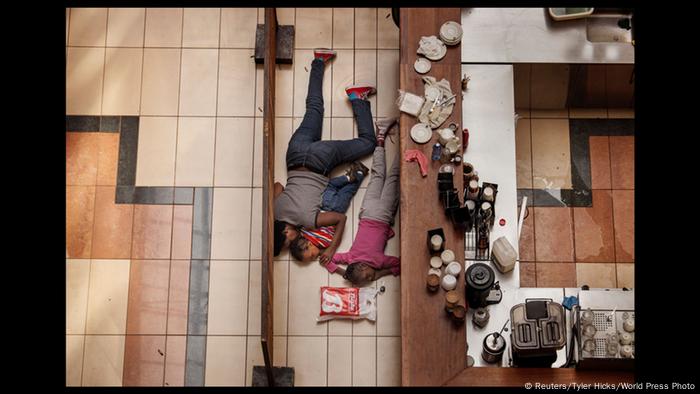 This image of a mother and children who played dead during the Westgate attack went viral
Paul Macharia, a regular shopper told DW he would continue shopping at the mall. Several young Kenyans have been lining up in front of the mall hoping to get a job. Rosemary Muthoni, a 28-year-old who was among the job-seekers admitted that she was worried about security. "But then you have to take a chance to survive," Muthoni said.
Over the last two years, more than 400 people have died in Kenya as a result of al-Shabab attacks. In one of the worst attacks, 148 people, most of them students, were killed in Garissa University by Islamist gunmen in April. The US has warned of more attacks ahead of President Obama's visit.
James Shimanyula contributed to this article