At a recent business summit in Berlin, Kenyan President Uhuru Kenyatta called upon German investors and industrialists to invest in his country because of the conducive and vibrant business atmosphere.
"Kenya is an economy that does depend on extractive industries. We have been a manufacturing center for east and central Africa," Uhuru told delegates.
"Our workforce is skilled, productive and very experienced. We acknowledge there are areas where we are weak, but I want to assure you that Kenyans are very quick learners," he said.
Currently, Africa only accounts for two percent of German foreign trade, compared to Turkey whose trade with Africa stands at 8.7 percent - the highest in Europe.
While many German investors have been reluctant to do business with Africa, there are a few who have taken the leap. B. Braun Melsungen, a medical and pharmaceutical company, has been operating in Africa for the last 25 years. Its annual sales in Africa are worth 100 million Euros ($1.14 million) - half of that in South Africa. Its CEO, Heinz Walter Große, said the company is hoping to expand further.
"So far we have a small manufacturing unit in South Africa and if we want to increase our sales in Africa we need to establish more manufacturing units, we also need to create employment in Africa," he told DW.
"Right now we are evaluating how to establish such a unit in Kenya, and we are looking at what other medical products we can manufacture locally and also what we intend to sell in the African market," Große said.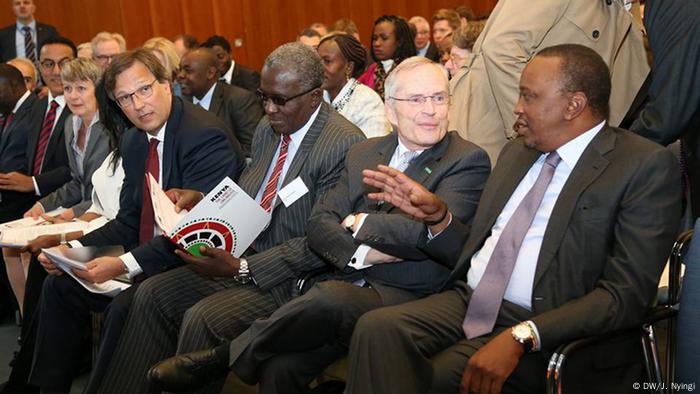 Kenyan President Uhuru Kenyatta talked to German business community during his recent visit in Berlin
Close partnership amid fears
Chris Kirubi, a leading industrialist who was among the 40 Kenyan investors who accompanied the president, has partnered with various German companies that are already investing in the Kenyan market.
"We need to get the German business people investing in our country because we buy a lot of products from Germany. Therefore we would like some of this thing [pharmaceutical plant] relocated in Kenya so that they can partner with us and produce there."
Presently 85 German companies are investing in Kenya and export products worth 422 million euros annually ($480 million). The products range from solar and wind technology to machinery, chemicals, pharmaceutical products and motor vehicles - while Kenya exports flowers, tea, coffee and vegetables to Germany.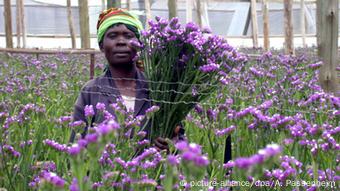 Flowers are one of the Kenyan exports to Germany
The Nairobi-based Delegation of German Industry and Commerce in Kenya helps to guide German and Kenyan companies through their counterparts' business landscapes.
"We also organize business delegation to both sides, we are active in the field of vocational training and all kind of practical things that German or Kenyan businessmen need," Maren Diale Schellschmidt, the Delegation's country director, told DW. The Delegation helps investors develop business contacts and seek out lucrative emerging businesses in Kenya as well as identify potential partners.
Pharmaceuticals CEO Große says African leaders can also help by creating a more conducive business environment if they expect more investment from Germany.
"In Africa there issues of infrastructure, energy but also of course corruption. As a German company and privately owned we have zero tolerance on corruption. It may not be easy but it's acceptable and someone can be successful," Große explained.
Currently Germany mainly uses Kenya as a traditional raw material exporter. But Kenyan investors are pushing for a more equal partnership that would enable both economies to grow.