Kenya's Chief Veterinary Officer Juma Ngeiywa told DW that a newly-imposed ban of poultry products from Uganda would remain in place until the situation in Uganda returns returns to normal.
"It is risky to us. We have to ban the movement of poultry products and birds from Uganda," he said.
Kenyan authorities have also taken further measures to protect the population.
"We are involving the Kenya Wildlife Service and the counties along the border. We are using local radio to talk to the people about the imminent risks," Ngweiya added.
Rwanda's Agriculture Minister Geraldine Mukeshimana announced a similar ban on Monday. It does not only apply to poultry products from Uganda but from all countries in Europe where bird flu has been detected.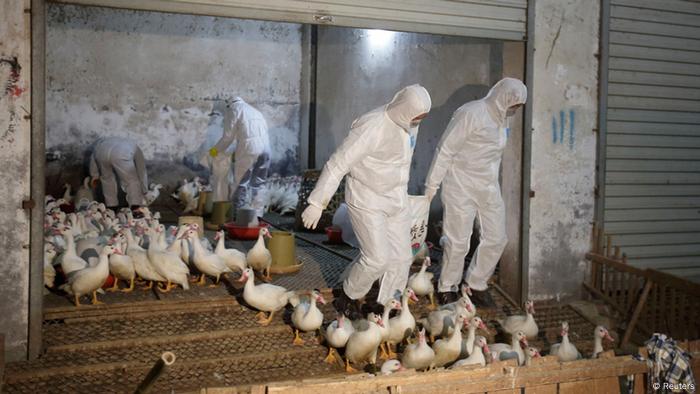 Cases of bird flu have been on the rise since last year
The authorities are urging people not to eat birds and other wild animals that are found dead.
The United Kingdom and the United States are among countries that have advised citizens travelling to Uganda to avoid visiting areas affected by the virus.
Die-off on Lake Victoria
The first suspected cases of bird flu were discovered early this year after fishermen reported mass die-off of wild birds on the shores of Lake Victoria.
The birds were found in a wetland near Entebbe which attracts bird watchers from all over the world. The town lies some 40 kilometers (30 miles) southwest of Uganda's capital Kampala.
Over the weekend, the virus was also discovered in domestic ducks in the town of Masaka in western Uganda.
Samples from the two sites tested positive for HPAI. According to the World Health Organization, some strains of the virus can also spread to humans and cause severe respiratory infections. The flu can be particularly dangerous for young children.
Uganda's agriculture ministry warned that the HPAI vius can affect both humans and animals and could "cause a high number of deaths in both species."
"The symptoms can be sometimes mild but can also be lethal when the disease affects the organs, such as the lungs and the kidneys," the Ugandan health mininistry's Anthony Mbonye said. But he added that the risk of transmissions from birds to humans was low.
Global problem
Bird flu has been rampant worldwide since last year. The H5N8 strain of the virus has been spreading through poultry farms in some parts of Europe, including France and Germany.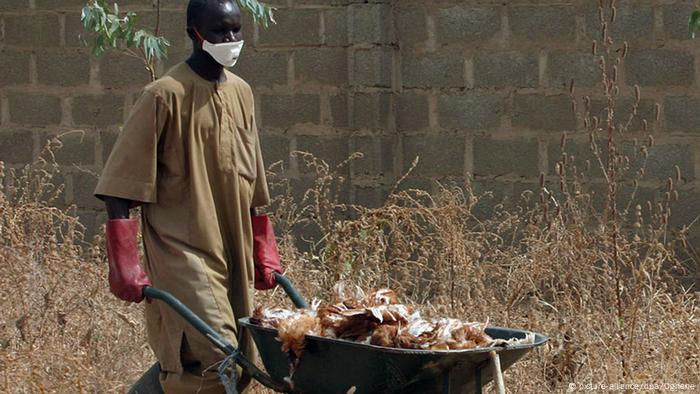 Poultry traders and farmers suffered huge losses after a bird flu outbreak in Nigeria in 2006
In Asia, it has been detected in South Korea and in some parts of China. A man in central Henan Province was the latest casualty of the deadly H7N9 virus. He was diagnosed on January 10 and died the following day.
Uganda is among the countries in sub-Saharan Africa that face a high risk of a bird flu outbreak. Several species of migratory birds that are potential carriers of the virus regularly crisscross the country.