A wave of bombings, shootings and hand grenade attacks blamed on Somali militants has prompted Kenya to order all refugees and asylum seekers to report to two camps, thereby preventing them from living in towns.
The Department of Refugees' Affairs said Kenya hosts 700,000 refugees from Somalia, South Sudan, the Democratic Republic of Congo and six other countries, who were causing "rampant insecurity."
"Many people have been killed and several more injured with grenade attacks on our streets, churches, buses and in business places," the department said, adding that the government "had decided to put in place a strict encampment policy."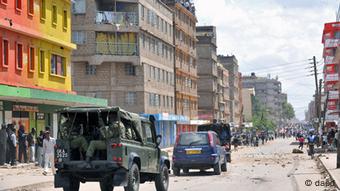 Kenyan police on patrol in Eastleigh after a bomb attack on a minibus
UN refugee agency in consultations with Kenyan government
According to the spokesman for the UN refugee agency (UNHCR) in Nairobi, Emmanuel Nyabera, around 60,000 people will be affected by the new directive.
Nyabera told DW's Africalink radio show the agency was having consultations with the government. "We are trying to work together with them to see how we can address the security concerns of the government but also protect the interests, the lives of refugees," he said.
All refugees from neighboring Somalia will be forced to live in the overcrowded Dadaab refugee camp, which the UNHCR says now hosts more than 500,000 people. Most are Somalis who fled violence and drought after more than two decades of civil war.
Refugees from other countries would have to reside at Kakuma, a camp located near Kenya's frontier with South Sudan, now housing 150,000 people.
In the past, those who could support themselves or who were in need of specialized education or medical care were allowed to live in urban areas.
Grenade attack
Tensions have risen in the past two months in Eastleigh, a part of the Nairobi community dubbed "Little Mogadishu" because of its large Somali population. In November, street battles erupted between Kenyans and ethnic Somalis in the area after a bomb attack on a minibus killed seven people.
More recently, one person was injured in a grenade attack on Sunday (16.12.2012), just days after two separate strikes hit Eastleigh last week.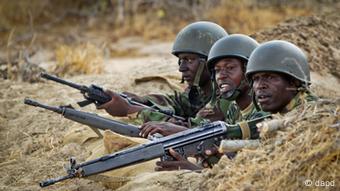 Kenyan army troops in a dugout in Tabda, Somalia
But there have been complaints that the police were arbitrarily arresting people of Kenyan origin. Wasai Masitsa, a lawyer working with an organization that provides legal aid for refugees in Eastleigh, says "the government has not been able to establish a very credible nexus between the presence of refugees in the city and insecurity."
Kenyan support for AMISOM
In Somalia, the leader of the al-Shabab Islamist militia, Ahmed Abdi Godane, has called for more attacks against Kenya and Ethiopia.
The two countries have supplied troops to back the nascent Somali government and the African Union peacekeeping force, known as AMISOM, which has captured towns from the Islamist militia.
However, al-Shabab still controls swathes of territory in the south of Somalia and is capable of bombing targets in the capital Mogadishu.
Refugee encampment is not new to Kenya. In a report for the UN's Global Commission on International Migration published in 2005, Elizabeth H Campbell from Binghamton University, New York, observed that the policy emerged in the East African country after the influx of refugees in the early 1990s, which peaked at over 400,000 in 1992. Kenya had agreed to accept refugees "but insisted that they all must reside in designated camps far from urban centres."