Christian Thielemann is one of the most sought-after conductors of our time. Next year he will be taking up a position as chief conductor of the Sächsische Staatskapelle Dresden, which is at home in the city's Semperoper. The opera house is currently hosting an exhibition titled Silenced Voices, which examines the impact of Nazi "cleansing" policies on Germany's opera houses and theaters.
This year, Thielemann bids adieu to Munich, where he has been general music director of the Philharmonic since 2004. He is musical advisor at the annual Bayreuth Festival and performs regularly at the Salzburg Festival; both events are currently underway and run through August. The conductor also makes regular appearances in Vienna, among other places.
Deutsche Welle: One of the things that the Silenced Voices exhibition in Dresden showed was that the Nazi period marked the end of an era at the Semperoper. There has not been a comparable period of such creativity and inventiveness since then. Semperoper Director Ulrike Hessler told me she's hoping your coming to Dresden might be the beginning of a similar era.
Christian Thielemann: That's very kind. I will do my best. It had to do with the fact that [Dresden] was in the East. And in the East, even good theater was cut off from the international life. The house was destroyed. They had to play in other places, which were not very practical for opera playing. And now we got this wonderful house back, and we hope that something wonderful will begin. You know if you take over a position like that you have to be very sensitive. You cannot say, "Here I am, and I'll just change everything."
The [Semperoper] orchestra is one of the distinct orchestras in the world which has preserved an original sound of its own. In our time it happens unfortunately very often that orchestras are not as different [from each other] as they used to be. It probably has to do with losing a little of what one calls in German the Heimatgefühl - the feeling for the place you live - because everything is so international. It is very good to be very international. On the other hand, it's like food, you know. Like regional food, which is so wonderful, and regional wines.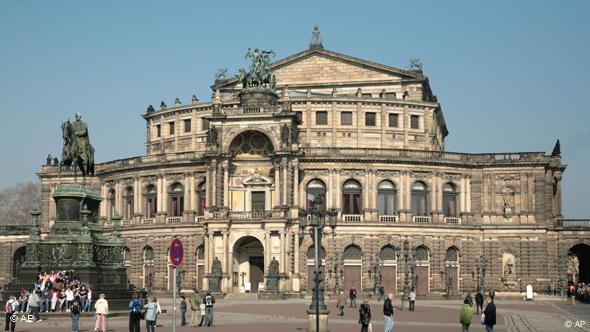 In Dresden, Thielemann steps into a long-standing musical tradition
How do you feel you get on with the orchestra?
I felt immediately at home in Dresden. The first time I came to Dresden was in 2003. I thought, oh my god, this is my Bayreuth Festival Orchestra! I found out 35 people from the Dresden Staatskapelle were playing in the Bayreuth Festival Orchestra. They will teach me a lot. You give them something, and they give you something. This is collaboration.
Can you give an example of something you've learned from the orchestra?
For example, a great flexibility. And I feel that when they play certain things by Strauss or Wagner, they are so experienced. They play a certain way: a certain softness of the tone, or they don't play a harsh forte or fortissimo. And they say, "No, it's not necessary, because of the acoustic here." And so I feel they teach me to listen to them - if it is repertoire they know very well, I mean.
What differences do you find between the Dresden Staatskapelle and the Vienna Philharmonic?
These two orchestras have the same parents. A good orchestra, like Vienna and like Dresden, they listen to the tenor and even if the conductor conducts with very big gestures or whatever, they know what to do. And then there's another thing: the sound. The sound also comes from this - if you look on the map, this is one musicians' nest. Saxony, Bohemia and Austria.
Some of my players in my Dresden Staatskapelle said something like, "You know, many of us, we have a Bohemian grandmother." And two weeks later one of the orchestra members told me the same thing and I said, "I've heard that before!" One has this kind of Bohemian musicianship, a music-making-feeling of how one is from a certain mentality.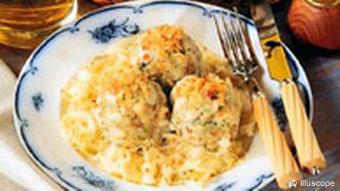 Knödel have regional flavor - like an orchestra
This is the same culture, and you see it in the food. Do you know what a Knödel is?
Yes, of course.
This you eat in Saxony, you eat in Austria and you eat in Bohemia. You don't eat that in Northern Germany. You eat that in Bavaria, probably. But at a certain point, the food changes.
Of course you are well known for your interpretations of music from Germany.
I made my career with it, that's for sure. But in my six positions, I have tried to be very open for every kind of music.
When we go on tour, what we have to bring to people is that they get the impression this orchestra is performing these pieces for the first time and they have this tradition inside them, even if they now have young players in the orchestra. People want, I think, something original, something really special, something which is not possible everywhere.
American orchestras in the 50s and 60s were European orchestras because of all the immigrants. Half of them were from Berlin, Vienna, Prague, Warsaw - the musicians from everywhere in Europe, mostly Jewish, who had to leave and brought this enormous knowledge of music-making to these orchestras. Probably they had already played together in Dresden or Vienna, and later they sat in Philadelphia and New York. Obviously these orchestras played very European-like, and they had European conductors.
Interview: Raphael Mostel
Editor: Kate Bowen