Mohammed Khan, vice president of Afghanistan's Chief Executive, Abdullah Abdullah, said the deal between the Hezb-i-Islami and the High Peace Council (pictured above) came "at a critical time." A journalist from Afghan news channel Tolo News tweeted the event.
The 25-point agreement included amnesty for members of the outfit, including those in prison and recognizing the organization as a political party. The council also promised to try and remove Hekmatyar's name from a UN terrorist blacklist. In return, the group would end its war against the Afghan government, respect the country's constitution and cease contact with insurgents.
However, Mohammed Khan said the group's demand that foreign forces leave Afghanistan was put on hold and that international troops would leave the country in agreement with the national government.
Deal yet to be finalized
The deal, which is yet to be finalized by both parties, was being seen as a successful step in the Afghan government's attempts to bring peace in the country. Talks with the Taliban stalled in March this year, after their leader refused to come to the negotiating table.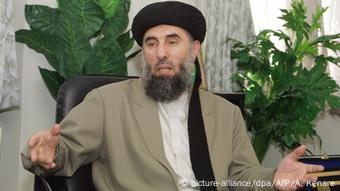 Hekmatyar is currently believed to be hiding in Pakistan
The Hezb-i-Islami, which is not linked to the Taliban, was one of the seven major mujahideen groups using US assistance to fight the Soviet Union in the 1980s. However, the group refused to join foreign forces after the September 2001 attacks prompted the US to invade the country.
The group's leader, Hekmatyar, was accused of supporting the al Qaeda and the Taliban's terror strikes and designated a "global terrorist" by the US State Department in 2003. His followers were also accused of having killed thousands of people in Kabul during the 1992-1996 civil war.
mg/bw (Reuters, dpa, AP)