Pentagon on high alert for further terrorist attacks in Kabul
At least 85 civilians killed and 140 injured in twin blasts outside Kabul airport
At least 13 US troops have been killed, Pentagon says
All Bundeswehr soldiers back safely in Germany from evacuations
Multiple allied countries conclude evacuations
This live updates article is now closed. For further updates on the situation in Afghanistan see here.
US military says it conducted drone strike on 'IS' target
The Pentagon said it has conducted a drone strike targeting a member of IS-K who is involved in planning terrorist attacks.
The US military said the strike killed one individual in eastern Afghanistan.
This live updates article is now being closed. See this article for continued coverage.
US Embassy in Kabul urges citizens to avoid airport
The US Embassy in Kabul has warned Americans to avoid Kabul airport due to security threats.
A statement from the embassy called on Americans at the Abbey, East, North or Ministry of Interior gates of the airport to leave "immediately."
Counterterrorism expert to DW: Afghanistan likely to become extremely volatile
Counterterrorism expert Jason Killmeyer told DW that Afghanistan is likely to experience volatility in the coming months as the Taliban face threats from jihadist groups such as the "Islamic State Khorasan" (IS-K).
"I think they're going to see the Taliban seek to confront this group, just as they're seeking to confront folks in the Panjshir Valley and other domestic rivals," Killmeyer said in reference to IS-K.
He said governments in Afghanistan typically cannot control all of the country.
"Even in the '90s, there was at least 10% of the country they (the Taliban) never controlled. So these groups are going to have a freer reign over the next few years, regardless of the Taliban's recent victory," Killmeyer said.
He said Afghanistan could wind up in a "dangerous" scenario such as a civil war, as the country faces a humanitarian crisis.
France finishes evacuation mission
France concluded its evacuation operations from Afghanistan on Friday, according to a joint statement from Foreign Minister Jean-Yves Le Drian and Armed Forces Minister Florence Parly.
The statement said France managed to evacuate almost 3,000 people. Parly said 2,600 of those people were Afghans.
The French officials thanked the United Arab Emirates for serving as a transit country during the airlift.
France said the evacuation mission had to end due to the precarious security situation at Kabul airport. The French officials said they will maintain contacts with the Taliban to let at-risk Afghans leave the country in the future.
Boris Johnson vows to help Afghans despite end of UK evacuations
UK Prime Minister Boris Johnson has promised to bring more Afghans to the UK for resettlement, as evacuations come to a close.
"As we come down to the final hours of the operation, there will also be people who haven't got through, people who might qualify (for resettlement)" Johnson told journalists. "What I say to them is that we will shift heaven and earth to help them, we will do whatever we can."
Johnson said it's in the Taliban's interest to allow Afghans to resettle in western countries in the future.
"If they want to have engagement with the West, if they want to have a relationship with us, then safe passage for the (people) is absolutely paramount," he said.
Taliban, Pentagon give conflicting statements on airport
The Taliban and the US military have given conflicting statements about the state of Kabul airport on Friday.
The Taliban claim to have taken control of various parts of the military side of the airport.
"Today, three important locations in the military part of Kabul airport were evacuated by the Americans and are under the control of the Islamic Emirate," Taliban spokesperson Bilal Karimi said.
Yet, Pentagon spokesperson John Kirby said US forces still completely control the military side of the airport, in contradiction to the Taliban.
"They are not in charge of any of the gates, are not in charge of any of the airport operations. That is still under US military control," Kirby said, referring to the Taliban.
State Department denies report it gave Taliban lists of names
State Department spokesman Ned Price partially denied a report published in Politico Thursday that said lists of names of US citizens and Afghans, including fearful special immigrant visa applicants, were given to the Taliban.
Price said it was simply wrong that the US State Department had given lists with personally identifiable information to the Taliban.
Turkey has completed its evacuation
Turkey said it has completed the evacuation of its armed forces, Reuters report.
However, Turkish President Recep Tayyip Erdogan said a small contingent of technical experts will remain in Afghanistan.
Before the fall of Kabul, NATO had negotiated for Turkey to handle security at Kabul airport. Since the Taliban seized control of Afghanistan including the capital August 15, that plan has been in question.
Reuters reports Turkey is in talks with the Taliban to provide technical assistance to operate Kabul airport but Al Jazeera reports the Taliban has requested assistance from Qatar.
US airlift mission winding down ahead of August 31 deadline
White House spokeswoman Jen Psaki told a press briefing that the US airlift mission at Kabul airport has started reducing the number of troops ahead of the August 31 deadline.
After a suicide bombing carried out by the so-called Islamic State Khorasan at Kabul airport Thursday, Psaki reiterated Biden "does not want them to live on the earth anymore."
Since the start of the evacuation effort, 105,000 people have been flown out of Kabul the White House said Friday.
US base in Germany hosts thousands of transiting refugees
More than 18,700 refugees have transited through Ramstein air force base in Germany and many more will arrive this weekend as the US continues to airlift people from Kabul airport. For many, the US is their final destination.
"We hope to have a better future," an Afghan man at Ramstein told DW.
DW's Giulia Saudelli reports, "It has been an exhausting journey," for many arriving at Ramstein from Kabul or Udeid air force base in Qatar.
"People have told us the processing takes between three and four days," she said.
Biden: 'We will complete the mission'
In a White House meeting with Israeli Prime Minister Naftali Bennett, US President Joe Biden addressed the suicide attack at the Kabul airport that killed 13 US service members Thursday.
"We will complete the mission," Biden said.
The president also said that he received a detailed briefing about events at Kabul airport while meeting military commanders on Friday.
Reuters reports Pentagon officials have warned Biden that there is still a possibility of another attack, and that the next few days of the airlift mission at Kabul airport will be the most perilous.
Two Britons killed in suicide attack
British Foreign Minister Dominic Raab said Friday two British nationals and a third British national's child were killed in the suicide attack at Kabul airport Thursday, Reuters reports.
"Yesterday's despicable attack underlines the dangers facing those in Afghanistan and reinforces why we are doing all we can to get people out," Raab said.
Pentagon: One suicide bomber struck Kabul airport gate
Major General Hank Taylor announced one suicide bomber struck the Kabul airport on Thursday, rather than two as previously reported. Initial reports suggested one attacker detonated a suicide vest at the airport's Abbey Gate, with another bomber striking the nearby Baron Hotel.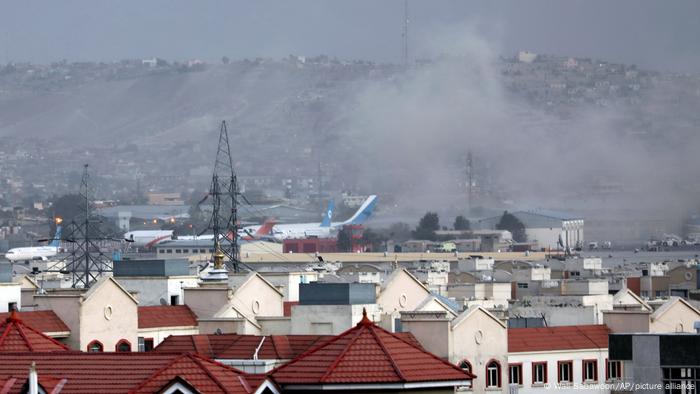 The Pentagon announced Friday that one suicde attacker struck a Kabul airport gate Thursday, not two as previous reports suggested
Taylor said two flights took US soldiers wounded in Thursday's attack to Ramstein air force base and that they had since been transported to the nearby Landstuhl medical center for treatment.
There are currently 5,400 people awaiting flights at Kabul airport. Three additional military installations in the US are being made available to temporarily house special immigrant visa holders and their families, the Department of Defense said.
Spain concludes evacuations
Spain has ended its evacuations from Kabul airport with 2,200 airlifted from Afghanistan since the fall of Kabul to the Taliban.
Early Friday, the final two Spanish flights out arrived in Dubai.
Spain did not have "an exact number" of Afghans still in the country that worked with Spain but was working on "a way to continue getting them out," Prime Minister Pedro Sanchez announced.
Sanchez noted 1,671 Afghans and their families who worked for Spain were ferried out of Kabul airport since the start of the country's airlift on August 18, nine days ago.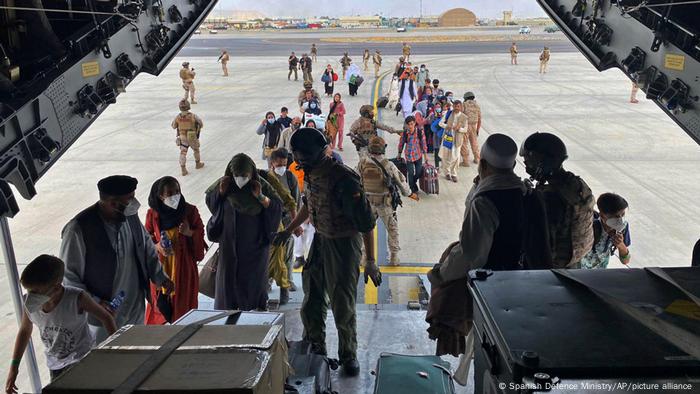 In nine days, Spain airlifted 2,206 people, includng several for allied nations such as the US and Portugal
Italy wraps up evacuations from Kabul
Italy's minister of foreign affairs, Luigi Di Maio, announced on Twitter that the last Italian flight carrying Afghan civilians, the country's ambassador to Afghanistan and Italian military personnel had departed Kabul.
UNHCR warns of a refugee exodus
The UN's refugee agency, the UNHCR, said it is preparing for as many as half a million or possibly more refugees to pour out of Afghanistan by the end of the year in what officials are calling a "worse-case scenario."
This would add to the already 2.2 million Afghans registered as refugees abroad, nearly all of them in Pakistan or Iran, and the estimated 558,000 people who are internally displaced within Afghanistan. Nearly four in five of Afghanistan's internally displaced are women and children.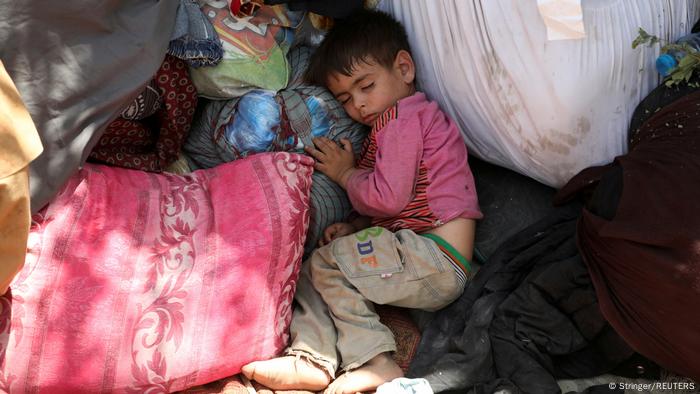 An internally displaced child sleeps in a public park that they use as shelter in Kabul earlier this month
The UNHCR is seeking nearly $300 million in funding to handle the upsurge in refugees and is appealing to Afghanistan's neighbors to keep their borders open to those who wish to flee the country.
Russia adds voice to condemnations
Moscow condemned Thursday's attacks at Kabul airport "in the strongest possible terms," according to Kremlin spokesperson Dmitry Peskov.
"Unfortunately, pessimistic forecasts are being confirmed that terrorist groups and organizations that have settled there, the Islamic State first and foremost, and its derivatives, would take advantage of the chaos that has arisen in Afghanistan,'' Peskov told a conference call with reporters Friday.
Russia's Foreign Minister Sergei Lavrov also discussed the situation in Afghanistan during a meeting with Italian Foreign Minister Luigi Di Maio in Rome on Friday.
Lavrov said Russia was concerned over the flow of refugees across "our southern borders, our allies in Central Asia."
Lavrov added that the lesson to be learned was that it was "explosive" to "impose someone else's systems of values... in alien spaces."
Almost 19,000 evacuees taken to US base in Germany
Some 76 military flights have transported a total of 18,700 evacuees from Afghanistan to the US Ramstein air base — the largest in Europe — in south-west Germany, a spokesperson for the base told dpa.
Over 4,100 of those evacuated have already traveled onward to the US while the rest continue to be processed. The number of people taken to the US base do not count towards the numbers evacuated by the German Bundeswehr.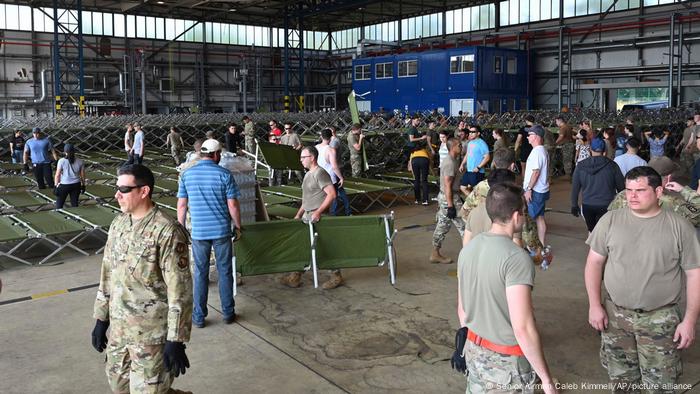 Thousands of Afghans have been transported to the Ramstein base in Germany before heading on to the US
300 German nationals left behind in Afghanistan
After Germany ended its air bridge between Kabul and Tashkent, the foreign ministry announced that around 300 German nationals remain in the country. Another 10,000 Afghans who were eligible for evacuation were also left behind.
Visas for Afghan nationals were being processed after arrival due to the complicated situation in Kabul, a spokesperson for the interior ministry said. It turned out that four people were flown to Germany who had previously been deported, one of which "went straight back into detention."
Sweden ends evacuations
Swedish rescue operations at Kabul airport have ended, Foreign Minister Ann Linde said in a press conference.
"All in all some 1,100 people have been evacuated by the Foreign Ministry. All locally employed embassy staff and their families have been evacuated," Linde said.
"The incredibly difficult and risky conditions meant we were not able to evacuate more Swedes and local employees," she added.
Regional powers express condemnation
Three Gulf states have condemned the attack by Islamic State extremists at Kabul airport. Saudi Arabia, the United Arab Emirates and Qatar, all three majority Muslim and all regional allies of the US, flatly denounced the attacks.
The UAE called them "criminal acts," while Saudi Arabia, the home of Islam's holiest city and whose ruling monarchy also adheres to a very conservative form of the religion, strongly condemned the "terrorist attack" and called for stability in Afghanistan "as soon as possible."
The foreign ministry of Iran, one of Afghanistan's main neighbors, also condemned the attack and called for the "immediate establishment of a broad-based government in Kabul."
What is the state of evacuations?
Several countries have already ended their rescue operations, including Germany, Canada and Belgium. The German Bundeswehr managed to evacuate 5,347, including more than 4,000 Afghans, during its operation.
Spain and Australia announced the end of their rescue flights on Friday while the UK said that it would likely wrap up at some point during the day.
US forces continued boarding people onto flights on Friday after 13 US soldiers were killed in Thursday's attacks. The Pentagon has said it will continue its operations until August 31, but will focus on evacuating US troops and military equipment during the last few days.
Around 1,500 US citizens were still in Afghanistan by Friday, Reuters reported.
So far, around 100,100 people have been flown out of Kabul airport since August 14, the day before the Taliban took the city, by the US and coalition partners.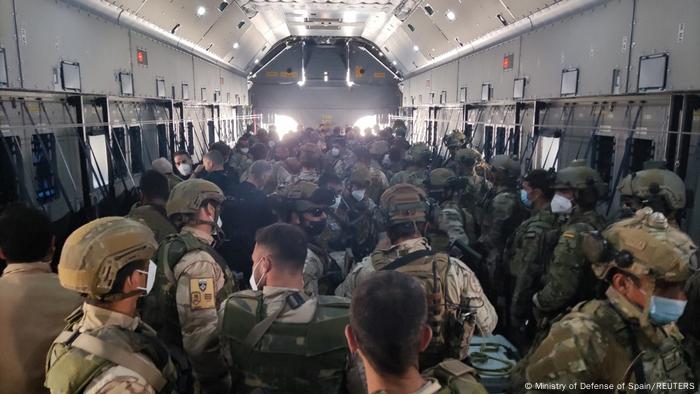 Spain ended its evacuation operations on Friday after flying its last personnel out of Afghanistan
WHO: Medical supplies running low
The World Health Organization said on Friday that it was hoping to launch an air bridge to the Afghan city of Mazar-i Sharif within the next few days, Reuters reported.
"Right now because of security concerns and several other operational considerations, Kabul airport is not going to be an option for the next week at least," WHO regional emergency director Rick Brennan said at a press briefing.
One of the main problems for the delivery of medical supplies was the high cost of insurance for flying following the attacks at Kabul airport. The UN agency is planning to work with Pakistan to restart deliveries.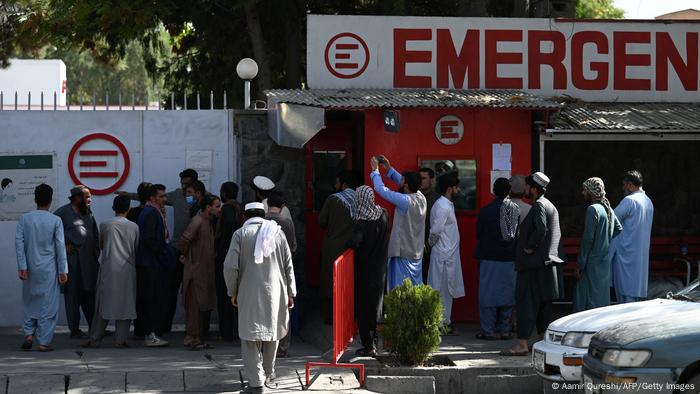 The violence in the Afghan capital has hindered the delivery of medical supplies to the country
German president sends condolences to Joe Biden
German President Frank-Walter Steinmeier has sent condolences to his US counterpart Joe Biden after the deaths of 13 American soldiers in the Kabul airport attack.
"We mourn with you ... our thoughts are with the families of the brave American soldiers who gave their lives to save the lives of others," he said.
Steinmeier praised the soldiers' courageous efforts, which he said had helped many Germans and thousands of Afghans to be evacuated. He added that Germany stands "firmly at the side of the United States in this difficult hour in the fight against terrorism."
US military expecting further attacks
US forces at Kabul airport are preparing for more attacks by Islamic State militants, including possibly with car bombs or rockets, General Kenneth McKenzie told the Washington Post newspaper.
"We believe it is their desire to continue those attacks, and we expect those attacks to continue," McKenzie said the day after the extremist group killed at least 95 people.
Turkey starts talks with the Taliban
Turkish President Recep Tayyip Erdogan has said that talks lasted over three hours and that Ankara would hold further discussions "if necessary." The Taliban made a proposal on the running of Kabul airport.
"They say, 'We'll ensure security and you can operate it.' But we have not made a decision yet because there is always a possibility of death and such things there," Erdogan told reporters.
Catch up with DW content on Afghanistan
Twin bombing attacks at Kabul airport on Thursday killed scores of people, including Afghan civilians and US soldiers. Read the full story here.
Islamic State's Afghanistan affiliate group, Islamic State Khorasan, has claimed responsibility for the Kabul airport bombing. The group already has a record of lethal attacks and says that the ultraconservative Taliban is too moderate. Read DW's explainer on Islamic State Khorasan here .
Germany ended its rescue operation from Kabul airport on Thursday, five days ahead of the August 31 final deadline. The threat of an attack was one of the reasons behind the early withdrawal. Find out more here.
The US and allies scrambled to evacuate tens of thousands of Afghan and foreign citizens from Kabul after the capital fell to the Taliban almost two weeks ago. DW rounds up some of the most dramatic pictures below.
Pakistan reserves hotels for evacuees
Authorities in the Pakistani capital Islamabad have asked local hotels to book out all available rooms for the next three weeks to make them available for people being evacuated from Afghanistan.
Pakistan's Civil Aviation Authority said that Afghan interpreters who had worked with foreign militaries and are trying to leave the country, would be brought to Pakistan. Plans have been drawn up to host them in Karachi and towns in Peshawar and Punjab.
UK to end evacuations on Friday
Britain says that it plans to complete its evacuations out of Afghanistan "in a matter of hours."
Defense Secretary Ben Wallace said the country had completed the processing of people at Kabul airport, telling Sky News that about 1,000 people are currently in the airfield awaiting departure.
Britain has advised fleeing Afghans to try to cross the border to neighboring countries like Pakistan and Iran. London says it is trying to set up processing centers in those countries to help those applying for resettlement to the UK.
Germany carried out its last flight on Thursday, having safely evacuated over 5,300 people, including more than 3,600 Afghans.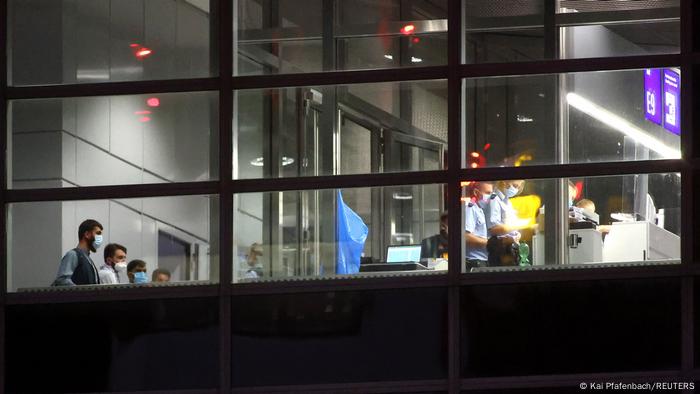 The last Afghan evacuees from Kabul airport have arrived in Germany
Spain and Norway ended their evacuations Friday. Two military planes carrying the last 81 Spaniards out of Kabul arrived in Dubai early on Friday morning, El Pais newspaper said.
Meanwhile, US President Joe Biden has insisted the US mission to get Afghan allies out "will go on." But he cited the threat of terrorist attacks as a reason to keep to his Tuesday deadline for the US withdrawal from Afghanistan.
US veterans react to Kabul attack
US veterans have reacted to the suicide attacks in Kabul, calling the deaths of 85 people including 13 US soldiers "absolutely heartbreaking."
"Everybody that's got someone over there is just sitting there wondering, 'Was it my son, was it my daughter, was it my husband, was it my father?'" Colonel Rob Campbell, who served in Afghanistan, told WECT TV in Wilmington, North Carolina.
"It's absolutely heartbreaking to see what's going on given the sacrifices that American men and women have done over the last 20-plus years," said former marine raider Chayse Roth, who also served in the war-torn country.
Another ex-serviceman, central-Florida-based Donn Weaver told News 6 that the attacks reminded him of the moment in Sept 2010 when he drove to the airport to collect the body of his son who was killed in Afghanistan.
"My heart goes out to them [relatives of the victims] because there is no way to describe it, the reality doesn't sink," Weaver said.
"I had hoped it wouldn't happen, somehow nobody miraculously would be killed getting out, but I knew people would die or be tortured," he said.
'IS' still posing a threat in Kabul
DW spoke to Swiss journalist Franz Marty in Kabul. Marty said that at least 90 people have died in the attack, with a further 150 wounded.
He explained that while Islamic State has claimed responsibility for the first bombing, which has been confirmed by the Pentagon as a suicide attack, details surrounding the second explosion remain unclear.
"There have been warnings that more attacks could come," Marty said. He also reported that sources had told him of further IS militants in Kabul who have the intention of carrying out more attacks.
But it can be difficult to know how seriously to take the threats. "In Kabul there have always been threat warnings and after an attack it is not always clear if the warnings of further attacks are out of fear rather than intelligence," he said.
In Kabul, people have become used to suicide attacks, but part of the reaction there now is outrage over the media's focus on the deaths of US soldiers rather than the much higher Afghan death toll, Marty added. This "reinforces the feeling among Afghans that Afghan lives don't matter and that it is only about the foreigners," he said.
German defense minister arrives in Tashkent
Germany's Defense Minister Annegret Kramp-Karrenbauer has arrived in the Uzbek capital Tashkent along with General Eberhard Zorn. They met with the German soldiers who had been deployed to Kabul airport to aid with the evacuation operation.
Germany ended its rescue missions on Thursday and has evacuated all of its staff and military personnel.
UK left sensitive documents behind at Kabul embassy
Staff from the UK's Kabul Embassy reportedly left behind sensitive documents showing the contact details of several locals who had applied to work for them. The papers were found scattered on the ground of the compound after it was taken by the Taliban, British newspaper The Times said.
A spokesperson for the UK Foreign Office told Reuters that "every effort" had been made to destroy sensitive documents as personnel rushed to leave Kabul amid the deteriorating situation.
The Times said it had handed over the information of three Afghan staff as well as eight family members to the UK authorities.
"Crucially we have now been able to get these three families to safety", a Foreign Office spokesperson told Reuters late on Thursday.
DW talks to evacuees arriving in Germany
More than 4,000 Afghans have been flown out of Kabul by the German military. Some of the last evacuees arrived at Frankfurt airport on Friday morning.
DW spoke to some of the arrivals. One of them spoke of waiting at the airport for days and just making it out before the bombing attack that happened right where he had been earlier in the day.
"We spent four days at the airport in Kabul, there was nothing to eat or drink. We nearly despaired. We wondered if we'd ever make it out. Today I thought to myself, if I don't make a flight, I'll go home, then luckily I managed to get on one," the Afghan man said.
"I'm so scared because my family is still in Kabul. I'm frightened because I don't know what will happen to them," another told DW.
Controlled explosion at Kabul airport
Taliban spokesperson Zabihullah Mujahid confirmed that more blasts had been heard at the airport on Friday morning, but that these were controlled explosions carried out by US forces, he said.
The Taliban also condemned Thursday's bombing attack saying that the group was very concerned about the "security and protection" of its people. The Taliban is opposed to the Islamic State Khorasan group that claimed responsibility for the attack.
Evacuation flight lands in Albania
A group of Afghans on an evacuation flight from Kabul have landed in Albania early on Friday, according to an Albanian government spokesperson. Some 171 Afghans were expected on the plane.
The Afghans will be temporarily lodged in hotels in the Albanian town of Durres, as they wait for visas to the United States.
Albanian Prime Minister Edi Rama has said the country could welcome up to 4,000 Afghans who will eventually go to the US.
All Bundeswehr soldiers safely in Germany
Members of the German military who were deployed for evacuations in Kabul have returned safely to Germany, according to the German Ministry of Defense.
Defense Minister Annegret Kramp-Karrenbauer, along with other German officials, are expected to meet with the soldiers on Friday.
Around 600 soldiers were deployed for the evacuations in Kabul.
The Defense Ministry said extending its evacuations from Afghanistan was not possible due to the deteriorating security situation in Kabul.
White House: More than 100,000 evacuated since Taliban takeover
The White House said in a statement Thursday that more than 100,000 people have been evacuated from Afghanistan since the Taliban took over on August 14.
It's estimated that as many as 1,000 Americans are still stranded in Kabul. Thousands of Afghans who worked with the US military are also stuck in the country, according to the International Rescue Committee.
President Joe Biden has decided to stick with a plan to remove all troops from the country by August 31.
Australia says all troops pulled out prior to Kabul attack
Australian Defense Minister Peter Dutton said Friday that all Australian troops had left Afghanistan prior to the attack on Kabul airport.
"I'm very pleased and relieved that our soldiers have departed from Kabul," Dutton told the Australian Channel 9 network. "We took the decision to lift the last of our people yesterday and they are safely in the United Arab Emirates."
"It's a horrible, horrible day, and I just grieve like every decent person would at the loss of life, and in particular for us the loss of American lives," Dutton said in the wake of the attack.
Australian Prime Minister Scott Morrison said he was "deeply saddened" by the attack.
Meanwhile, New Zealand Prime Minister Jacinda Ardern condemned the "despicable" attack in Kabul and said the country's last evacuation flight left prior to the explosions.
US President Joe Biden vows to strike 'IS'
In a televised speech Thursday evening, President Joe Biden said US military is in the process of developing "operational plans to strike IS leadership, assets and facilities," following a bombing outside Kabul airport that killed 12 US service members, along with at least 60 Afghan civilians.
The Islamic State's Afghanistan affiliate, known as IS-K claimed responsibility for the attack.
"We will not be deterred by terrorists. We will not let them stop our mission," Biden told reporters. "We will continue the evacuation."
"We will not forgive. We will not forget. We will hunt you down and make you pay," Biden said, referring to those responsible.
The president said there was no evidence that IS-K colluded with the Taliban to carry out the attack.
President Biden also said US forces would continue evacuation of US citizens and Afghan allies and would meet the August 31 pullout deadline.
He defended his decision to end the US combat mission in the country: "It was time to end a 20-year war."
What happened at Kabul airport?
Terror group "Islamic State" (IS) said in a statement that it was behind the deadly twin suicide bombings at Hamid Karzai International Airport in Kabul on Thursday afternoon.
US military officials also confirmed that IS was responsible for the attack.
General Kenneth McKenzie, head of US Central Command, said the US airlift in Kabul will continue, adding that the two bombers were "assessed to have been ISIS fighters."
"We continue to execute our number one mission, which is to get as many evacuees and citizens out of Afghanistan," said General McKenzie.
"ISIS will not deter us from accomplishing the mission," he said, adding that US forces were "prepared and ready to defend against" further IS attacks.
Earlier, McKenzie had confirmed that 12 American service members were killed in, the bombings and 15 others were injured.
The death toll makes it one of the deadliest incidents for American troops for the entire 20-year war in Afghanistan.
Thousands of people have been gathering outside the building over the past several days in a desperate attempt to flee on an evacuation flight.
One blast hit the airport's Abbey Gate, while the other targeted a nearby hotel. McKenzie said the explosions were followed by a gunfight, and that efforts to evacuate about 1,000 US citizens estimated to still be in the country would continue.
ab, wd, ar/rt (dpa, AP, AFP, Reuters)