For much of this season, Julian Draxler's form has mirrored that of his club, Wolfsburg. Generally inconsistent in the Bundesliga but impressive in Europe, both player and club saved their best performance of the season for their biggest game.
Draxler was sensational in Wolfsburg's shock 2-0 win over Real Madrid in the Champions League quarterfinals on Wednesday night. He caused Real's defense, particularly right back Danilo, all manner of problems with his quick incisive runs and combination play with Andre Schürrle and Bruno Henrique.
Speaking to DW in fluent English after the game, the 22-year-old Draxler said he was happy with his display, adding that his side were now braced for a tricky second leg.
"I don't know if it was my best game (for Wolfsburg) I always try to help the team in every game but today I think it was quite a good performance from me," he said.
"I really enjoyed the night, I enjoyed every minute on the pitch and now I'm really looking forward to the next game next week. We have to repeat how we played tonight if we want to reach the semifinals."
Despite living with great pressure since bursting onto the scene as a prodigiously gifted 17-year-old for Schalke in 2011, many observers have suggested the German international has struggled since his big-money move to the Volkswagen Arena last summer. Replacing Kevin de Bruyne, who moved to Manchester City, was always going to be a tough task but carrying a side who are in eighth places in the Bundesliga, having lost 10 league games, has proved a little too much to ask of the youngster thus far.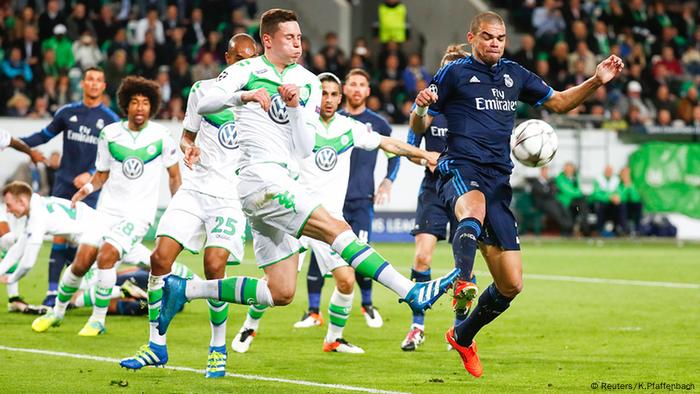 Julian Draxler had a huge impact on the game
Performances seem to have come easier to the Wolves in the Champions League this term and Draxler's brace in the first leg of the last 16 tie with Gent was fresh evidence of the immense talent that's sometimes struggled to come to the surface this year. The winger struggled to put his finger on the difference in his side's performances in the two competitions.
"That's the big question. We are a very good team, we have quality in attacking and defending but we have problems showing it every week - maybe it's in the head so I can't explain it," he said.
Draxler's speed on the counter attack, along with Henrique on the opposite flank, was key to the home side's impressive victory. Time and again he found space deep on the left side before driving at Danilo, exploiting Madrid's willingness to attack away from home while leaving both full backs exposed. But perhaps even more impressive was the German international's decision-making in advanced positions.
Not only did he complete three key passes in the final third, but overall in the game, Draxler had a pass-success rate of 89 percent - particularly good for a player in such an advanced position. Wolfsburg's plans worked to perfection on the night and Draxler thought the opposition may have taken Wolfsburg more lightly than they should have.
"Maybe (they underestimated us) but I'm not on their team so I don't know what they talked about before. But I think now they know that we are a dangerous team as well. I'm sure they will show a different kind of football in the next leg - there might be a storm with Bale, Ronaldo and Benzema but we are prepared and we need to fight as we did today."
For Draxler, another strong showing in the Bernabeu next Tuesday could further enhance both his reputation as a big-game player and his chances of playing a key role for Germany at Euro 2016 in France this summer.