Germany's leading Jewish organization, the Central Council of Jews in Germany, said it was boycotting the memorial event in the German parliament because surviving victims had not been personally acknowledged in the past.
"I would understand it if we were talking about representatives of the second or third generations," Council General Secretary Stephan J. Kramer told AP news agency. "But it cannot be that actual survivors are treated like mere onlookers."
German President Horst Koehler addressed the Bundestag in a speech marking the 64th anniversary of the liberation of the Auschwitz concentration camp. January 27th has been the official day for Holocaust remembrance in Germany since 1996.
Some of those who took part in the ceremony were critical of the Council's decision.
"In recent years, we've always had very dignified hours of remembrance with a variety of participants," Social Democratic cultural spokeswoman Monika Griefahn said in an interview with a Berlin radio station.
But the boycott comes at a time in which many Jewish leaders in Germany are questioning whether the country is doing enough to combat anti-Semitism.
Gaza fallout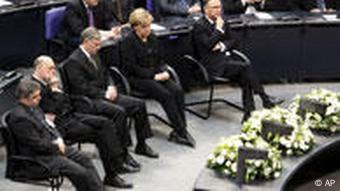 President Koehler, middle, and other German leaders observed the occasion
Kramer said the most recent hostilities between Israel and Palestinians had led to an upsurge in anti-Jewish sentiment in Germany.
"We have been forced to register that during the war in Gaza the number of hate mails sent to the Council has increased by around 40 percent to 200-300 per week," Kramer told AP.
He added that some of those mails contained explicit death threats toward Council members.
In his speech before the Reichstag, President Koehler called for greater solidarity with German Jews.
"Let us stand beside our fellow Jewish citizens," Koehler said. "Whoever attacks them attacks all of us as well."
But Jewish leaders are also disappointed at Germany's reaction to Pope Benedict XVI's decision to repeal the excommunication of a priest for Holocaust denial. In an interview with a German TV station, Council President Charlotte Knobloch said she was outraged by the decision taken by the German pontiff.
More than just words?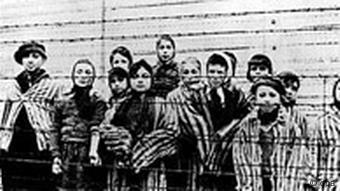 Auschwitz was liberated 64 years ago
The rancor might cause some to question whether Holocaust Memorial Day serves any other purpose than to pay ritualistic lip-service to a historical tragedy and injustice.
But Yehuda Bauer, the Director of the Yad Vashem Holocaust Memorial in Israel, says that ceremonies like the one in the Bundestag can serve a valuable purpose.
"The ritual can gain in content and can be presented so that true thoughts and feelings are behind it," Bauer said in an interview with a German radio station.
The Israeli historian said the occasion was also useful in lending historical perspective to recent events.
"Genocide is the attempt to partially or completely exterminate a national, ethnic, religious or racial group," Bauer said. "What happened in Gaza is a conflict, a bloody conflict between two nationalities like in Sri Lanka, Kashmir and other places. They are not genocides."
"What is happening in Darfur and what happened in Rwanda are genocides," Bauer added. "You have to distinguish."
During World War II, the Nazi regime organized the systematic killings of some six million Jews, most of them in Eastern Europe. The Nazis also targeted Sinti and Roma and homosexuals for wholesale extermination.