Jack Nicholson is expected to star in the English-language version of the acclaimed German film "Toni Erdmann," according to a report published Tuesday by trade magazine "Variety."
The 79-year-old star was thought to have retired from film acting; his last appearance in a movie went back to 2010, in James L Brooks' "How Do You Know."
Even though it did not win the Palme d'Or, Maren Ade's "Toni Erdmann" obtained unusual critical acclaim at the Cannes film festival in 2016.
The film didn't win at the Golden Globes either, but an Oscar as best foreign film on February 26 is still a possibility, as it is among the five nominees in the category.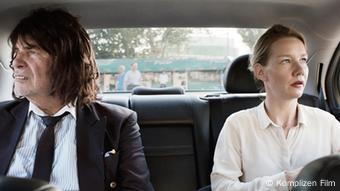 Imagine Jack Nicholson and Kristen Wiig instead: Peter Simonischek and Sandra Hüller in the original version
The bittersweet comedy tells the story of a father whose life has been characterized by a series of cheap pranks and who tries to reconnect with his career-focused daughter. Jack Nicholson would take on the father's role with Kristen Wiig as the daughter.
But why a remake?
Fans of the German film might find the idea of remaking it questionable. However, the trend is not new: Since American movie audiences don't seem to like subtitles or dubbing, Hollywood often remakes successful foreign movies. "Three Men and a Baby" from 1987 was based on a French film, while "Scent of a Woman" (1992) originally came from Italy. "The Birdcage" (1996) also had a French role model, while "Interview" (2007) stemmed from The Netherlands.
The German comedy-drama "Toni Erdmann" is also notoriously long - 162 minutes - making it an unusual format for the US.
According to "Variety," Nicholson was so thrilled by the original that it was his own idea to get "Toni Erdmann" remade.
The author and director of the original had already been asked about a possible remake in 2016: "We've had interest but I have to think about it. It depends. There are so many things remade. I don't feel the need that it's remade but it depends on the conditions. Everybody has his price," Maren Ade told news agency Associated Press.
Her conditions appear to have been fulfilled; Ade is also attached to the project as executive producer. No director has been named yet.
eg/kbm (AP, dpa)