Simone Gbagbo was tried alongside 82 other allies of her husband, ex-President Laurent Gbagbo, in a case that has revived deep divisions in Ivory Coast, which is still recovering from turmoil and conflict.
The country was pitched into violence and chaos after Laurent Gbagbo refused to concede defeat to Alassane Ouattara - the current president - after elections in late 2010.
Nearly 3,000 people were killed in the ensuing unrest which was halted by the intervention of international forces under a UN mandate and led by former colonial power France.
While Laurent Gbabgo is still awaiting trail at the International Criminal Court (ICC) in The Hague on charges of crimes against humanity for his alleged role in orchestrating the post-election violence in 2011, his wife went on trial in Abidjan in December 2014 in connection with her suspected involvement in the unrest.
"The jury members retained all the charges against her, including disturbing the peace, forming and organizing armed gangs and undermining state security," said her lawyer Rodrigue Dadje on Tuesday (10.03.2015).
The 20-year sentence handed down by the jury after nine hours of deliberations was double the ten years requested by the state prosecutor.
"I am ashamed of Ivorian justice," Dadje said, adding that they would be launching an appeal.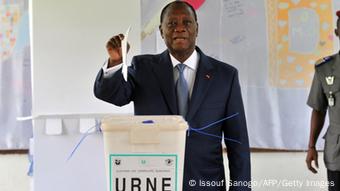 Critics of President Alassane Ouattara accuse him of pursuing one-sided justice
State prosecutor Soungalo Coulibaly said "We showed that impunity in Ivory Coast must not continue."
African criticism of ICC
Ivory Coast decided on a domestic trial for Simone Gbagbo in September 2013, during a time of growing African disenchantment with the ICC.
The decision came just weeks before an African Union summit devoted to the ICC trial of Kenyan President Uhuru Kenyatta and his deputy William Ruto was held in Addis Ababa.
Ethiopia's foreign minister Tedros Adhanom Ghebreyesus told that meeting that the ICC "has transformed itself into a political instrument targeting Africa and the Africans." But a proposal for African nations to withdraw from the court did not attract wide support.
Simone Gbagbo is still on the wanted list of the ICC which wants to try her on four counts of crimes against humanity.
Mark Stephens is a human rights lawyer with the UK-based firm Finers Stephens Innocent who has been following her case closely.
"It will be interesting to see whether the ICC now proceeds and asks for her extradition on what are in fact more serious charges than the charge of undermining state security that she has just been found guilty of," he told DW.
Supporters of Gbagbo say the trials against her and her husband are politically motivated.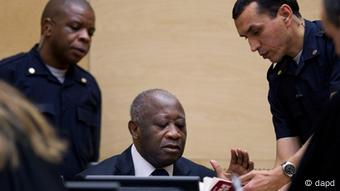 Laurent Gbagbo appearing before the ICC for the first time in December 2011
Human rights groups accuse President Ouattara of pursuing one-sided justice against his former rivals while ignoring abuses committed by his own supporters.
In the commercial capital Abidjan, reaction to the trial of Simone Gbagbo and other defendents was divided.
"They should have freed them and given reconciliation a boost," Salif Bakayoko, a marketing agent, told the Reuters news agency.
But others welcomed the verdict.
"Everyone responsible for what happened in 2011 must pay," said Gilbert Kouakou, an auditor.
Stephens said the trial will be seen as "a good landmark on the way to reconciliation and embracing an independent judicial process of something that was very, very difficult."
"It is helpful, I think, that we didn't see the sort of riots that we might have done as a response to Simone Gbabgo's conviction and I think that is a very positive sign," he addded.