In the far western region of Bavaria, Rothenburg ob der Tauber is a small town that's home to just 11,000 people. Boasting a pristinely preserved medieval town, it's popular among tourists for and attracts 1.5 million people every year.
Rothenburg ob der Tauber is especially busy during the Christmas season. It's elaborately decorated and hosts the obligatory Christmas market with Glühwein, Germany's seasonal mulled wine, along with delicious nibbles, and every kind of festive shop.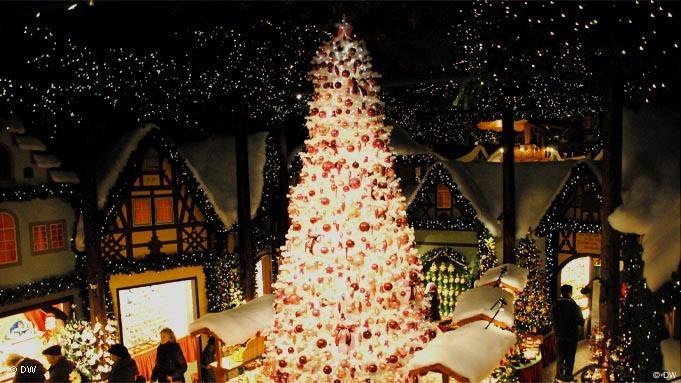 A Mecca for fans of high-end Christmas kitsch
One of those shops is open all year round - and world-famous for it.
The shop is called Käthe Wohlfahrt and it's a Mecca for those who know and love their Christmas decorations.
Entering Käthe Wohlfahrt is like entering a fairytale or - depending on your tolerance for kitsch - a nightmare. You are met by a giant nutcracker and surrounded by a display of wax angels, wood puppets, baubles for Christmas trees and decorations in all shapes and sizes, cribs and traditional Räuchermännchen (figurines with pipes in their mouths).
It's so big, it's no wonder the shop is known as the Christmas village. It opens up into a basement marketplace, replete with snow-covered houses. Up above, the space is filled with lanterns, shedding light on a five-meter (over 16-foot) fir tree.
Something for everyone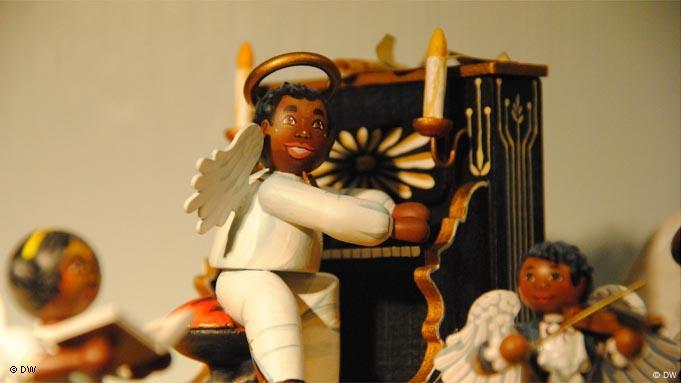 The heavenly Jazz band is a top seller
A lot of the products are handmade in Käthe Wohlfahrt's own workshop and they are not all cheap. But there is something for every taste and those tastes vary among the shop's many international customers.
Americans, for example, seem to adore the wood carvings from the Erzgebirge region, while Japanese tourists tend to prefer small knick-knacks.
When you have made it around the retail area of the shop, it's easy to feel exhausted. But if you still want to learn about the cultural history and origins of all the Christmas decorations, it is just a short way up a set of steps to the Käthe Wohlfahrt museum.
There you can learn about the 400-year-old tradition of installing a fir tree in a room at home. Among farming families, it was once common to nail small trees to the ceiling and hang biscuits and fruit on them. But if you were caught chopping down a tree in the forest and only took the treetop, you could face a hefty fine and even end up in jail.
Christmas carousels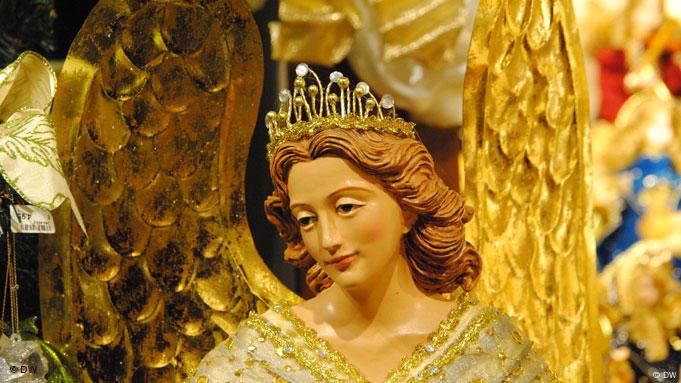 Some of the wood carved decorations are as valuable as family heirlooms
But the crowning glory of the museum is its collection of larger-than-life Christmas pyramids - quasi-carousels with different levels and depictions of Christian motifs.
Some are 200 years old, often made of wood and restored with love.
Hailing from the Erzgebirge region on the Czech border in southern Saxony, the pyramids used to be made by local miners who would craft the wood after work.
The pyramids found many grateful takers, especially in those areas where it was hard to find a tree. And even today, they would make a perfect "ersatz."