The election campaign was fierce and personal. In one television program, 61-year-old Pier Luigi Bersani said that he has no problem with his own bald head with its halo of black hair around the sides - an allusion to his main rival, Silvio Berlusconi.
Bersani, who is not a man of grandiose gestures and likes to keep things simple, differs markedly from Berlusconi, who makes no effort to hide his repeated face-liftings and hair implants. Quite the contrary: the 76-year-old Berlusconi even makes fun of his age and the attempts to regain his youth. "I used to look younger. Who was it that got rid of all the mirrors that showed that?" he said with a wry smile during an election rally.
Pier Luigi takes a less light-hearted approach to his public appearances. During the campaign, he said that Italy's economic crisis could not be solved with magic tricks and "hackneyed sound bites."
Unlike Berlusconi, Bersani wants to continue the reform course of the technocratic government under outgoing premier Mario Monti, but also wants to soften some of the more draconian measures, such as the labor market reforms. "You cannot cost-cut Italy to death," he said. Bersani's role model is French President Francois Hollande, also a Socialist, who came to power last year. At the European level, Hollande is a natural ally for Bersani. Resistance to the German government's austerity course, which both men feel is too strict, would grow if Bersani leads Italy's government.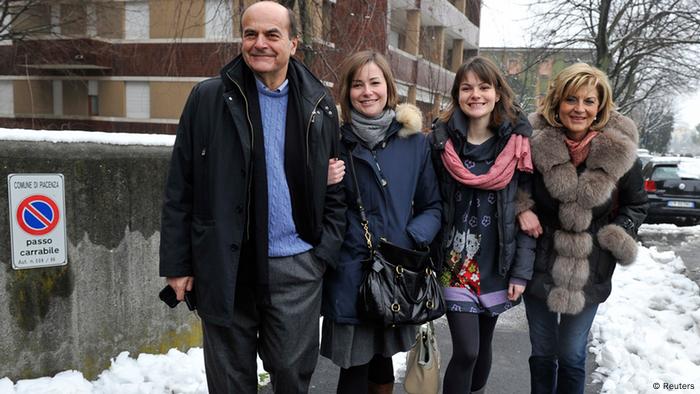 Unlike Berlusconi, Bersani is not a natural in the spotlight
From Communist to Social Democrat
As the son of a gas station attendant from a small northern Italian village near Piacenza, Bersani is a humble, even quiet, man. Statesman-like, he has stressed that his first priority is Italy, then his Social Democratic party, while the political maneuvering of selecting a cabinet and his personal life are much further down the list. Only when somebody makes fun of his simple background, as happened during the election campaign, does Bersani ever get upset. Not everybody can be a billionaire or his son, Bersani said venomously in the direction of Berlusconi, one of Italy's wealthiest men.
Until 1991, Bersani, who had studied to become a teacher, was a full-time official of Italy's Communist Party. After the fall of the Berlin Wall and the end of the Soviet Union, Bersani quickly changed his political stripes. The Communist Party morphed into the Socialist Party and later became a rather mainstream and conformist Social Democratic party.
Bersani, the apparatchik, adapted and continued his career. He won the local elections in the northern Emilia-Romagna region and, in the mid-1990s, ended up leading the regional government. He left the hard-line, left-wing course behind him and was named chairman of the frequently renamed Democratic Party after a referendum among the members.
Bersani has always emphasized his close relationship with the country's labor unions. Under Socialist Prime Minister Romano Prodi in 2006, he was appointed minister for economic development. At the time, he introduced the first efforts to deregulate Italy's torpid economy. During this election campaign, he said he wanted to continue those efforts.
No chance without the others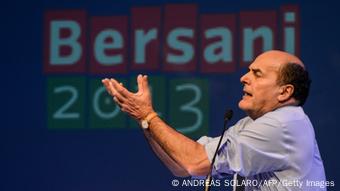 Pier Luigi Bersani: rolled-up sleeves and ready to work
Since no government in Italy is feasible without coalition partners, Bersani has already said that he is open to a partnership with Monti's mainstream supporters. Monti, however, has clearly said that he has no intention of working together with the former communists who belong to Bersani's center-left alliance. Bersani, for his part, has rejected a coalition with the anarchic Beppe Grillo, and with Berlusconi.
Many Italians view Bersani as too bland. "He actually only exists as a counterweight to Berlusconi. Bersani and Berlusconi are the two sides of the same moon," said one voter in Rome.
Privately, Bersani and Berlusconi are also different. The former has been married for more than 30 years to one and the same woman, while the latter has a dirty divorce behind him and continues to be the object of endless stories in the media due to his bacchanalian lifestyle.
Bersani's skimpy answer about his private life in television interviews during the campaign: "I don't have time for antics and theatrics." And as if to make a point of that, Bersani could often be seen during public appearances taking off his jacket and tie and rolling up his sleeves, as if to demonstrate he was ready to get to work.