President Sergio Mattarella received the 64-year-old former-IMF official Carlo Cottarelli to discuss the list of technocrats Cottarelli wanted to form the cabinet, expected to be just the minimum 12 and without party affiliations,
But Cottarelli left the Quirinal Palace in Rome on Tuesday late afternoon without making a statement. This opened speculation that Mattarella could dissolve parliament in the next few days and call elections for the end of July.
The 5-Star Movement and the far-right League gave up their plan for government after Mattarella vetoed their choice for an economy minister.
Italy has the third-highest public debt in the world and Bank of Italy Governor Ignazio Visco warned it was "only ever a few short steps" from losing the trust of investors. On Tuesday, markets sold Italian stocks and bonds concerned about the outlook.
Italy's public debt totals €2.3 trillion euros ($2.7 trillion). That represents 132 percent of Gross Domestic Product (GDP) which is more than double the 60 per cent target imposed by Brussels on EU members.
EU Budget Commissioner speaks out
In an interview with DW, EU Budget Commissioner Günther Oettinger said: "My concerns and expectations are that the coming weeks will show that markets, government bonds and Italy's economy could be so drastically impacted that they would serve as a signal to voters not to vote for populists on the right and left."
"We've already seen a noticeable downturn in government bonds, in banks' market values and in Italy's economy in general," Oettinger told DW. "The government formation may be responsible for that. I can only hope that this will play a role in the election campaign, in the sense of sending a signal to voters not to hand power to populists on the right and left."
Already nervous markets acted again on Tuesday afternoon as yields on two-year bonds the most sensitive to political upsets were set for their biggest one-day jump in 26 years.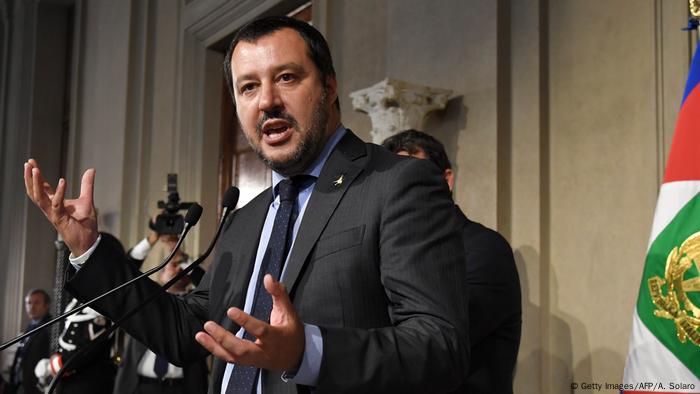 Matteo Salvini, League party chief
Italy's League responds
Oettinger's comments to DW brought an angry response from Italy's League leader, Matteo Salvini, who said he should resign, accusing him of telling Italians how they should vote.
"Can you imagine such disdain for democracy ... he should resign this afternoon," Salvini said on Facebook. Oettinger's comments were "threatening" and showed a "German desire for hegemony and control," he claimed.
Salvini said on Tuesday that the coalition agreement with the 5-Star Movement did not include a plan to exit the euro. "There's the desire to change the European rules and limits so that Italian citizens can be better off," he said. "This must not and cannot scare or intimidate anyone."
jm/msh (Reuters, dpa)
Each evening at 1830 UTC, DW's editors send out a selection of the day's hard news and quality feature journalism. You can sign up to receive it directly here.