Israeli security forces blew up the east Jerusalem home of Palestinian Abdel Rahman al-Shaludi early on Wednesday, the military said.
The 21-year-old killed two people - one of them a baby - and injured seven others when he ploughed his car into a group waiting at a tram stop in central Jerusalem on October 22. Moments later he was gunned down by police.
Al-Shaludi's home, in the neighborhood of Silwan, lies in a part of the city that has been hit by a wave of violence in recent weeks. East Jerusalem has seen almost daily clashes between Palestinians and Israeli police, fuelled mainly by anger over a push for Jewish worshippers to be given increased access to a contested holy site.
Tensions have also spiraled following the July-August war in the Gaza Strip, and the movement of dozens of Jewish settlers into Silwan and other Arab neighborhoods.
Prime Minister Benjamin Netanyahu has vowed to take strong steps to deal with the recent string of attacks, including reviving the controversial policy of home demolitions. Israel's army put a stop to the decades-old practice in 2005, saying it was not an effective method to deter attacks. Human rights groups object to the tactic, arguing it targets families instead of the perpetrators of attacks.
Five dead in synagogue attack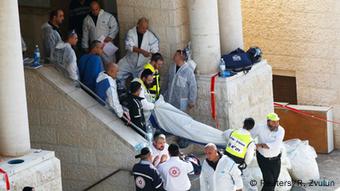 Five people died in the worst Jerusalem attack since 2008
Meanwhile, Jewish worshippers on Wednesday returned to a synagogue in the West Jerusalem neighborhood of Har Nof, one day after five people died in an attack on the site.
Two Palestinian cousins wielding meat cleavers, knives and a gun killed four rabbis and a policeman during Tuesday's morning prayers, before they were shot dead by Israeli security forces.
Following the attack, Prime Minister Netanyahu called the attackers "human animals," and ordered the demolition of their families' homes.
"This evening, I ordered the destruction of the homes of the Palestinians who carried out this massacre and to speed up the demolitions of those who carried out previous attacks," he said.
US President Obama has called the synagogue killings "horrific" and without justification. Palestinian President Mahmoud Abbas condemned the attack, but also called for Israel to end "provocations" surrounding Jerusalem's holy sites.
Tuesday's attack was the city's deadliest since 2008, when a Palestinian gunman killed eight students at a religious school.
nm/ksb (AP, Reuters, AFP)