According to an Interior Ministry official, 35 people were killed and 62 others wounded on Monday in a suicide attack in Baghdad's Sadr City. The predominantly Shiite suburb has been repeatedly targeted by Sunni extremists since the 2003 US-led invasion.
The car bomb was detonated in a fruit and vegetable market that was packed with day laborers, police said.
The attack came just hours after French President Francois Hollande arrived in Baghdad to visit with troops taking part in a US-led coalition against the so-called "Islamic State" (IS).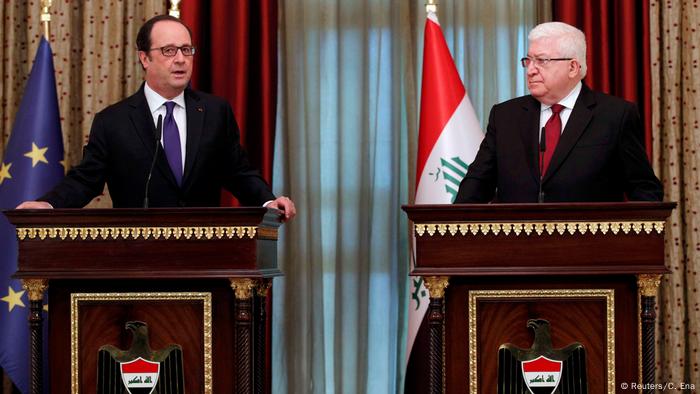 French President Francois Hollande is on a one-day visit to Iraq, where he met with President Fuad Masum
'IS' claim attack
During a press conference with Hollande, Iraqi Prime Minister Haider al-Abadi said the bomber pretended to be a man seeking to hire day laborers. Once the workers gathered around, he detonated the vehicle.
IS later claimed responsibility for the suicide bomb. An online statement distributed by Amaq news agency, which supports IS, said the ultra-hardline Sunni group had targeted a gathering of Shiite Muslims, whom it considers apostates.
Monday's bombing was the third IS-claimed attack in and around Baghdad in just as many days - highlighting the lingering threat posed by the militant group, despite a string of setbacks elsewhere in the country over the past year, including in and around the northern city of Mosul.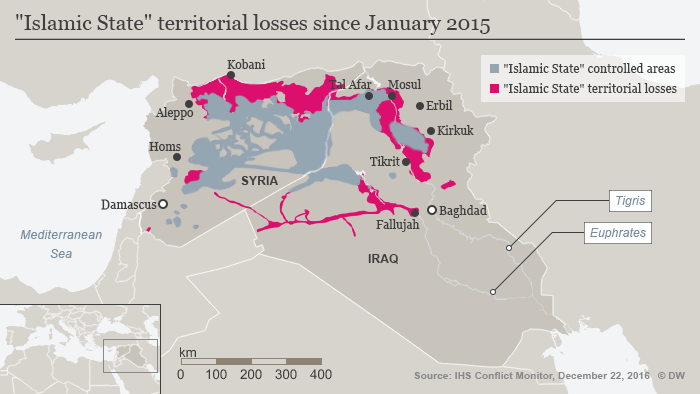 In Samarra, a city 100 kilometers north of central Baghdad, jihadist gunmen on Monday stormed at least one police station, sparking clashes. IS laid claim to the attack. A major Iraqi security headquarter is based in Samarra and the city is also home to an important Shiite shrine.
"The terrorists will attempt to attack civilians in order to make up for their losses, but we assure the Iraqi people and the world that we are able to end terrorism and shorten its life," Prime Minister Haider al-Abadi said after a meeting with Francois Hollande.
Action against terrorism
France is a large contributor to the US-led coalition against IS and the country has carried out thousands of airstrikes against the militant group in Iraq and Syria. It has also provided military equipment and training to Iraqi troops.
During his one-day visit to Iraq, Hollande said that "taking action against terrorism here in Iraq is also preventing acts of terrorism on our own soil."
Following a separate meeting with Iraqi President Fuad Masum, Hollande - who is traveling with French Defense Minister Jean-Yves Le Drian - was due later on Monday to travel to the country's self-governing northern Kurdish region to meet with local officials and French troops.
ksb/rc/mb (AFP, AP, Reuters)