Friday is a holy day. And Friday is also soup day. Abdulkadir, Efe and Yasmin sit on their little stools and cut several orange peppers into small pieces. The menu for today is pepper-and-carrot soup with homemade bread, which they prepared the day before. Intern Ayse and kindergarten teachers Seyma and Mirela stand at the stove, where they cook broth in several large pots. Twenty-two hungry children, each between three and six years old and representing nine nations, have to be fed later in the day.
Meanwhile, a few other children sit in a playroom upstairs, where they learn Turkish. Their teacher was sent by the consulate and comes once a week to the Islamic kindergarten in Karlsruhe. She has drawn different types of fruit on large pieces of paper, which she holds in the air, asking what they're called in Turkish. The children are enthusiastic. "Muz," they call out in unison as the image of a banana is held up. "Elma," they say when an apple comes next.
Salih stands out in particular. The six-year-old playfully switches between Turkish and German. Other children here can do the same with Arabic and German. Salih's father, Mesut Palanci, spoke only Turkish with his son until he was three years old. "So that he could speak his native language perfectly," says Mesut in perfect German.
The 44-year-old is the chairman of the kindergarten's support association, Halima e.V. He played a major role in the founding of the kindergarten 15 years ago. It was pioneering work at the time and above all, a fight against prejudices and distrust. Before "Halima," there were only two other kindergartens of its kind in all of Germany. One of them, located in Munich, was shut down a few years ago for allegedly having radical tendencies.
'We're not a Koran school'
The idea to create a kindergarten in southwest Germany, tailored to the needs of Muslim parents, arose in 1993. The main motivation was to teach religious customs such as prayers and how to celebrate important holidays such as Ramadan. Some parents also had negative experiences in other kindergartens. For example, they often found little sympathy for Islamic food restrictions, Mesut explained.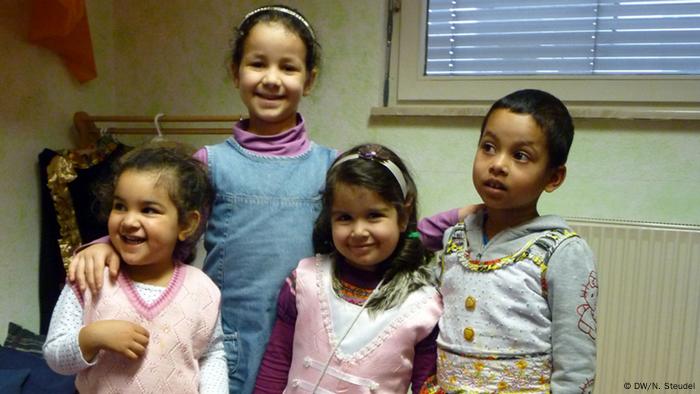 Unfortunately not many Christian children attend
In 1994, Halima's support association was founded. But it took five years to obtain the proper permit for the kindergarten to open its doors. While many Christian-influenced kindergartens have to submit a pedagogical concept of just a few pages, the authorities wanted to know exactly what "Halima" would teach, above all when it came to religious content. Since nobody involved in the project knew exactly what to write, they followed the example of Catholic and Protestant kindergartens, replacing "Jesus" with "Mohammad."
In the end, Palanci and his colleagues demonstrated in a 56-page concept that Islam would only play a small role.
"We are open to everyone," Palanci said. "There are no sermons here, and you don't have to learn Koran verses by heart."
Overcoming suspicion
Marion Steck, with the state youth office in Baden-Württemberg, knows the issue well. Her office authorizes or denies applications for school permits. Muslim organizations like the kindergarten in Karlsruhe are examined very closely before they are allowed to open their doors to the public.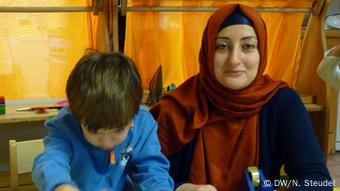 For Seyma Bozkurt wearing the headscarf is a conscious decision
"We ask the state police if there is anything on record against the applicant," Steck said. But the association that supports Halima is a role model, she added. And the predominantly Muslim parents also know that. The waiting list for the kindergarten is long. Many parents apply for a spot when their child is still a newborn.
"Unfortunately, there still aren't many Christian children," said Mesut Palanci somewhat disappointed. More Christians would be good for the school's mix and help reduce fear toward Islam, he said, adding that many parents automatically associate terrorist organizations and nail bombs with Islam. They could also profit from the kindergarten, because in contrast to many Christian organizations, Halima has much more money and, above all, personnel.
Living with prejudice
Seyma Bozkurt and Mirela Dedajic have been involved from the beginning. The two kindergarten teachers have Turkish and Bosnian roots and speak perfect German. While Mirela doesn't wear a head scarf, Seyma chooses to don one. But for the children, that doesn't matter, said Seyma, adding that the issue is given too much attention.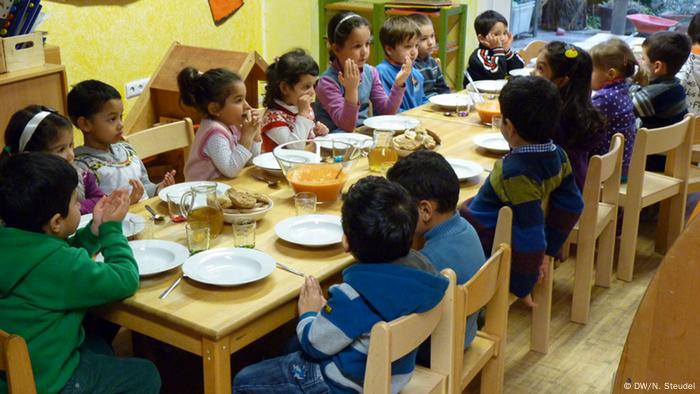 "Bismillah ar-rahman ar-rahim," the children murmur before enjoying their soup
She said that she is constantly confronted by challenges. Her own daughter goes to a communal kindergarten. When she said that her husband would come to the parent evening, she was asked, "Does he speak German?" She said these incidents are tiring and hurt her every time. Mesut Palanci openly admits that he hired Seyma because of her head scarf, adding that in the municipal kindergartens she would not have had a chance. He's seen too many women have to take off their head scarf before work and then put it back on afterwards. "That's a division of the person, and it hurts my heart," he said.
In the mix
Maybe it's another positive sign of integration: While most Muslim women would prefer to send their children off to kindergarten as late as possible, more and more of them are heading back to work.
In six months time, a second Halima kindergarten is scheduled to open in Karlsruhe. Children as young as one are already booked in, and it's hoped that the facility will attract more parents with a Christian background.
But, first it's time for lunch. Before the children can eat, they first have to pray. "Bismillah ar-rahman ar-rahim," the children murmur. And: "Enjoy your meal, Mrs. Schmitt."