eSports' continued growth has pushed competitive gaming ever-more into the public eye. This has sparked a debate about gaming's role within German society, and whether eSports should be officially classified as a sport.
And it is looking increasingly like it will. Chancellor Angela Merkel's grand coalition of her Christian Democrats (CDU/CSU) and the Social Democrats (SPD) agreed to recognize eSports as a sport as part of the coalition agreement they reached earlier this year. However, the legislation necessary to do so has not yet been passed.
"eSports were long considered a niche topic, generally only discussed by experts. It has now reached a tipping point where it has become a meaningful topic to all of society and cannot be ignored," Konstantin von Notz, deputy chair of the opposition Green Party in the lower house Bundestag said.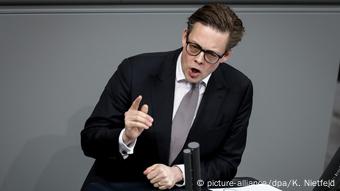 Konstantin von Notz believes the time is now to seriously discuss recognizing eSports as a sport
An ongoing debate
Von Notz was speaking at a round table discussion to speak about the issue, which was entitled: eSport in Deutschland - Next Level "Anerkennung"? (eSports in Germany: Next Level "Recognition?") and hosted by the Greens at their Berlin headquarters on Monday. In addition to Green Party members, representatives of the eSports and sporting communities were represented at the meeting.
Veronika Rücker, The chairperson of the German Olympic Sports Association (DSOB), got to the crux of the problem.
"It is difficult to determine whether eSports is a sport, as the understanding of what constitutes a sport has evolved and changed over time and is not always easy to define," she said.
There are also challenges unique to eSports. Hans Jagnow, the German national eSports association (ESBD) president, emphasized the wide variety of games included under the eSports umbrella, which include sports games like FIFA, first-person shooters such as Counter Strike and Multiplayer Online Battle Arena (MOBA) titles like League of Legends or Dota 2. Ruling on these drastically diverse types of games, as well as increasingly popular virtual reality programs, is no easy task.
Official recognition critical for non-profit status
Classifying eSports as a sport is about more than just how its viewed by the public or whether players get the respect they feel they deserve, it has far-reaching political and financial implications.
The ESBD was founded in late 2017 to serve as a national organization representing eSports clubs and players. They are pushing heavily for recognition, and Jagnow sees classification as a sport as critical to the development of eSports. Recognition would give eSports clubs in Germany the status of non-profit organizations, something that would bring them legal and tax benefits as well as opening the door to public funding.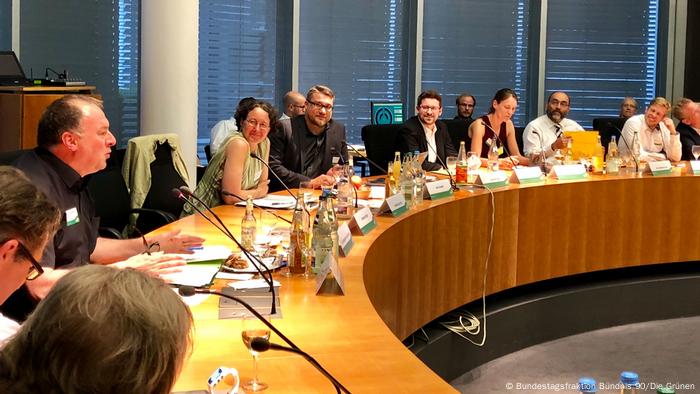 Green Party politicians and representatives from the world of eSports and sports came together in Berlin
Jagnow said that non-profit status "would be a massive relief, especially for smaller clubs. Being audited less often, clearing up questions of sponsorship and where they can play and train, and making their finances as clearly and easily organized as any other sport would have a big impact."
The federal Green Party is still considering its position on eSports, but most of those present at the round table were broadly supportive of recognizing it as a sport, and the the Berlin chapter of the party recently fully endorsed it. They hope Monday's event will help keep the topic high on the grand coalition government's priority list.
Olympic Ambitions
Could eSports be added to the Olympics in time for the 2024 Summer Games in Paris?
If the Angela Merkel's government has anything to do with it, maybe. The grand coalition agreement includes a commitment to support the idea of introducing eSports to Olympic competition, and the topic garnered significant support at Monday's round table. However, it's not the German government's decision to make.
So far, the DOSB has declined to recognize eSports as a sport, but Rücker seemed to acknowledge that it may not be able to ignore the issue forever.
"We believe that eSports, especially the demographic it reaches, provide a great chance to grow organized sports," she said.
The DOSB is to decide on whether to recognize eSports by the end of the year. However, gaming's rapid evolution could prove a speed bump in the quest for Olympic participation, as Rücker noted that it'd be hard to predict which games will be popular in four years' time.
No matter what the DOSB decides, the International Olympic Committee (IOC) would have the final say in any effort to introduce eSports to the Olympics. The IOC has shown flexibility in recent years, with less-traditional events like sport climbing, surfing and skateboarding added in recent years.