Bangladesh gained independence from Pakistan 45 years ago after a "war of liberation" that lasted for months. But the Bengalis' lack of trust towards Pakistan is much older. The Bengalis got independence from British rule in 1947 and became part of Pakistan. Their part, divided by more than 1,300 miles (2,200km) of Indian territory, was called "East Pakistan." Since the early days of independence, the Bengali leaders complained of discrimination and injustice from the rulers in then West Pakistan. Many historians see the nine-month liberation war as a natural outcome of that deep mistrust.
Bangladesh became an independent country in 1971, but thousands of people were killed during the war. The Bangladeshi government puts the figure at three million. Many leaders of the Jamaat-e-Islami (JI) party, which had offices in both parts of the country, opposed the liberation war. Some even collaborated with the Pakistani military and were believed to have been involved in mass murders and other war crimes.
The religious groups that supported Pakistan somehow managed to revive their political role in the newly independent country. Their political clout grew over a period of time and it became increasingly difficult for the authorities to try them for the alleged war crimes. But the public demand to punish the leaders of these groups always persisted.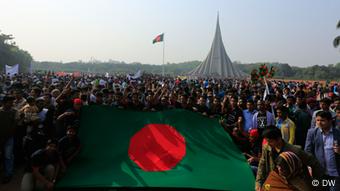 'We have to preserve our secular values,' says Shantanu Majumder, a political scientist
The JI had been briefly outlawed by Sheikh Mujibur Rahman, the country's founder and Prime Minister Sheikh Hasina's father, in the 1970s for supporting Pakistan during the war. After the assassination of Rahman in 1975, a military government scrapped the ban.
It took the South Asian nation nearly 40 years to set up a special tribunal to try the suspected war criminals. The move is also seen by critics as an attempt by PM Hasina to crush the opposition. The controversial tribunal has executed five top JI leaders and a senior politician of the opposition Bangladesh Nationalist Party.
Living in the past?
The 1971 liberation war continues to dominate public discourse. While some groups favor the executions and consider it necessary to heal old wounds, some are against it. Analysts say the current conflict between Islamists and secular people in Bangladesh reflects a deep division in Bangladeshi society.
Is Bangladesh still struggling to deal with its past?
Shantanu Majumder, a political scientist at the University of Dhaka, doesn't think that Bangladesh is obsessed with its past.
"Bangladesh is a divided country. People are divided on the interpretations of the liberation war. Those who fought for Bangladesh's liberation from Pakistan believed in secular ideals and a liberal Bengali nationalism. Now we have to preserve these values, and that is why we emphasize dealing with our history," Majumder told DW.
Arifur Rahman, a London-based secular blogger, shares this view. He thinks that his country has an unfinished business with Pakistan that needs to be addressed.
"Since the start of the executions, Pakistan has taken unlawful and undiplomatic steps towards Bangladesh," Rahman told DW, adding that Islamabad had been intervening in Bangladesh's internal affairs for a long time.
Pakistan has repeatedly condemned the executions of the JI leaders and ties between the two countries have deteriorated since the hangings.
But Waqas Jafri, a Jamaat-e-Islami leader in the Pakistani city of Lahore, told DW that "India is instigating the campaign against Jamaat" because it does not like having a strong Islamic party in Bangladesh.
The JI leader defended his party's role in 1971 and said that it had only defended its country at that time along with other "patriotic" groups.
South Asia expert Siegfried O. Wolf believes that those who were involved in the 1971 war crimes "are still threatening Bangladesh's peace and stability."
"They still maintain, or have established new links, with Pakistan-based terror groups as well as international jihadist organizations like 'Islamic State' (IS) and al Qaeda. There will be no peace in Bangladesh until these people and groups are brought to justice," Wolf told DW.
Pakistan's denial
Islamabad has always denied its role in the massacre during the 1971 war. To date, no Pakistani government has formally apologized to Dhaka for the killings.
"If Pakistan wants a normal relationship with Bangladesh, it needs to apologize for its role during the 1971 war. Islamabad should also take action against people who committed war crimes," said Majumder.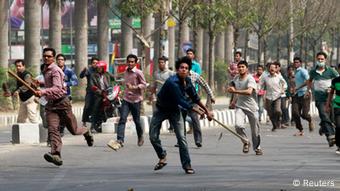 Bangladeshi society is deeply divided between Islamists and secular people
Pakistani liberals critical of the military's role in politics also accuse the JI of unleashing terror on Bengali people during the 1971 war. They also demand that those responsible for violence be tried, and that Islamabad officially apologize to Dhaka.
"A commission was formed in Pakistan in the 1970s to probe the incidents during the 1971 war. The report prepared by the commission remains classified and confidential but some of its parts got leaked in 2000," Jaffar Ahmed, professor of Pakistan Studies at the University of Karachi, told DW. He said that the leaked excerpts of the report had accused a number of people, including Pakistani military generals, but that no action had been taken against them.
"If the main culprits are never indicted, we should not expect that those who worked on behalf of them will ever be tried," Ahmed said, alluding to the JI. "In any case, I think it is too late now to act against these people and groups. In Bangladesh, too, it is more a political stunt by the government than anything else."