Standing before Iranian lawmakers and foreign dignitaries, Iranian President Hassan Rouhani took the oath of office on Saturday, starting his second leadership term.
Following his oath, Rouhani called for the rule of law, freedom of speech and free access to information in Iran. He warned that radical policies would only lead Iran to a dead end. He promised that Iran will pursue a "path of coexistence and interaction with the world."
Read More: Four more years - Trump provides latest challenge for Rouhani
The inauguration drew an estimated 130 high-ranking international guests, according to Iran's state TV. The European Union's foreign policy chief, Federica Mogherini, and French and German officials were in attendance. Mogherini has vowed to continue building ties with Iran despite pressure from the United States to keep Tehran isolated.
It was the first time in Iran's history that a large number of officials from foreign countries attended the president's inauguration.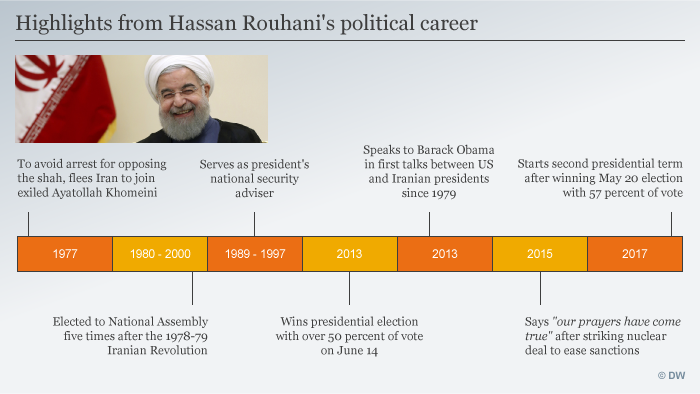 Rouhani defeated hard-line conservative Ebrahim Raisi in Iran's May 19 election after garnering 57 percent of the vote.
The president's landslide victory was viewed as a sign of strong approval for his reformist agenda, particularly his 2015 nuclear deal with six world powers. He recently intensified efforts to protect the deal against US President Donald Trump's administration, which views the agreement skeptically and would like to see it scrapped or renegotiated.
"The US' lack of commitment to implementation of the nuclear deal ... proved it to be an unreliable partner to the world and even to its longtime allies," Rouhani said in comments broadcast live on state television.
He also seemed to warn Trump against scrapping the deal, something the US president seems intent upon doing.
"Those who want to tear up the nuclear deal should know that they will be ripping up their own political life," he said.
Read more: Europe and USA on a collision course over Iran nuclear deal
Criticism from supporters over Cabinet
The re-elected leader has faced backlash, however, for allegedly caving in to conservatives in the selection of his new government.
Rouhani's new Cabinet, which is set to be presented to parliament soon, reportedly does not include any women, despite campaign promises to increase civil liberties and women's rights.
His last government included three women as part of a large lineup of vice presidents, but they lacked ministerial roles that require parliamentary approval.
Read more: Rouhani's inauguration raises hopes for more democracy in Iran
Analysts have said that Rouhani may struggle to push through significant social changes in Iran due to the country's power structure and resistance from the Islamic clergy and the paramilitary Revolutionary Guard, who support political stances rooted in the Islamic revolution of 1979.
Additionally, Washington's aggressive Iran policy under Trump and his skepticism of the 2015 nuclear deal means the agreement could be in jeopardy.
The deal with the US, France, Germany, Britain, Russia and China included rolling back part of Iran's nuclear program in exchange for the lifting of certain financial and economic sanctions.
rs/tj (AP, AFP, dpa, Reuters, EFE)