"It's an absolute scandal and even more so for the Islamic Republic of Iran," Arash Sigarchi writes in his blog. He's referring to the case in which an Iranian diplomat sexually harassed a young Brazilian girl. The Iranian embassy was quick to play down the incident as a "cultural misunderstanding." Sigarchi is furious that the regime in Iran claims to be following religious rules. "Extramarital relationships are considered a sin and crime. And then this: the sexual harassment of an underage girl!"
Court verdict: 14 years in prison
Stories such as these are usually avoided by Iranian media and that is what makes them ideal content for the blog "Window of fear." The journalist Arash Sigarchi has been writing this blog from his US exile in Washington D.C. since 2008. Four years earlier an Iranian court sentenced him to 14 years for his over-critical reporting.
Arash Sigarchi won in the category "Best Blog"
But after his lawyer Shirin Ebadi, the Nobel Peace Prize Laureate, got involved in the case his sentence was commuted to three years. But there were other setbacks: Arash Sigarchi's brother Ashkan died in a car crash. Arash was diagnosed with cancer while in prison. But he never gave up. He maintained his objectivity at all times, says BOBs juror Arash Abadpour, himself an Iranian. "Despite all that he went through, he never yielded to emotional reporting." Other dissidents even criticized him for being too regime-friendly in his reports. But Sigarchi simply wanted to stick to the facts.
Enter the censor
In his blog "Window of fear" Arash Sigarchi tries to be as objective as possible, even when including personal experiences or opinions. "No matter what I post, I try to be fair, balanced and truthful. I am after all a journalist and everything I post is taken as news."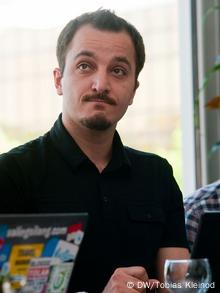 Jury member Arash Abadpour
Arash Sigarchi knew early on that he wanted to write, dipping into real journalism at the age of 15. Born in the province of Gilan in northern Iran, he started working for a regional paper, ultimately becoming its Editor-in-Chief. That's when he was confronted with the censor for the first time. Certain topics were off limits, including reports on human rights abuses by the government. Joining the blogging community seemed like a good move. "I called my blog 'Window of fear' because every day I opened my browser, I came across bad and frightening news."
Following the BOBs from prison
Meanwhile Arash Sigarchi works in Washington, D.C. for the broadcaster "Voice of America." But he still finds time to update his "Window of fear" blog – the name actually makes more sense than now than before, he says. "I follow the events in Iran closely every day. No matter which browser I use, there's always bad news, for instance on executions or detentions."
Winning the award for "Best Blog" at this year's BOBs came as a complete surprise, says Arash Sigarchi, adding that he is really happy and proud. "I always followed the BOBs, even when I was in prison in Iran!" DW launched the competition in 2004 in a bid to promote freedom of speech and open debate on the Internet. Little did it know back then how far this competition would go.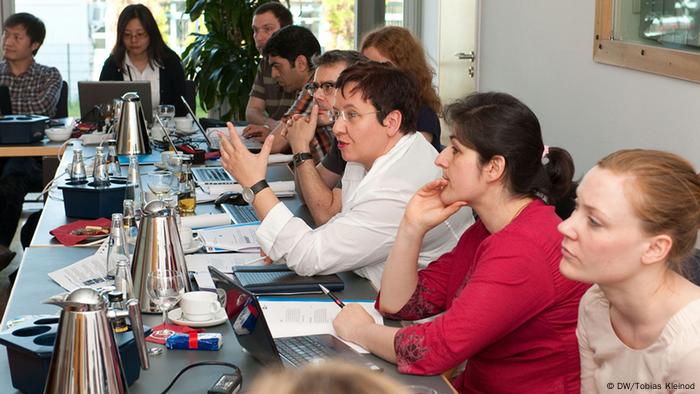 The BOBs jury meeting in Berlin - Ute Schaeffer is in the center
Holding politicians responsible
Ute Schaeffer, DW's Editor-in-Chief, underlines just how important the BOBs have become: "With this competition Deutsche Welle enjoys a good reputation around the globe," she says, adding that this year's "Best Blog" winner Arash Sigarchi is exemplary of the reality of many bloggers. "Iran - just like Syria and maybe even Russia - stands for a regime that is trying to preserve itself. Bloggers play an important role in this context because they simply hold politicians responsible."
Author: Aya Bach / nk
Editor: Andreas Illmer