Has the latest round of talks over Iran's disputed nuclear program only resulted in more talks? Not quite. As discussions drew to a close Friday, chief Iranian negotiator Saeed Jalili said, "Both sides now understand each other's positions better."
European Union foreign policy chief Catherine Ashton led negotiations by the P5+1 group of the United Nations Security Council's permanent members - China, France, Russia, the UK and the US - along with Germany.
"It is clear that both sides want progress, and that there is indeed common ground," she said.
Iran expert Walter Posch of the German Institute for International and Security Affairs ventured a "cautiously optimistic interpretation of Ashton's statement." He said each side in the talks believes the other is interested in an authentic solution.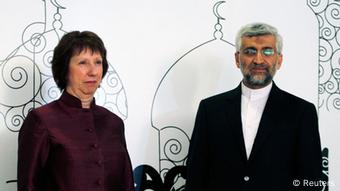 Ashton and Jalili sought compromise, but in different terms
"An authentic solution means making compromises," Posch added, "and the P5+1 group definitely knows it is in the stronger position."
Iranin weakened position
Posch said in previous years, Iran frivolously tossed offers by the EU and the West to the wind. Those offers entailed exchange of economic benefits for stopping uranium development as well as permission for observers to monitor Iran's uranium supplies. The expert added that, so far, Iran has mistaken patience for weakness.
"Above all, the Iranian side must swallow its pride," Posch said. "The Iranians have started a power play they cannot win. As long as the P5+1 format stays the way it is now, I do not think the Iranian side will somehow be able to unilaterally impose their ideas on the negotiations."
Sanctions not negotiable
On the other hand, the P5+1 group cannot simply dictate its demands to Iran if they want to keep the talks from collapsing. Yet Tehran's main demand, a suspension or even complete end to sanctions, is a non-starter for the west.
London-based analyst Mehrdad Emadi, an expert on the EU's Iran policy, said "EU sanctions take six to seven years to prepare, in a drawn-out process, so you can't abolish them overnight."
In Posch's view, both sides travelled to Baghdad with huge demands. Roughly speaking, it's a question of ending uranium enrichment in Iran versus halting sanctions on the country. Yet Posch said it is clear to both sides that such extreme positions cannot be implemented.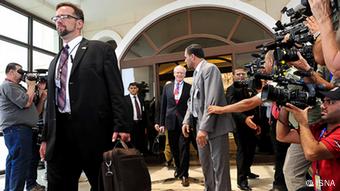 Expectations in Baghdad were high, but results were scant
Other observers even suspected a "planned failure" was in the works at the Baghdad talks, considering the adversaries knew there is still time before the expected EU sanctions come into force in July.
The 20 percent question
What would progress look like in the third round of talks planned for Moscow in June? The Baghdad talks mainly centered around the P5+1's demand for Iran to halt its project to enrich uranium to the point it is 20 percent fissile - that is, capable of sustaining a nuclear reaction.
Reaching that level would suggest Iran has surpassed the technical hurdles for making weapons-grade material. Tehran has stated it is producing the uranium in underground bunkers for civilian purposes.
Emadi said in Baghdad, Iran was promised compensatory materiel if it agreed to stop its uranium enrichment program. However, Iran made no concessions.
"Giving up uranium enrichment has an important symbolic meaning," Posch said, "which has to do with the possible or feared military dimension."
He also pointed to the civilian aspect of Iran's nuclear program, saying pride in their country's technical progress was important for Iranians.
A rival plan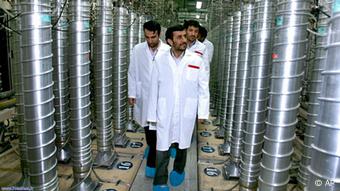 The pride of Iran? Here, an uranium enrichment facility
Ali Bagheri, a member of Iran's negotiating team and a confidant of Iranian Supreme Leader Ayatollah Khamenei, spoke about the issue of uranium enrichment.
"According to the rules of the Nuclear Non-Proliferation Treaty [NPT], every country has the right to enrich uranium," he said. "And in Istanbul, our counterpart confirmed that Iranian rights to a nuclear program in accordance with NPT are officially recognized."
For her part, Ashton said Iran had presented its own five-point plan at the talks, but that one of those points was for her side to recognize Iran's right to enrich uranium.
Diplomacy irrelevant?
Emadi said it would be relatively easy to agree on give-and-take with Iran in respect to financial sanctions.
"If the EU and the US could agree to allow Iranian banks back into the SWIFT financial network," he said, "that would take a huge pressure off the Iranian economy. It would be an effective and inexpensive step by the West that would resonate in Tehran."
For many experts, such as American Henry Sokolski of the Nonproliferation Education Center in Washington, DC, the diplomatic small talk is irrelevant.
He said that's because Iran could develop nuclear weapons within a short amount of time. Sokolski added the threat that Iran's regime - with or without nuclear weapons - poses to its neighbors also throws off the nuclear talks.
"Does anybody really think in earnest that in Moscow or elsewhere, we will reach a substantial agreement?" he said. "It will likely result in an extremely vague agreement that will not last long."
And what would happen if the sanctions were effective?
"Maybe, though I doubt it, there will be a new government in Iran," Sokolski said.
Author: Hans Sproß / srs
Editor: Sean Sinico