As Germany copes with its second murderous attack in a week, messages of support have poured in from leaders around the world.
The investigation continues into the possible motives for Friday's deadly attack at the Olympia shopping center in Munich. Speculation has increased that the suspected perpetrator may have been inspired by Norwegian mass murderer Anders Behring Breivik, who killed 77 people in a rampage exactly five years before, on July 22, 2011.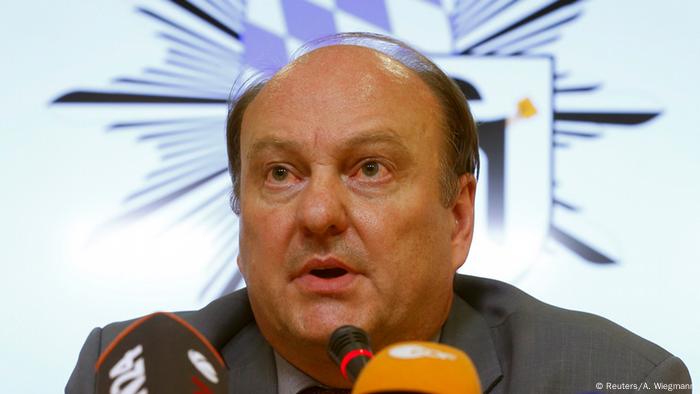 Munich police spokesperson Hubertus Andrae addresses the press
Police in Munich confirmed Saturday that the suspected gunman possessed materials related to shooting sprees, including the Breivik attacks. Police spokesman Hubertus Andrae noted that investigators see an "obvious link" between the Munich attack and the Norway attacks. However, earlier in the day German Interior Minister Thomas de Maiziere had said it was too early to give any information as to any possible link to the Norway massacre.
Shortly after the attack, Norwegian Minister for Foreign Affairs Borge Brende tweeted: "Horrible killings in Munich. Taking place on the same day as we mourn & remember the appalling terror that hit Norway so hard five years ago."
NATO Secretary General Jens Stoltenberg, who was Prime Minister of Norway when the Breivik massacre occurred, also reacted quickly on Twitter: "My thoughts tonight are w/all those affected by the senseless Munich shootings, and with the people of Germany, in sorrow and solidarity."
Increased cooperation to combat terrorism
Following US President Barack Obama's statement shortly after the attack, in which he underlined that "Germany is one of our closest allies, so we are going to pledge all the support that they may need in dealing with these circumstances," US Secretary of State John Kerry spoke Saturday morning with German Foreign Minister Frank-Walter Steinmeier.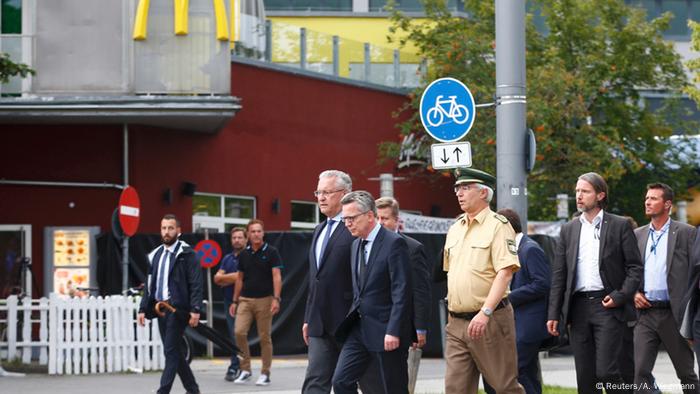 German Interior Minister Thomas de Maiziere and Bavarian State Interior Minister Joachim Herrmann visit the scene
According to a statement released by the State Department, Kerry "expressed his profound condolences over the attack yesterday in Munich and pledged any US assistance to German authorities as they carry out their investigation."
In a statement released Saturday, French President Francois Hollande spoke of "a new ignoble act that intends to seize Germany with terror," and added that "Germany can count on the friendship and cooperation of France."
Moreover, during a phone conversation with German Chancellor Angela Merkel, the two leaders had "agreed on the necessity of cooperating even more closely, faced with those who would seek to divide and create a climate of terror." Hollande was also to hold a special cabinet meeting Saturday at which consequences and next steps following the Nice attack of July 14 would be discussed.
Swift condemnation from the across the Muslim world
After news broke that the suspected gunman was a German teenager of Iranian heritage, Iranian foreign ministry spokesman Bahram Qassemi released the following statement: "Today, the fight against terrorism in any form and anywhere should be regarded as a serious and prompt demand of the international community and human conscience and should be a pattern for all countries."
Foreign ministries from around the Muslim world were also quick to condemn the attacks. The Egyptian ministry issued a statement of condemnation with the "strongest words" and reiterated the country's vehement rejection "of all forms of terrorizing civilians."
Saudi Arabia, for its part, was reported by Saudi-owned broadcaster al Arabiya to strongly condemn the attack, with an unnamed ministry source saying: "The kingdom stands in solidarity with friendly Germany."
The embassy of Indonesia in Berlin issued a statement condemning the Munich shooting, calling it a terrorist act. Indonesia counts the largest Muslim population of any country in the world.
European, world leaders in a show of support for victims
From elsewhere in Europe, leaders reacted swiftly to condemn the shootings and express sympathy for the victims. European Union President Donald Tusk and European Commission President Jean-Claude Juncker tweeted messages of support and expressed their solidarity with the victims and their families.
The UK's new foreign minister, Boris Johnson, expressed his condolences in the hours following the attacks via Twitter, saying he was "deeply shocked and saddened" by the shootings. He announced he had just spoken to his German counterpart Steinmeier shortly thereafter.
Spanish Prime Minister Mariano Rajoy spoke with Chancellor Merkel over the phone to express his condolences and wish all the injured a full recovery. In a statement, the Spanish government called the attack a "senseless, cowardly and criminal act" and transmitted "all its esteem and concern" to those who had suffered. Prince Albert of Monaco also sent a letter to Merkel "promising the solidarity of my country in the face of this cruel ordeal."
Indian Prime Minister Narendra Modi released a statement, and Russian President Vladimir Putin sent condolence telegrams to Merkel and Bavarian state premier Horst Seehofer. Canadian Prime Minister Justin Trudeau tweeted in the hours following the attack that the government of Canada was "closely monitoring the situation in Munich" and that it stood with Germany and offered its sympathies to victims and families.