Armed insurgents on Wednesday attacked a military hospital in the diplomatic district of the Afghan capital, Kabul, with witnesses saying the militants had gone inside the building.
"The Sardar Daud Khan hospital has been attacked. The attackers have entered the hospital. We don't have any more details for now," Defense Ministry spokesman Daulat Waziri told AFP.
One member of the hospital staff posted on Facebook: "Attackers are inside the hospital. Pray for us."
Witnesses said security forces had surrounded the hospital, which houses 400 beds. Explosions and gunfire were heard near the hospital, which is located in an area close to the US embassy.
Doctor disguise
One witness told Reuters news agency that he had seen one gunman dressed in a white doctor's coat who had opened fire with an AK-47, killing at least one patient and one hospital worker.
"This is a criminal act. Nothing can justify an attack on hospitals," said Afghan Chief Executive Abdullah Abdullah.
"We will never forgive these criminals. Unfortunately, this attack has resulted in some casualties. The attackers entered the back door disguised as doctors," he added.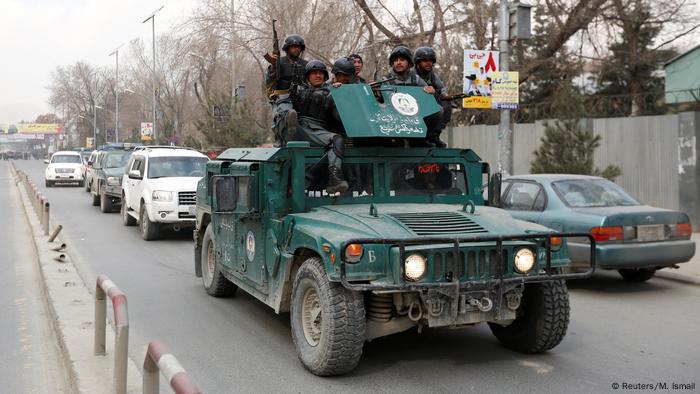 Local forces are struggling to rein in the Taliban
Long-running insurgency
The hospital treats military casualties from around the country, which is embroiled in an insurgency waged by the Islamist Taliban - which has, however, denied responsibility for Wednesday's attack.
Instead, it has been claimed by the jihadi group "Islamic State" via a verified Telegram account.
The latest attack comes a week after 16 people were killed in coordinated attacks on a police station and an office of the intelligence service in Kabul. The attacks were claimed by the Taliban, which is ramping up attacks ahead of its annual spring offensive.
Insecurity is rising in Afghanistan as the insurgent group gains new momentum, with all attempts by the government to launch peace negotiations so far failing.
tj/jm (AFP, Reuters)