DW: In 2013, you decided to leave your job as a successful journalist for a life of uncertainty as a full-time writer. Were your family and friends happy with your decision?
Feby Indirani: Some of my friends were skeptical about my decision and called me crazy. They knew I had published some books, but quitting a stable job was quite shocking for many. When you are a TV producer and you host your own show, you are not expected to give it up for something as unconventional as writing. They asked me whether I was sure about my decision and wouldn't be missing the TV glamour. Even after two years some people still ask those questions.
At the same time many of my friends and colleagues envy me for this decision, as they, too, want to pursue other careers but feel they cannot do it.
Indonesia is not a country where many people read books. Why did you take the risk of becoming a writer nonetheless?
It is true that the reading habit is quite low in Indonesia despite the fact that the literacy rate is near 93 percent. But I see that more and more people are turning to books these days and more and more youngsters want to become writers and publish books.
I have loved writing since I was a little girl. When I was 17, I was a runner-up in a writing competition, and my essay was published in a national publication for young girls called "Gadis." After that I received letters from readers in Aceh, a place quite far from my hometown Jakarta.
The girls wrote to me that they felt moved by my essay and how they experienced similar problems. I was surprised and touched that I could actually reach people I didn't know and who lived in a place I had never visited. That is when I realized how powerful the medium of storytelling was.
What is the most difficult thing about being a writer in Indonesia?
The infrastructure of the Indonesian publishing industry isn't yet fully developed. A potential market is there but the industry is still in a poor condition. For example, there is still no proper literary agent in Indonesia to help a writer deal with legal aspects and other matters related to the process of publishing books.
As a writer I have to deal with publishers myself - from selling my writings to carefully reading contracts and actively promoting the book after its release. Of course, this gets easier once you become popular or develop a good relationship with a key person in a publishing company.
Just like you, many writers in Indonesia are women. Can you explain why?
Modern Indonesia has a long tradition of intellectual women actively expressing their ideas both in fiction and non-fiction. Since the 1980s, most Indonesian women have had better access to education and are now getting higher positions in their professional careers. Therefore, women in Indonesia are becoming increasingly independent financially and socially.
In the 1980s, the Indonesian book industry saw the rise of women as bestselling novelists like NH Dini and Mira W. From the late 1990s through the early 2000s, a new generation of women writers emerged. Writers such as Ayu Utami, Helvy Tiana Rosa, Oka Rusmini, Dewi "Dee" Lestari and Djenar Maesa Ayu are now icons in the new market of Indonesian books. They are role models to the younger generation in Indonesia. They are loved by the media and the publishers earn good money from sales.
You live in Jakarta, which is the most expensive city in Indonesia. What is your source of income?
I have found a way to make a decent amount of money by writing memoirs and biographies for others - not as a ghost writer though, I publish under my own name. Many of my clients are not public figures but they, too, want to share their life stories. I see it as a creative challenge. If my client, who pays a lot doesn't really have a great story to tell, I deal with it. If they give me gold, I create jewelry. If they only give me paper, I will make my origami works.
I also do some editing work, write reports dealing with corporate matters, and advertisements. As a former TV presenter, I still regularly work as a moderator for literary discussions and book releases. I also regularly organize writing workshops. This way I have a good balance between doing what I love and earning a good income.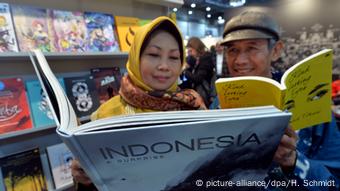 Indonesia will be this year's "Guest of Honour Country" at the Frankfurt Book Fair which takes place from October 14 to 18.
So what do you love to write about?
I write fiction - short stories and novels - about women's issues and social problems from a women's point of view as well as essays about women in Islam. Most of my work is critical of the Islamic laws against women.
What kinds of books do the Indonesian people like to read?
There are no clear or specific factors that guarantee the success of a book. Unknown young writers can have a degree of success just because they have a thriving twitter account. Some publishing companies convince Indonesian celebrities to write books with the help of the ghost writers or co-authors. They sell very well.
But regardless of that, we still see gems of literature and popular writings that have both market success and good intellectual reception such as the works of Ayu Utami, Seno Gumira Ajidarma or Eka Kurniawan.
In October, Indonesia is going to be the Guest of Honor at the Frankfurt Book Fair. Do you think that Indonesian literature can appeal to foreign audiences?
Indonesian literature has a lot to offer to the world. Since the start of the 20th century, modern Indonesian literature has had a strong intellectual tradition that responded well to new global trends and themes. It needs more exposure to be noticed internationally though, so we hope that this year's Frankfurt Book Fair will give us the opportunity to present out work to a wide range of book lovers and readers.
Feby Indirani is an Indonesian author. She has published several books such as "Simfoni Bulan" (2006) and "I can(not) Hear: Journey of a Hearing-Impaired to a World of Sounds" (2009), which won the Anugerah Pembaca Indonesia Award 2010 from Goodreads Indonesia.