Mining is a very lucrative business in India. When it comes to iron core and coal production, India is number three worldwide.

But a recent Human Rights Watch (HRW) report has linked mining in India to human rights abuses and environmental issues. It says, "because of a dangerous mix of bad policies, weak institutions, and corruption, government oversight and regulation of India's mining industry is largely ineffectual. The result is chaos."

Currently in India there are many controversial mineral mining projects, especially in central India. Between 2010 and 2011, the country's mineral industry was estimated at 29 billion euros. Some 11 million people are working in this industry. The figures indicate positive employment trends but activists say not enough is being done to protect people who are negatively affected by it.
An increasing number of protests have been taking place in India, for example in Kalinganagar, a small town in the Jajpur district of coastal Orissa - where locals are protesting for not being compensated adequately for land taken away from them for the construction of steel plants. People have also been protesting against the 12-billion-dollar Posco Project in the Jagatsinghpur district in the eastern state of Orissa, which is threatening to displace locals.
"It has been observed that cases of mining of natural resources are directly related to violations of Human Rights. Government should take legal action against those involved in illegal mining," Meenakshi Ganguly, Director of South Asia Human Rights Watch, said.
Poverty, violence and human rights abuses

For local residents, a plethora of available natural resources often does not mean prosperity; States that are rich in natural resources, like Jharkhand, an eastern state of India, can at the same time be extremely poor.
"There are loop holes and inequalities in government's policies. Out of one billion population of India, 100 families decide the GDP. Nearly 77 percent of people survive on barely twenty rupees (36 US cents) a day. It is violation of basic justice," Navlakha says. This is sad truth was cited in a report by Dr Arjun Sengupta, a noted economist of India.

Activists see a number of side-effects of mining, including poverty, violence and human rights abuses. They believe India's invaluable mines provide a safe haven for law breakers and offenders because law enforcement is weak or corrupt.

"The government has encouraged lawlessness by failing to enforce the law or even monitor whether mine operators are complying with it," Ganguly writes in the HRW report.
"People responsible for enforcing law are themselves involved in it. Government should interfere and people involved should be tried under law," Ganguly says.

Anna Hazare, a social worker fighting corruption in India, recently said, "I have seen the documents. At first I thought Prime Minister Manmohan Singh was honest but now I have doubts. Something is definitely wrong."

India's prime minister has recently been named in connection with a "coal scam" worth over 200 billion US dollars. The scam, which has been called the largest corruption case to date, not only adds to the long list of graft cases in Indian politics, but it has also placed mining in the spotlight.

The adivasi question
Displacement is another major side-affect of mining. Adivasis, who mainly live in jungles, make up nearly nine percent of the Indian population. And the jungles are where mineral resources are usually found in abundance.

In November 2011, the state made headlines after a nun, Sister Valsa John, was murdered by the coal mafia after protesting with local indigenous people (adivasis) who requested fair compensation. Sister Valsa John is just one example of many others that often only get marginal media coverage.

There is, however, legislation to protect the rights of aboriginals - for example, the Forest Conservation Act, the National Environment Policy and Forest Right Act, which would protect adivasis by preserving their habitat, yet these people continue to see their human rights infringed upon. Not only are they displaced, their cultures are also at risk of becoming extinct.

"Human rights violations should be taken seriously. It should be understood for whom this is being fought and who is being targeted. Issues and questions related to water, jungle and land is important. Government is forcing a kind of development on these adivasis," says human rights activist Guatam Navlakha says.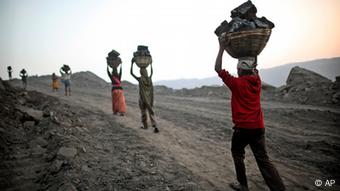 The condition of miners is really grave


Environmental issues

Ganguly says that a lack of regulation not only causes local people, but also the environment to suffer. Officially, conservation of the environment is an important topic, Ganguly states, but she feels that in reality, not enough is being done.

With opposing interest groups putting pressure on the government, it yet has to shape its development strategies. The Land Acquisition Bill of 2007, which is supposed to protect rights of land owners and small farmers, has yet to be passed in the parliament and that is not the only act that is waiting to be passed which would protect the environment and the rights of locals.

Author: Vishwa Deepak, Tanushree Sandhu
Editor: Sarah Berning