Authorities on Monday regained control of a canal that supplies three-fifths of Delhi's water after the Indian army intervened and cleared protesters.
Delhi Chief Minister Arvind Kejriwal announced the breakthrough on Twitter following a weekend of deadly riots that left at least 12 people dead.
Members of the Jat caste in the neighboring Haryana state launched protests last week demanding more access to government jobs and to institutions of higher education.
The protesters effectively paralyzed road and rail links before the government submitted to their demands on Sunday. The demonstrators were also able to cut off the water supply to the nation's third largest city, prompting fears of a water crisis.
Some protest leaders said they would continue their demonstrations despite the government's promise to provide more opportunities to members of the Jat caste.
"We will continue the protests. The government thinks we will succumb to their pressure tactics, but they are making a big mistake by ignoring us," Ramesh Dala, convener of India's Jat Reservation Movement, told Reuters news agency.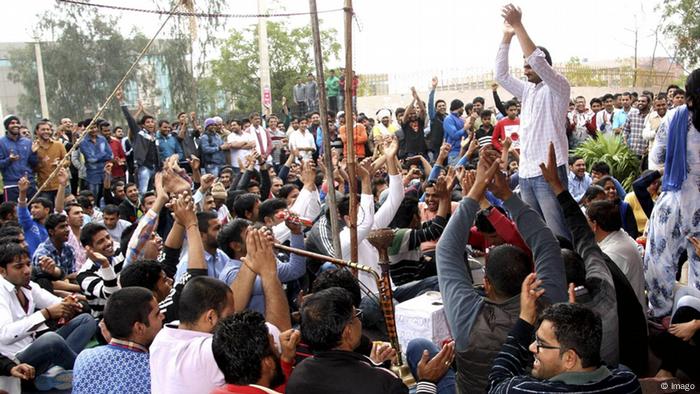 Jat protesters blocked highways to call for more opportunities in the government and universities
The Jat caste, comprising a quarter of Haryana's population, is a relatively well-off class of landowners that have been impacted by India's population growth and two years of drought.
The protests echoed similar demonstrations by the well-off Patidar and Patel castes in August, which had also called for greater opportunities in civil administration and universities.
"This is an emotional issue: reservation is an emotional issue. Therefore, many people are involved. Expectations of people from a particular community is that they should get reservation, said Haryana Home Secretary PK Das, referring to government-established quotas for certain castes, Press Trust of India reported.
Although the caste system in India is officially abolished, caste membership is widely recognized at a societal level.
ls/jil (Reuters, AFP, PTI)