A holographic lion leapt from the back of the theater, roaring as it made its way down the aisle. Stopping briefly, it cocked its kingly head at Indian Prime Minister Narendra Modi and German Chancellor Angela Merkel sitting in the front row of where Hanover Fair's opening festivities unfolded. Then it ascended the stage.
The message is unmistakable - the lion is the symbol of India as a global economic engine, the stage is the world. But the world still needs some convincing.
The Hanover Fair is the world's largest industrial fair, and not an insignificant platform for India. It has 350 companies, 120 CEOs and 14 states participating. But most importantly, is its prime pinister. The burden of proving India can be an industrial powerhouse weighs most heavily on Modi's shoulders.
"The wind of change has come, and it is gathering speed," he said. "We will pursue our goals on the strength of our own skills and enterprise. But we know we will be more successful if we do this in partnership with the world."
A tour of the booths representing India's states show the country is making a concerted effort to cultivate these partnerships. But slogans like Credible Chhatisgrah, Resurgent Rajasthan and Magnetic Maharashtrah aren't only supposed to reveal a love of alliteration.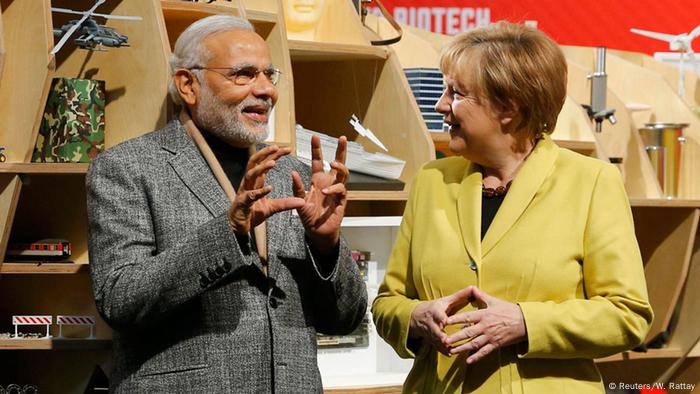 Rather, they aim to sell India as a giant hub of investment and production inviting other countries to "make in India" - India's policy catchphrase, and the slogan emblazoned against countless streamers spanning the trade fair's halls.
Positive response
"Make in India" may not be quite as catchy as "toilets before temples," Modi's pre-election campaign promise that pledged infrastructure and technology would take precedence over ideology. But both messages have resonated with many, including Vineet Mittal, vice-chairman of clean technology company Welspun Renewables and a member of Modi's entourage.
He said he came to look for German suppliers for his business - and that he's confident he can fly back to India with tens of millions of euros worth of supply contracts in his pocket, largely because of that "Modi magic."
"Because of Modi, India's image as a low-cost, low-quality destination is changing," Mittal said. "He is able to inspire the right confidence. There's a new level of branding and awareness of India, also as a place to do business.
Examples of existing Indo-German business relationships are there to help consolidate this impression at the fair - the Volkswagen Vento, a mid-range car produced in Pune, for instance. The automobile has been exported to 30 countries, and is displayed prominently in Hanover for the benefit of esteemed onlookers, including Merkel and Modi.
But partnerships notwithstanding, "make in India" would have to compete with "made in Germany" - the Germans' own de facto quality stamp. This is especially clear at the Hanover fair, which is after all mostly a showcase of German industrial design.
Just how much Indian industry can compete with advanced countries isn't immediately clear from the fair. India didn't quite manage to bring highly advanced robots - some of the more popular highlights from European manufacturers. But a conscious effort to paint a modern India beyond tea and tourism - although that was at the fair, too - was obvious.
Impressive display
Life-sized LED panels dotted the Indian pavilion, explaining India's selling points in bright, moving colors: a manufacturing sector that is set to be worth an estimated $1 trillion by 2025, a workforce one billion strong, and so on.
But it was precisely India's marketing as a hyper-industrial force that unsettled some of the fair's visitors. Standing over a crystalline model of lights and buildings showcasing Modi's plan to build 100 smart cities, Waterjet Holdings' vice-president Andreas Meyer said there were few things in presentation at the fair that truly reminded him of India.
"I would - with some caveats - say I can imagine their industrial capabilities are comparable to those in the Western world," said Meyer. "But I've been to India, and I feel like none of the impressions that I garnered there are in anyway reflected here - of a friendly place with relaxed people, among other things."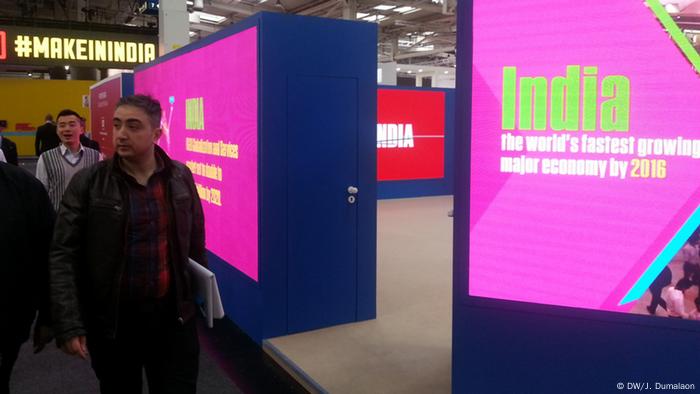 India's LED displays certainly caught the attention of trade visitors
Meyer said he also wondered about Modi's touted goals of inclusive economy growth and how it fit in with a long-standing cultural framework.
"The caste system basically ensures the poor are supposed to stay poor and the rich supposed to stay rich," Meyer said. "Will they be saying anything about that?"
Separately, the Indian delegation's Mittal said the fair itself may have also been short in inclusivity.
"India's businesses are a lot more diverse than what is presented here," he said. "There could have been more small and medium enterprises presented, for example."
Still, another businessman Dinesh Patidar, CEO of solar-powered wastewater pump maker Shakti Pumps, said he hoped to address what he considered a major hurdle - German resistance to products made in India.
"Germans think maybe with really big technology, the quality may not be so good. But technology is advancing in India," he said. "We are capable of making good quality products. We export all over the world - just not to Germany yet."
The holographic lion is not the only big cat to have made an appearance at the fair - there's also an oversized wooden lion greeting visitors at the entrance to India's pavilion. Composed of shelves, it carries an array of Indian products. The wooden beast will stand there until the fair ends on Friday. But India's journey to become the world's leading industry giant will take a little bit longer.