According to Toxics Link, an environmental NGO, the Indian capital generates almost 250,000 tons of plastic waste every year. By the Indian government's own estimates, over 10 million plastic bags are used and discarded daily by 16 million residents in New Delhi and its suburbs.

And at times, it seems, the entire city is covered in them. Not only do they litter up the streets and parks, they also pose a great health risk to animals, particularly cows and bulls, which roam the streets freely and forage for food in the city's open garbage dumps.

Not only do the bags contain harmful chemicals used in the production of plastic, studies have also found the inks and colorants used on some bags to contain toxic lead.
The need for a cleaner and greener Delhi finally forced the city's Chief Minister Sheila Dixit to crack the whip and ban the use of all plastic bags after a previous law to use thinner plastic was disregarded.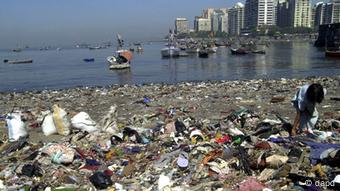 Plastic waste also poses a threat to marine life
"We had to act and this time we are better prepared. The government will promote alternatives such as jute, cloth and recycled paper bags and we will begin a serious campaign," Pradeep Gupta, a Delhi administration official, told DW.
Violation of the ban is punishable with fine of up to 100,000 rupees (US$ 1,800) and/or up to five years of imprisonment. Only plastic bags required for medical waste will be exempt.
Former 'ban'

In 2009, plastic bags were banned in Delhi. But the order was never implemented properly because many of the stakeholders and enforcing agencies, including the Delhi Pollution Control Committee, the Municipal Corporation, and environment and labor departments, worked at cross-purposes.
Currently, around 400 plastic bag manufacturing units are operating in the city and the total yearly turnover of these units is in the range of 115 to 130 million euros. An industry expert claimed that over 20,000 people would be left jobless if the units are closed down.
"The threat posed to the environment by the use of plastic items has been blown out of proportion. Where is the rehabilitation policy for such people who will lose their livelihoods?" said Ravi Aggarwal, president of the All India Plastic Industries Association.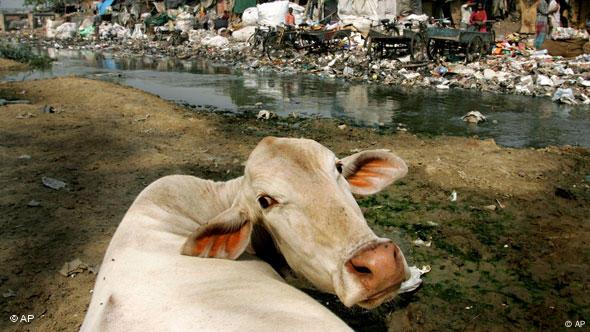 Freely roaming cattle end up eating the bags
But environmentalists feel these production facilities could instead be used to manufacture a number of other plastic products, thus saving jobs.

"There is a lot of environmental damage these bags cause. While the government has demonstrated political will, it will need better coordination to monitor the ban closely," Rajeev Betne, an environmentalist told DW.
Alternatives?

A big worry for shopkeepers is the alternatives that will come in place.
"Introducing cheap alternatives to the market is as important as banning plastic bags. Cloth and jute packaging would be too expensive and paper is not a good option as that would expose the groceries to moisture and lead to fungus and insects," explained Ramesh Gaur, a store owner.
The capital will shortly join a clutch of a few other cities in the country that will have a ban on the bag. The big question is how successful the law will be and whether or not it will actually be enforced.