Bangladesh has been getting ready to receive Indian Prime Minister Narendra Modi, who is due to arrive in the capital Dhaka on Saturday to sign a landmark border deal with India's eastern neighbor.
Modi is to meet Prime Minister Sheikh Hasina in a joint ratification ceremony and discuss possible trade, power and security agreements between New Delhi and Dhaka. The Indian leader was also planning to meet Khaleda Zia, leader of Bangladesh's opposition.
Under the latest deal, each country will take over enclaves in its territory and inhabitants will have the right to stay or move to the other side of the border. India's northeastern states of Assam, Tripura, Meghalaya and eastern West Bengal will be affected by the changes.
Princely treaty in 1713
New Delhi and Dhaka have historically enjoyed good ties after India intervened on behalf of Bangladeshi rebels, helping the country gain independence from Pakistan in 1971.
But the controversy over India's eastern border has been hampering relations. The new agreement will simplify the 4,000-kilometer (2,500-mile) border, the details of which were set down in 1713.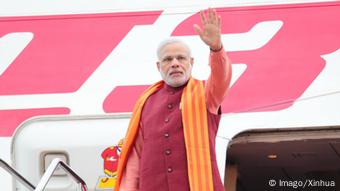 Modi's government has been aggressive about its foreign policy goals
At the time, a treaty between two former princely states decreed 106 Indian enclaves in Bangladesh and 92 Bangladeshi enclaves in India as foreign territories inside each country. At present, there are nearly 37,400 people in Indian enclaves and another 14,200 in Bangladeshi enclaves who are deprived of public services because their governments did not have access to them.
'A historic milestone'
An attempt to resolve the problem was made in 1974 between then-Indian Prime Minister Indira Gandhi and Sheikh Mujibur Rehman, father of current Bangladeshi Prime Minister Sheikh Hasina. The two countries agreed at the time to swap nearly 200 enclaves of land located in one country but officially belonging to the other.
But the assassination of Rehman put a halt to the negotiations. The new deal, passed by the Indian parliament last month, is expected to be "a historic milestone in the relationship between the two neighboring south Asian countries," Dhaka's Foreign Minister Abul Hassan Mahmood Ali told journalists.
Indian Foreign Secretary Subrahmanyam Jaishankar said clearly marked territories would foster "clarity and discipline" and also make the land border between the two countries "much more secure."
mg/bk (AFP, Reuters)