Police arrested the pharma boss and his son Friday, saying they'd destroyed evidence related to 14 deaths. When Indian police came knocking at Sumit and Rajesh Mahawar's pharmaceutical plant two days ago, they say the father and son had locked the doors from the inside.
"Ramesh Mahawar, the director of Mahawar Pharma, and his son have been arrested," police superintendent Om Prakash Pal told the news agency AFP by telephone on Friday.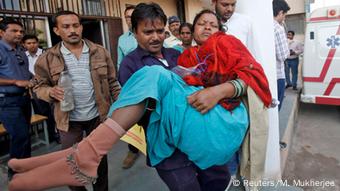 The inquiry had initially shed light on on conditions at Dr. Gupta's sterilization clinic
Several people arrived at Raipur-area hospitals Thursday and Friday - some clutching Mahawar medicine strips and complaining of vomiting, dizziness and swelling. One died, bringing the number of deaths to 14 and drawing investigators' attention away from the appalling sanitary conditions at the camp where Dr. R. K. Gupta had conducted one tubectomy every two minutes in a two-hour sterilization drive.
Since then, women operated on by other doctors at different camps have also gone to the hospital after consuming the same drugs. More than 100 remain in hospitals, several in critical condition.
'Just being harassed'
In police custody, Ramesh, the father and managing director of Mahawar Pharma, professed his and his son's innocence, saying the deaths had concentrated in Bilaspur but his medicines enjoyed wider distribution.
"The situation has been twisted in a wrong manner," said Mahawar, who has made drugs for 35 years and claimed an annual turnover of about $130,000 (105,000 euros). "We are just being harassed."
Police entered the Mahawar factory Wednesday but found nothing. Inspectors returned the next day and shut it down, but not before witnesses reported seeing two men lighting a predawn fire out back.
Reuters reported that the cinders contained medicine packets, including for Mahawar Pharma's Ciprocin 500-milligram pills. Chhattisgarh's state government banned a batch of this product following the 13 deaths, but rural areas appear to still have a supply.
Though birth rates have fallen in recent decades, India's population growth remains among the world's fastest, and sterilization - cheap and effective - has proved very popular. It also sidesteps cultural resistance and problems with distribution of other types of contraception in rural areas.
mkg/glb (Reuters, AFP)