Thomas Lubanga was given a 14 year prison sentence on July 10, 2012 after the court found him guilty of war crimes in March of that year. He was the first suspect to be convicted by the International Criminal Court ten years after its creation.
Delivering the appeals verdict on Monday (01.12.14), presiding judge Erkki Kourula said the appeals panel of five judges rejected all of Lubanga's seven grounds of appeal in a majority decision.
Kourula added there was no reason to doubt the verdict reached by the judges at the original trial.
"The Trial Chamber's assessment of the facts was reasonable," he said.
At his trial more than two years ago, prosecutors said Lubanga had recruited hundreds of child soldiers for his rebel militia, the Patriotic Forces for the Liberation of Congo (FPLC) in Ituri in eastern Democratic Republic of Congo (DRC) between 2002 and 2003. Many of the children were younger than 15 years of age. The DRC government arrested Lubanga and he was extradited to The Hague in 2006.
The 14 year sentence handed down in 2012 included the six years he had already spent in custody in The Hague, meaning that the court had ordered him to serve a further eight years in jail.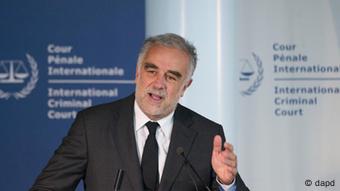 Luis Moreno-Ocampo said he would have called for a shorter sentence for Lubanga if he had shown remorse
The prosecution, led at that time by chief prosecutor Luis Moreno-Ocampo, had called for a 30 year prison term.
Rights groups say more than 60,000 were killed
"Instead of obeying their mothers, the children had to obey commanders. The training was by terror. The children were trained to kill and to rape. The children were launched into battle zones where they were instructed to kill everyone regardless of whether they were men, women and children," Ocampo told the court in June 2012.
Ocampo had said he would have been prepared to scale back prosecution demands for imprisonment from 30 to 20 years, if Lubanga had shown remorse for his deeds.
But Lubanga insisted he was innocent, saying he was just a politician who had no authority within the FPLC. "I, Thomas Lubanga, was always opposed to the recruitment of children soldiers," he told the judges. He said the prosecution's allegations were based on lies and false testimony.
Lubanga's militia waged a campaign of terror in northeastern Congo between 1998 and 2003. They burned down villages, murdering or raping the inhabitants. Human rights activists said that as many as 60,000 people were killed.
Child soldiers the focus of an international trial for the first time
When preparing his case against Lubanga, Ocampo decided to concentrate on child soldiers only after much deliberation. The chief prosecutor could have brought other charges against Lubanga as well, but decided it would be too difficult to secure the necessary evidence. This decision was criticized by rights groups, particularly in Ituri.
The court which tried Lubanga was in session for 200 days. More than 60 witnesses gave testimony, including Lubanga's victims. This was the first time that an international court of law had focused exclusively on the plight of child soldiers.
After the guilty verdict was pronounced, Doli Ibefo from the Congolese NGO Voice of the Voiceless told DW that "it would console the victims and also those who are fighting to uphold human rights and trying to ensure that crimes committed in the DRC do not go unpunished."
Geraldine Matioli-Zeltner monitored the Lubanga's 2012 trial for the rights group Human Rights Watch. "We hope that this will be a warning to all those who let children fight in adult wars," she told DW.