In a 3-2 majority ruling the International Criminal Court (ICC) appeals chamber on Friday reversed some of the ex-Democratic Republic of the Congo (DRC) Vice President Jean-Pierre Bemba's convictions.
The presiding judge Christine Van den Wyngaert said Bemba could not be held responsible for atrocities carried out by troops under his command in the neighboring Central African Republic (CAR) in 2002 and 2003.
His 2016 trial was the first before the ICC to focus on sexual violence as a weapon of war.
Read more: DRC's Bemba deserved 'significantly longer' sentence
"Mr Bemba cannot be held criminally responsible for the crimes committed by his troops in the CAR," Van den Wyngaert told the court in The Hague.
The ICC said the trial chamber in the case when it came to court in 2016 had made a series of errors in its analysis of Bemba's role as a commanding officer and in other aspects.
"The Appeals Chamber in this instant reverses the conviction against Mr Bemba [...] and in relation to the remaining criminal acts it enters an acquittal," Van den Wyngaert said.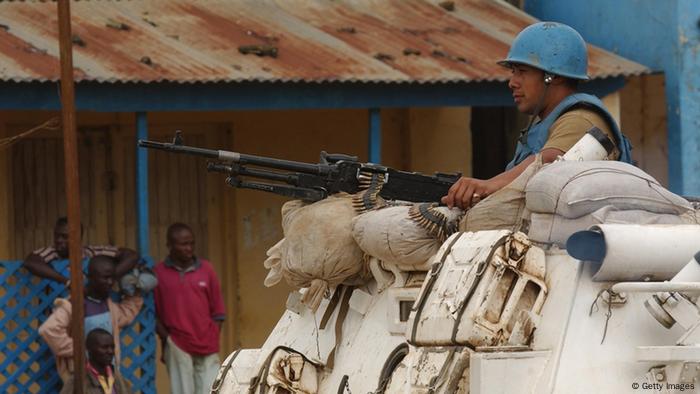 A UN armored personnel carrier in 2003 in Bunia, the capital of Ituri province in the DRC
Convicted for war crimes
Bemba was sentenced in 2016 to 18 years in prison on two counts of crimes against humanity and three counts of war crimes for a campaign of murder, rape and pillage by his troops in 2002 and 2003.
He appealed against his conviction in September 2016 and has consistently denied responsibility for the crimes.
Bemba sent his militia, the Congolese Liberation Movement (MLC), into the CAR in October 2002 to support then-President Ange-Felix Patasse.
Trial judges in 2016 blamed Bemba for failing to stop a series of "sadistic and cruel" rapes and murders as well as pillaging by his soldiers when he was one of four vice presidents in the transitional government of the DRC from 2003 to 2006.
He was arrested near Brussels in May 2008 on the basis of an arrest warrant issued by the ICC and was at first charged with three counts of crimes against humanity and five counts of war crimes.
In addition to his conviction for crimes committed in the CAR, Bemba was also sentenced in 2017 to one year in prison for bribing witnesses during his trial and was obliged to pay a fine of €300,000 ($375,000).
jbh/kms (AP, Reuters, AFP)