Hurricane Irma was downgraded to a tropical depression on Monday after it tore a destructive path through the Caribbean and Florida, but warnings of deadly flooding, powerful winds and storm surges remain. Hurricane Jose is also approaching the region.
Cuba said 10 people had been killed over the weekend, bringing the death toll to at least 40 people since Irma pounded a string of Caribbean islands as a Category 4 and 5 hurricane, starting on Wednesday.
Irma hit the Florida Keys on Sunday as a Category 4 hurricane, pummeling the tourist archipelago with screeching winds and storm surges that tore off roofs and knocked down trees and powerlines.
Irma left several cities throughout the state flooded and nearly six million homes without power as it moved north up the state's west coast towards Georgia, packing winds of 100 kilometers per hour (65 miles per hour). States of emergency are in effect in Georgia, South Carolina, Virginia and Florida.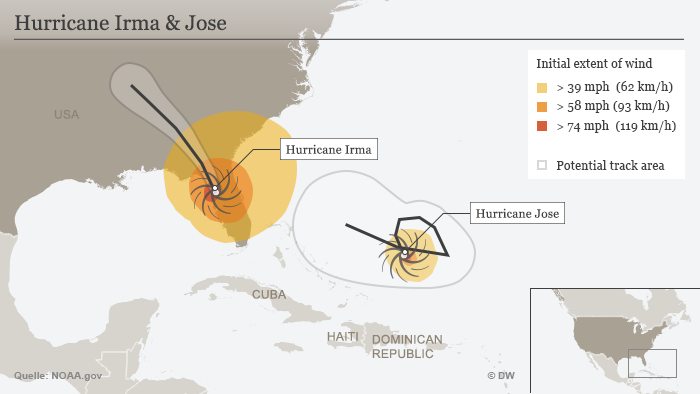 Read more: Mother Nature's wrath: Is climate change making mega-hurricanes the new normal?
Authorities are still assessing the damage to the Keys, Florida Governor Rick Scott said.
"I'm going with the Coast Guard down to see the Keys, I've heard that there is some significant damage in the Keys right where the eye of the storm hit. So we will find out," he told NBC's "Today" show Monday morning.
The archipelago is connected by a series of bridges and causeways that authorities will have to check for structural damage. However, officials said they had yet to clear one of the main highways that connects a string of islands to the mainland. US Navy ships and an aircraft carrier are aiding efforts and conducting search-and-rescue operations in the Keys.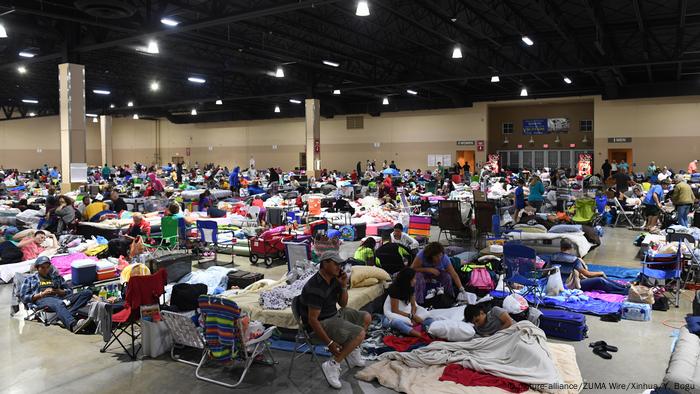 More than 220,000 people sought safety in shelters.
Flood warnings
Miami was spared facing the brunt of the hurricane after it tacked up Florida's western coast, but large swaths of the city were flooded by heavy rains and storm surges. By Monday morning, the streets of the sprawling metropolis and its suburbs were a tangle of debris, fallen tress and downed power lines.
In Jacksonville, in northeast Florida, authorities on Monday declared a flash flood emergency due to storm surges and a flooding river. Storm surge warnings remained in effect in several other areas, including the Tampa Bay region.
At least three people in Florida were reported dead as a result of car accidents.
Authorities continued to warn of electrocution from downed power lines, sewage leaks, flooding and even snakes and alligators. They urged people to remain indoors.
Deadly Irma whips Georgia, South Carolina
Irma, though weakened, continued to devastate the southeast US late on Monday as it moved northwards from Florida into Georgia and South Carolina.
At least four people died across the two states, as Irma's still-formidable winds topped 65 kph (40 mph). Three of the deaths were caused by falling trees.
Meanwhile, Atlanta's Hartsfield-Jackson International Airport, one the world's busiest airports, was forced to cancel some 800 flights.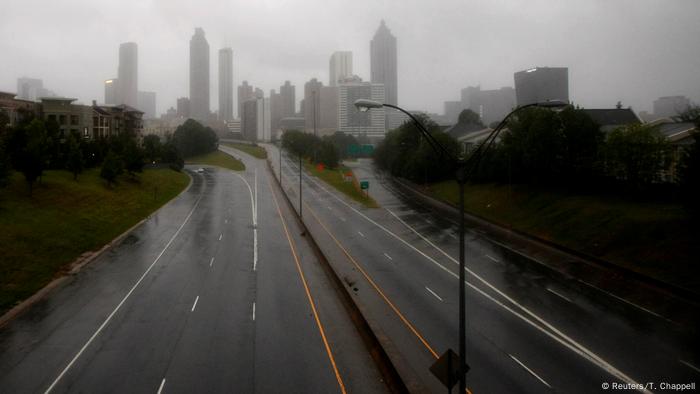 Although Georgia avoided the worst of Irma's destructive path, Governor Nathan Deal declared a state of emergency, while some 340,000 are without electricity.
However, with weather conditions forecast to improve on Tuesday, Atlanta's city transport officials said they expected to resume limited service bus and rail travel on Tuesday.
In Charleston, South Carolina, Irma sent around 4 feet (1.2 meters) of ocean water into the downtown area. City officials urged residents to stay of the streets, as another 3 feet of water above dry ground were expected overnight.
Emergency funding
US President Donald Trump approved Florida's request for emergency federal funding, as well as continued federal support for Texas after Hurricane Harvey devastated parts of the state late last month.
"Right now, we're worried about lives, not cost," Trump said.
The funding will be used to care for victims, repairs, clean up and bring back power.
Catastrophe modeling firm AIR Worldwide estimated damage of $20 billion (€17 billion) to $40 billion to insured property, much less than originally estimated. A direct hurricane hit on Miami would have caused up to $150 billion, according to some estimates.
Before Irma ripped through Florida prompting the evacuation of six million people, the massive storm first made landfall on Barbuda on Wednesday as a Category 5 hurricane. Winds of up to 295 kph (180 mph) destroyed 30 percent the island's properties.
It then plowed over Saint Barts and Saint Martin, the US Virgin Islands, Puerto Rico, the Dominican Republic, Haiti and the Turks and Caicos before hitting Cuba's northern coast.
cw/rc (AFP, AP, Reuters)