Berlin's Christmas markets were open again Wednesday night although the Breitscheidplatz plaza targeted Monday night stayed shut.
The German cabinet endorsed a draft law to broaden video surveillance.
Klaus Bouillon of the state of Saarland who is currently spokesman for Germany's 16 regional interior ministers said security was being tightened. "We will have more patrols, Officers will have machine guns," said Bouillon, referring to the more than 1,400 Christmas markets across Germany.
Federal authorities searching for 24-year-old Anis Amri offered a reward for information leading to his capture and issued multilingual notices, including one in French.
The public was warned that Amri could be armed. Police said ID papers identifying him as a Tunisian national were found in the cab of the truck used in Monday's attack.
Asylum application rejected
The Interior Minister in Germany's western state of North Rhine-Westphalia, Ralf Jäger, said that Amri's application for asylum had been rejected in July 2016.
The Tunisian had arrived in Germany in July 2015 and had been in Berlin since February 2016.
"The man could, however, not be deported because he did not have valid identification documents," Jäger said.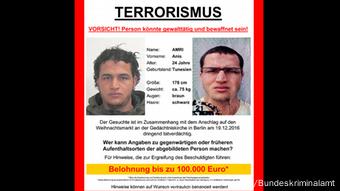 A 100,000 euro reward has been posted for information
Amri had been monitored from March until September but there had been no evidence of behavior endangering state security, said Berlin investigators, but there had been indications of drug dealing and physical altercations.
Tunisian police said they had questioned Amri's relatives. Tunisian Mosaique FM radio quoted Amri's father as saying his son left Tunisia seven years ago and had spent time in prison in Italy before arriving in Germany a year ago.
Gauck visits hospitalized survivors
Berlin state's health ministry said 12 of the 48 people who survived the truck's impact were being treated for serious injuries, including an unspecified number in critical condition.
Monday's attack left 12 people dead, including the Polish driver of the hijacked truck.
German President Joachim Gauck, who visited three patients at Berlin's Charite hospital, said he was impressed by their "composure."
Medical director Ulrich Frei said four patients were being treated for "severe trauma of the lower extremities and the pelvis."
Condolences in Paris
In Paris on Wednesday, French President Francois Hollande signed a book of condolence at the German embassy. He said that French intelligence services had been in "constant contact" with their German counterparts.
A Tunisian living in France carried out a similar attack on Bastille Day revelers in Nice in July, killing 86 people.
Paris' police prefecture said 7,500 security guards had been mobilized to help safeguard 49 Christmas markets in the greater Paris region as well as places of worship and venues frequented by tourists.
London police said roads in front of Buckingham Palace would be shut off from Wednesday during the traditional Changing of the Guard ceremony at the royal residence. The daily closure had already been planned for a three-month trial period, but had been brought forward in the wake of the Berlin attack.
Moscow's police chief for traffic, Viktor Kovalenko, said authorities would park trucks to barricade public areas frequented by holiday festival-goers. "Heavy trucks will be used to close off major junctions" leading into areas where public festivities are taking place, Kovalenko told Russian news agencies.
ipj/jm (AFP, dpa, Reuters, AP)