A powerful truck bomb exploded near the Northgate Hotel in Kabul in the early hours of Monday morning, security officials said. A police officer was killed and the three attackers were dead after a seven-hour gunbattle.
"The operation is over now," Kabul Police Chief Abdul Rahman Rahimi told reporters. "One policeman lost his life and three others were wounded but none of the hotel staff or guests were hurt."
The Taliban gunmen had stormed the upscale hotel, which is located close to the US-run Bagram airbase and houses international contractors. The Northgate is a heavily-guarded facility with blast walls and watchtowers.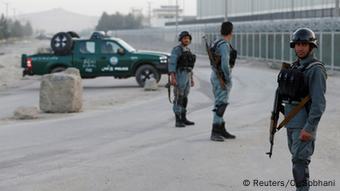 Taliban militants have frequently targeted foreign guesthouses in the past
The Taliban claimed responsibility, saying it targeted the hotel because it was a place of "debauchery and obscenity for foreign invaders."
NATO special forces oversaw the operation near the scene of the attack, as heavy gunfire and blasts echoed throughout the district Monday morning.
Previous attacks
Foreign guesthouses have been a frequent target of Taliban attacks in the past. The Northgate has been attacked by insurgents at least once before, in July 2013.
The blast comes a week after a suicide attack on a demonstration by members of Afghanistan's Hazara community killed at least 80 people and wounded more than 230.
The self-styled "Islamic State" group claimed responsibility for that attack.
bw,jar/cmk (AP, Reuters, dpa, AFP)