Some Western governments doubt whether the company is truly independent of the Chinese government.
This documentary investigates concerns about Huawei and internet security. The company is a major player in the manufacture of smartphones, and enjoys a technological lead in the development of the super-fast 5G broadband network worldwide.
But the US and some other Western countries suspect that Huawei works closely with the Chinese government on espionage and sabotage operations. Has Huawei becomne a pawn in the trade war between the US and China?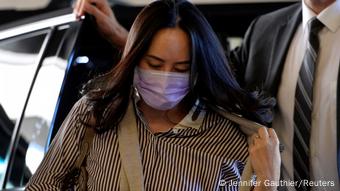 Huawei chief financial officer Meng Wanzhou
The arrest of Huawei chief financial officer Meng Wanzhou in Canada in 2018 -- at the request of US authorities -- marked the climax of the conflict between Huawei and Washington. Some European countries also have concerns about the company. Does Huawei really have close ties to the Chinese government? And what are the benefits and risks for those foreign clients who choose to work with this 5G giant?


Broadcasting Hours:
DW English
MON 04.01.2021 – 01:15 UTC
MON 04.01.2021 – 05:15 UTC
TUE 05.01.2021 – 09:15 UTC
SAT 05.01.2021 – 12:15 UTC
SUN 05.01.2021 – 15:15 UTC
Cape Town UTC +2 | Delhi UTC +5,5 | Hong Kong UTC +8
Lagos UTC +1 | Cape Town UTC +2 | Nairobi UTC +3
San Francisco UTC -8 | Edmonton UTC -7 | New York UTC -5
London UTC +/-0 | Berlin UTC +1 | Moscow UTC +3
DW Deutsch+
TUE 05.01.2021 – 09:15 UTC
Vancouver UTC -8 | New York UTC -5 | Sao Paulo UTC -3