Outgoing Chancellor Gerhard Schröder has opposed the embargo and sought to persuade his European partners to lift it, angering some EU countries and the United States.
But Merkel's Christian Democrats said on Thursday that the new power-sharing government would not take up the fight to scrap the 16-year ban.
The embargo on arms sales to China was imposed in the wake of the brutal crushing of the 1989 Tiananmen Square democracy protests.
Germans against lifting arms embargo
In a speech to business leaders on Thursday, the Chinese president said he hoped the change of government here would not affect China's relationship with the biggest economy in the European Union.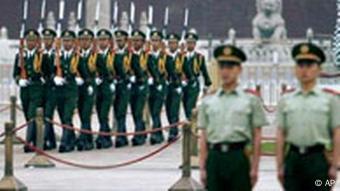 Chinese police perform the daily flag-raising ceremony at Beijing's Tiananmen Square
Vague EU pledges to lift the embargo were put aside after China passed an anti-secession law on Taiwan in April, heightening concerns that the law could eventually lead to war in the Taiwan Straits.
"Lifting the arms embargo is not on the agenda of the new government," foreign policy spokesman of Merkel's Christian Democrats, Friedbert Pflüger, told the Berliner Zeitung newspaper. Pflüger added on Friday that "the pre-condition for lifting the embargo is an improvement in the human rights situation and a relaxation of the Taiwan issue."
Focus on energy, environment
So with the weapons embargo omitted from the agenda, Hu's 45-minute meeting with Merkel focused on energy and the environment, according to German participants in the meeting.
Hu, on the second day of his visit to Germany and the second leg of a European tour, told Merkel that China was no longer solely a nation which imported its energy needs, but was rapidly becoming a producer of electricity.
Merkel, a former environment minister, expressed her concern that China's rapid economic development was taking a heavy ecological toll.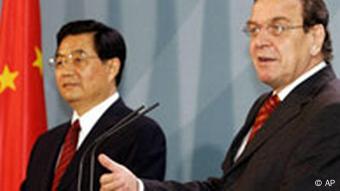 Hu Jintao with outgoing German Chancellor Gerhard Schröder
Hu also held talks with Schröder later Friday. Schröder however told Hu, much to the anger of Merkel's conservatives, that he believed the European Union would find a "sensible solution" to its arms embargo on China.
Schröder said that he still backed lifting the 16-year-old ban
on arms sales.
"My opinion on the arms embargo has not changed," Schröder told a joint press conference with Hu. "But I believe the European Union will work towards a sensible solution. Germany will work with France on this issue."
France has backed Schröder's efforts to scrap the arms ban, although their joint position has angered some of their EU partners and the United States.
Hu's visit dogged by protests
Rights group Amnesty International had called on Merkel to raise the issue of human rights during her talks with Hu. Amnesty said she should ask China to impose a moratorium on its use of the death penalty and argued that Germany's approach of trying to promote "change through trade" in China had failed and should be re-assessed.
After spending three days in Britain, Hu began his four-day stay in Germany by overseeing the signing of a raft of business and cultural agreements on Thursday, including a deal which will see electronics giant Siemens supply 60 high-speed trains to China as part of a 1.3-billion-euro ($1.5-billion) agreement.
But as in Britain, Hu's visit is being dogged by human rights protests.
Several hundred members of the Falun Gong spiritual movement gathered outside the Charlottenburg Palace where he held talks with German President Horst Köhler on Thursday, but pro-China supporters were also out in force.
Trade still tops the agenda
Despite the protests, Europe is rolling out the red carpet for Hu, keen to secure trade deals with the world's most populous country.
Deals with British-based companies worth a total of 783 million pounds (1.2 billion euros, $1.3 billion) were struck on the first leg of the tour.
Germany is China's biggest European trade partner, with German exports to China rising 12.7 percent in the first half of 2005 to 9.48 billion euros.
The president was also to lay the foundation stone of a new Chinese cultural centre in Berlin on Friday before visiting the industrial region of North Rhine-Westphalia on Saturday.
He is scheduled to head to Spain on Sunday morning.