China is seen, rightly, as an economic giant just awakening from a long sleep, which will have enormous influence on world markets in the 21st century. This is why developed countries and global companies have been scrambling to court the Chinese government, in the hopes of getting a piece of a very lucrative pie as the country opens up and its 1.3 billion citizens flex their growing purchasing muscles.
Germany's relationship with the Middle Kingdom has up to now largely been based on this economic potential. Outgoing Chancellor Gerhard Schröder made it a foreign policy priority to get more German companies into China, and companies like Siemens and Volkswagen secured lucrative contracts on his watch.
But there are voices calling for meetings between President Hu and German political leaders address more than just booming imports and possible business partnerships during the visit to Berlin and North Rhine-Westphalia, the country's industrial heartland. Concerns that, in many people's estimations, have forced issues like human rights, democracy, and China's worsening environmental record further down on the agenda.
Hu Jintao passes a protest banner as he is taken to Buckingham Palace
In Britain, where Hu is holding talks with Prime Minister Tony Blair on trade, security and climate change on Wednesday, pro-democracy campaigners, Free Tibet groups and members of the outlawed Falun Gong religious movement have been holding noisy protests. Activists have been angered by what they perceive as Western indifference to the darker flipside to China's brilliant economic ascendance.
Less-than-stellar record in many areas
Protesters take issue with China's liberal use of the death penalty. The government executives about 10,000 people a year, often on charges such as bribery, embezzlement and stealing gasoline. Political dissidents are often tortured, or misdiagnosed by police psychiatrists and locked away in mental asylums.
The status of Tibet remains controversial. While China describes its march into the region in 1950 as a "liberation," the Buddhist religious leader, the Dalai Lama, has long demanded independence. Disappearances and torture of his supporters are commonplace.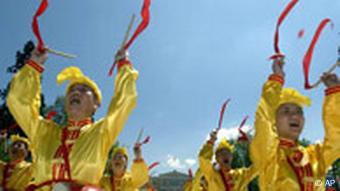 Members of the Falun Gong spiritual movement at a protest
Tolerance of minority religious groups, such as the Falun Gong or Protestants, is nearly non-existent. Freedom of expression and conscience are severely restricted.
"China must recognize that a free society cannot overlook the trampling of human rights, even when economic interests are at stake," said Christian Lindner, the general secretary of the free-market liberal FDP party in North Rhine-Westphalia.
While environmental concerns are supposed on be on the agenda during talks between the British and Chinese leaders, the country has a poor environmental record. As its double-digit growth continues, it could be the greatest threat to the health of the planet, activists say.
Its hunger for energy and drive for coal-fired power stations is vastly increasing the global output of greenhouse gases. China now overtakes the US as the world's leading consumer of grain, meat, coal and steel.
Good relations
Germany's relations with China have been excellent under Gerhard Schröder and it is unlikely that Chancellor-designate Angela Merkel will want to drastically change the tenor. Bilateral trade has skyrocketed and direct investment in China is high.
During the state visit this week, economic and cultural accords worth 1.4 billion euros ($1.6 billion) are set to be signed.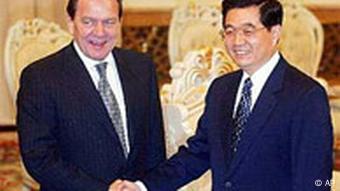 Gerhard Schröder, left, is greeted by Hu Jintao Monday in 2002 in Beijing
One week before the planned visit, China's foreign minister, Li Zhaoxing, is that Germany's policies toward China under a Merkel chancellorship remain as they were under Schröder's. That includes Schröder's insistence that the EU lift its arms embargo against China, which was put into place after the bloody crackdown on pro-democracy demonstrators in 1989.
China regards the weapons ban as a "relict" of the Cold War and according to Li, "should have been thrown on the trash heap of history long ago."
Schröder appeared to agree, although his position runs counter to those of the US and Japan, and many of his EU counterparts. Critics of his position said he was more concerned with German firms cutting deals in China than perhaps igniting a new arms race in Asia.
Then opposition leader Angela Merkel came out against lifting the arms embargo, although her remarks that she places great importance on the relationship between China and Germany have some in both Berlin and Beijing wondering if her position could change.
However, Friedbert Pflüger, a Christian Democrat member of the German parliament and a central figure in mapping out the new government's foreign policy, told the Financial Times Deutschland newspaper on Monday that a lifting of the EU arms embargo will not be placed on the "list of administrative work" of the new German coalition cabinet.