When German Chancellor Gerhard Schröder leaves Berlin nowadays, it's usually to jet off to Moscow, Beijing, Ankara or other world capitals to oil newly-forged ties and ink business deals worth billions of euros.
The chancellor's big business travels have delighted German companies eyeing lucrative foreign markets. But, they've attracted persistent criticism from one quarter -- human rights groups.
The latter attack Schröder's frequent overseas trips -- not so much for their content as for what they leave out. By pursuing a foreign policy that's driven by hard economic interests, the chancellor inevitably avoids openly addressing serious human rights concerns, they say.
"No fundamental change in China's human rights"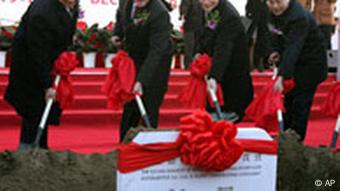 Schröder, second from left, shovels dirt to lay the cornerstone for a new Mercedes-Benz manufacturing plant in Beijing in December
One recent case in point is China. Although Schröder's government has been critical of Beijing's record on human rights, the chancellor seemed to defend the Chinese government against German accusations in his public statements during his last visit -- one that saw the Chinese ordering 23 passenger aircraft, 180 locomotives and several power plants from the Germans.
What has further alarmed human rights groups is Schröder's speech in parliament last month pushing to lift the EU arms embargo on China, imposed after Beijing's brutal crackdown on demonstrators in Tiananmen Square in 1989. Calling the embargo 'outdated' and 'superfluous,' the chancellor insisted that "the China of today isn't the China of 1989."
Not everyone agrees. Barbara Lochbihler, head of the German branch of Amnesty International (ai), said the chancellor's stance was incomprehensible. "On human rights, there isn't any fundamental change in China. In fact, the death sentence is being used more frequently," she said. According to ai, the number of executions carried out by Beijing rose sharply from 726 in 2003 to 3,400 in 2004.
Lochbihler pointed out that Schröder often touted German-Chinese bilateral consultative groups as proof of engaging critically with the Chinese. "But, he's often silent when asked about the result of these things," she said. "There's a long way to go … He has to become more active on human rights and negotiate with the Chinese and in the case of the arms embargo, start a dialogue with Beijing -- one that has a clear focus and includes criticism that will reach the right places," Lochbihler said.
Too Moscow-friendly?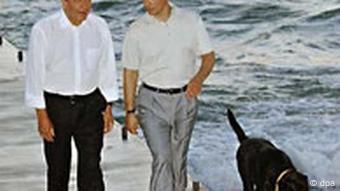 Putin and Schröder in Sochi at the Black Sea shore in August 2004
Keeping silent on human rights violations is something Schröder has also been accused of in Russia, a country he has visited several times thanks to his chummy relationship with Russian President Vladimir Putin and booming business ties between the two countries.
Schröder's reluctance to openly criticize his Russian counterpart came to a head last November during the controversial reelection of pro-Moscow candidate Viktor Yanukovych in Ukraine in a poll believed to have been rigged by Moscow.
Days earlier, Schröder had described Putin as an "unblemished democrat." Schröder did eventually telephone with Putin, apparently to convey his concerns, but later delivered an ambiguously-worded speech in parliament, carefully avoiding any direct criticism of Moscow. A couple of months earlier, Schröder had asserted he saw "no irregularities" in polls in the breakaway Russian republic of Chechnya which were widely condemned as flawed.
More recently, the chancellor has been criticized by lawyers of jailed Russian oil magnate Mikhail Khodorkovsky for his willingness to whitewash Putin's government when the Yukos trial was widely deemed to be illegal and politically motivated.
Lochbihler said the chancellor's stance on Russia was exasperating. "Schröder says that Putin has great respect for the rule of law, but it's the Russian army which commits grave human rights violations," she said. "He has to use his good relations with Putin to persuade him to control his army and protect human rights."
Chancellor's own government in a spot
But, it's not just human rights groups that are worried about Schröder's tendency to turn a blind eye to lack of democracy and rights abuses. Even members of his own Social Democratic Party (SPD) and the junior coalition partner, the Greens, are uneasy about the chancellor's sometimes brazen embrace of markets over morality. Foreign Minister Joschka Fischer, of the Green party, has made it clear that he and the chancellor often part ways when it comes to the tricky issue of being vocal about human rights.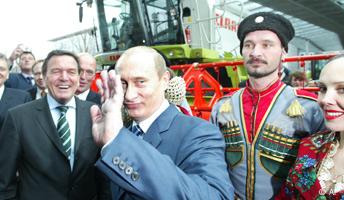 Schröder and Putin during their opening tour at the world's largest industrial fair in Hanover, northern Germany, in April
Last month, an SPD member admitted that Schröder's joint opening of the Hanover industrial fair with Putin was "problematic" because the Russian leader was initially to be accompanied by controversial pro-Moscow deputy prime minister of Chechnya, Ramsan Kadyrov, who has been accused of war crimes by human rights groups. There were worries about the impact on the public of television images showing the chancellor rubbing shoulders with Kadyrov.
Even as several SPD and Green members have urged the chancellor in the past to distance himself from Putin over prickly issues, it's Schröder's forceful position over the China arms ban that has upset many.
"I don't support the chancellor on lifting the embargo," said Rolf Mützenich, an SPD foreign policy expert, who added he was at a loss to understand Schröder's stance. "Human rights is one part of it. For me it's also the danger of giving China weapons at a time of resurgent nationalism and disputes with Taiwan and Japan," he said. Mützenich added that instead of pushing for the lifting of the arms ban, the chancellor should insist on the code of conduct governing weapons sales to China binding in all 25 EU states.
Please continue reading to find out if "change through trade" can work