DW: Ms Koniordou, the Greek austerity measures seem to be working quite well. Your country has exceeded some of its creditors' expectations. For instance, instead of the agreed 875 million euros ($940 million), your country shows a budget surplus of 4.4 billion euros. In what ways has culture contributed to that?
Lydia Koniordou: Every single euro is put to the best use possible. We avoid wasting money. We try to save and to generate the greatest possible value with each expense. It's the first time that the balance sheets of the two national theaters in Athens and Thessaloniki are showing a surplus, even if it's modest. We're increasingly able to heed the public demands for higher artistic quality and the creation of jobs.
Problem solved?
No, not at all. There are plenty of problems, but at least we are addressing them. The Athens Philharmonic, which was nationalized a year ago, still has a good amount of leftover debt. A number of government departments are now involved in trying to find a solution to this issue. As the Ministry of Culture, we support this institution in its endeavor to improve how it uses its material and non-material resources.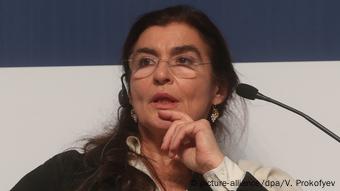 Greek Minister of Culture and Sports Lydia Koniordou
Meanwhile we have opened a new chapter with the state opera. With a reduced budget, the state opera is managing to create remarkable works. Furthermore, a restructuring initiative within the archaeological revenue fund will allow us to make use of incoming funds there much more quickly.
Can you imagine that until now, the cultural institutions that are under government supervision had no sort of rules in place at all, that there was no allocation of competencies? This is now changing across the board.
But this alone won't fill the funding gaps that the ongoing economic crisis has left.
The crisis poses a real challenge. It forces us not only to check our priorities but has also driven us to rely more on EU funds for financing culture and arts projects. Last year, we managed to successfully secure 94 percent of all EU culture funds that were allocated to Greece. That was a first.
Prior to the economic crisis, most cultural activities in your country were publicly funded to a great extent. Is it true that private foundations have had to become more involved in the past few years?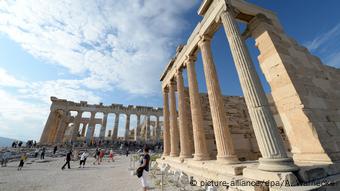 Greece has more culture to offer than just a visit to the Acropolis
Thankfully, there are significant contributions by foundations like the Niarchos Foundation. It has provided great assistance in terms of making its own infrastructures available as well as financially supporting both public and private cultural institutions. And the Onasis Foundation assists us in financing the renovation of the National Theater. There have also been other foundations that have shown their willingness to support arts and culture.
It is quite important that during this difficult time the spirit of the "great benefactor," dating back to the 19th century, appears to be revived.
Most creative minds in Greece are not directly employed by the cultural institutions run by the government, but are freelancers. What do you do to support this?
I don't have amnesia. Until two months ago, I was on stage myself. I know the cultural scene very well and I know its problems all too well. What young artists in particular manage to create under these extremely difficult circumstances is nothing short of heroic. To make art in this current situation is an act of resistance.
But to answer your question, the government hardly has the financial means to support the young cultural scene. What we can do, however, is, for instance, to provide spaces for artists for free so they can get to rehearse their pieces. We cannot have a creative vacuum in the coming years.
The 14th Documenta art fair is going to be held at two different locations this year. It will begin on April 16 in Athens for three months and continue for another three months in Kassel as of June 10. Its slogan this year is "Lessons from Athens." So, what can we learn from Athens?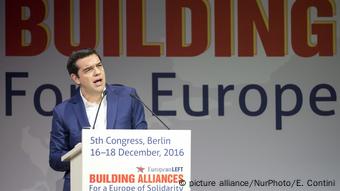 At the end of 2016, Greek Prime Minister Alexis Tsipras made Lydia Koniordou the Minister of Culture and Sports
Democracy. Look, around the world we are all finding ourselves at a crossroad. We are leaving an old era behind and are about to enter a new one without knowing where this journey will take us. But I believe one thing appears to be certain: That gift of democracy, which little old Athens gave the world in the 5th century BC, cannot be taken for granted.
You will always have to work for it. You have to remain vigilant so that social achievements remain intact and transparency dominates our ever-changing institutions.
Will the first installment of the "Documenta" in Athens highlight this?
There will be a number of events highlighting issues like democracy, liberty, acceptance of diversity. These events will feature a number of renowned participants. This will be one focus of the event. The other will be to highlight the work of young artists and look at what they have to offer. They will not only make their artistic contributions in museums but also in public spaces. Finally, we also try to illustrate that culture should not be seen in isolation but that it is part of social change or rather can even be the impetus to launch social change.
Lydia Koniordou, born in Athens in 1953, studied English literature at the University of Athens from 1971 to 1974. From 1971 to 1990, she studied German literature, music, Byzantine music, classical song, and kinesiology. In 1977, she graduated from drama school at the National Theater. Koniordou worked for 40 years as an actor and director at a number of Greek theaters. She became the Minister of Culture and Sports under Greek Prime Minister Alexis Tsipras on November 5, 2016.