Proceedings began Monday against nine prominent pro-democracy activists in Hong Kong who are facing charges of conspiring to commit a "public disturbance" and committing "public nuisance" that could land them in jail for up to seven years.
The activists were at the forefront of the 2014 "Occupy Central" movement, which merged with the student-led "umbrella movement." Together they took over Hong Kong's streets in a 79-day protest for free elections that rallied against Beijing's growing political influence over the territory.
Read more: China tightens grip on Hong Kong's pro-democracy movement
Three of the defendants, law professor Benny Tai, sociology professor Chan Kin-man and retired reverend Chu Yiu-ming, all pled not guilty on Monday.
Tai, a professor at the University of Hong Kong, told DW the charges have a clear political motivation.
"We may have breached some procedural rules by failing to notify the police under a public ordinance, but to charge us for committing public nuisance is to question whether we have the right to freedom of assembly," Tai said. "This clearly reflects the political motivation behind the prosecution."
Professor Tai, along with fellow protest leader Chen from the Chinese University of Hong Kong (CUHK) and the retired reverend Chu cooperated in starting the 2014 pro-democracy protests, which coordinated blockades of Hong Kong's business center and major roads.
Read more: Hong Kong lawmakers protest city leader over press crackdown
Chan said the trial is an attempt to purge the pro-democracy movement from Hong Kong. He added that prosecutors told him that supporters of the pro-democracy movement are now under investigation and could all face similar charges in the future.
"Once our case is established, it could be a great encroachment to freedom and rule of law in Hong Kong," Chan told DW.
Joshua Wong, a leader of the umbrella movement, said that Hong Kong's government is trying to create a chilling effect that will discourage people from joining mass demonstrations.
"This trial is another symbolic moment to that will make the world realize what's going on in Hong Kong," Wong told DW.
'This trial is part of our struggle'
While many consider the trial to be a test of Hong Kong's autonomy and freedom, Tai and Chan both said it provided an opportunity to demonstrate "resilience" against Chinese influence to frustrated pro-democracy supporters in Hong Kong.
Tai argued that it is normal for social activists to feel frustrated when change doesn't come quick enough. However, he said resilience is an important, nonviolent method that can change a system.
"What I can do through this trial is to show those who supported the movement before that there are people like us who are still willing to struggle," said Tai. "I hope that will encourage them to continue."
"Maybe what we do won't resonate with everyone, but there needs to be someone who demonstrates our resilience to everyone else."
Although the status of civil liberties in Hong Kong looks to be getting worse, Tai added that pro-democracy activists and supporters should turn voting into a form of protest. While winning more seats in district or legislative elections may not completely change the nature of Hong Kong's system, it can help slow down the erosion of freedom and autonomy.
Read more: Opinion: No end in sight in Hong Kong
"If they can have the majority of seats in the district or legislative councils, that will make it much harder for the Chinese government to interfere with Hong Kong affairs," Tai explained. "These nonviolent methods will be less risky, because they're not illegal. We can use elections and voting to continue our struggle."
Chan said he is pessimistic about his outlook for Hong Kong in the short term because China is backsliding under Xi Jinping's rule. However, he believes that there is still room for pro-democracy activists and supporters to take a defensive position and focus on strengthening Hong Kong's existing freedoms and rights. He considers the trial to be another chapter in the collective struggle for the pro-democracy community.
"As long as we are not defeated by the trial, I believe that we will become stronger and bring new life to the movement," Chan told DW. "We will stay strong in order to encourage people to carry on."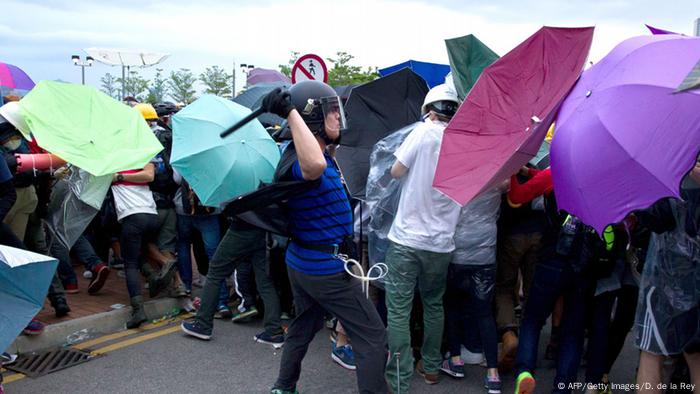 Hong Kong pro-democracy protesters clash with riot police in 2014
A 'coordinated attack' launched by China?
Sociologist Chan said the trial and a recent government crackdown on freedom of expression in Hong Kong is a "coordinated attack" launched by the Chinese government against protest movements.
He said Beijing wants to transform Hong Kong's society because the territory's administration has created a lenient environment in which intellectuals can influence young people. China has proposed a change in the curriculum of a liberal education system that has allowed students to develop critical thinking skills.
"They want to change people's minds as well as how people think," said Chan. "They want to change the core of Hong Kong's society."
Despite China's inroads in influencing a segment of Hong Kong's society through television and newspapers, Chan said the younger generation remains loyal to democracy.
He said youth are frustrated by the hardline approach to managing Hong Kong. However, their frustration also shows that the pro-democracy movement finds itself in a confusing moment.
"Young people are frustrated because they can't find a more effective way to materialize their dreams and goals," Chan told DW. "They need to be patient, since every movement has ups and downs. I hope they can consolidate and look for more sustainable ways to fight for their goals."