"I appreciate the way I've behaved with colleagues in the past has caused a lot of pain, and I sincerely apologize for it," Weinstein said in a statement sent to The New York Times after the story was published by the newspaper on Thursday.
The newspaper said Weinstein's alleged behavior goes back almost three decades and that he has reached private settlements with at least eight women, including celebrity actresses Rose McGowan and Ashley Judd.
Judd told the newspaper that she had been invited to Weinstein's suite at a posh Beverly Hills hotel two decades ago expecting a breakfast meeting to discuss business. But Weinstein appeared in a bathrobe and asked if she could give him a massage, she said.
"Women have been talking about Harvey amongst ourselves for a long time, and it's simply beyond time to have the conversation publicly," Judd told the US newspaper.
Two former assistants and an Italian model made similar accusations and allegedly reached settlements out of court.
Weinstein, who is married to English fashion designer Georgina Chapman, is a powerhouse in Hollywood and many of his movies have won Oscars, including "Good Will Hunting" and "The Artist."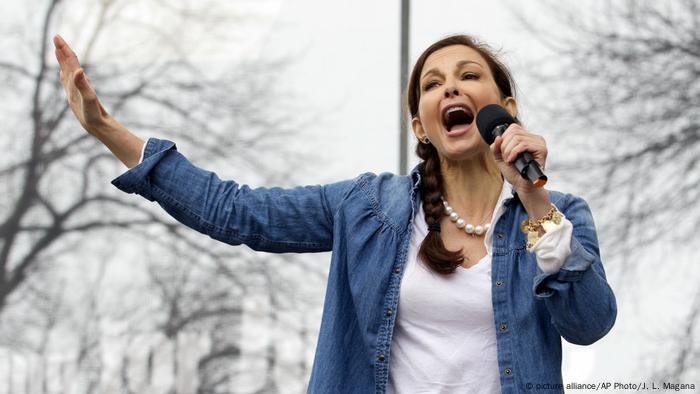 Actress Ashley Judd performs on stage during the Women's March rally, January 21, 2017 in Washington
The times a changing
In his statement, Weinstein said he "respected all women" and was "hoping for a second chance although he knew he had work to do to earn it."
"I have goals that are now priorities," he said. "Trust me, this isn't an overnight process. I've been trying to do this for 10 years and this is a wake-up call."
However, he also appeared to attempt to justify his alleged misconduct saying he had come of age in the 1960s and 1970s "when all the rules about behavior and workplaces were different."
"That was the culture then," he said. "I have since learned it's not an excuse, in the office - or out of it. To anyone."
An old dinosaur
The 65-year-old also denies many of the accusations as patently false, his lawyer, Lisa Bloom, said in a statement sent to the French news agency AFP. "He has acknowledged mistakes he has made," she wrote.
"He is reading books and going to therapy. He is an old dinosaur learning new ways."
Support for the victims
Many in the entertainment industry spoke out on Thursday in support for his victims.
"The women who chose to speak about their experience of harassment by Harvey Weinstein deserve our awe," actress and self-proclaimed feminist Lena Dunham said in a tweet. "It's not fun or easy, it's brave."
Ailing finances
The Weinstein Company has suffered from executive exits, lawsuits and increasingly unpredictable distribution decisions in recent years.
In 2016, the company didn't receive a best-picture nomination for the first time since 2008.
The Weinstein Company had a modest hit this summer with the acclaimed thriller "Wind River," an $11 million (€9.5 million) movie that has made $33 million.
The company's fall season awards hopeful "The Current War," with Benedict Cumberbatch, premiered at the Toronto International Film Festival to poor reviews.
Weinstein also executive produced five best picture winners, including "The English Patient," ''Chicago," ''The Lord of the Rings: The Return of the King," ''The King's Speech," and "The Artist," and garnered many nominations for his films and actors.
jbh/sms (AFP, AP)