The office of the French presidency confirmed late on Monday that sailor Florence Arthaud, boxer Alexis Vastine, and swimmer Camille Muffat (pictured above, left to right) had lost their lives alongside five other French nationals and two Argentineans in the crash.
"The sudden death of our fellow French nationals is a cause of immense sadness," President Hollande said in a statement released early on Tuesday in Paris.
Helicopter collision
According to local officials, two helicopters collided near to Villa Castelli, about 1,170km (720 miles) from Argentina's capital on at around 5.15 p.m. local time on Monday.
Both Muffat and Vastine were in their 20s - 25 and 28, respectively - and had participated in the 2012 London Summer Olympics. There, Muffat took home gold, silver and bronze medals. Vastine medaled four years previous in the 2008 Beijing games.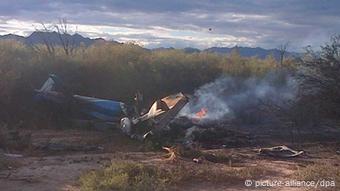 The 10 victims were about to film a French reality TV show
Arthaud, 57, had risen to international fame as one of the best sailors in the world. She won the prestigious Route du Rhum when she crossed the Atlantic solo in 1990.
Reality survival show
The three athletes were due to began filming the popular reality television show 'Dropped' for French television channel TF1. The program sees two teams of celebrities dropped into a remote location where they must attempt to find food and shelter.
Fellow contestant and former footballer Sylvain Wiltord tweeted his condolences on Monday evening.
"I am sad for my friends, I'm trembling, I'm horrified, I'm lost for words, I don't want to say anything," the former Arsenal winger wrote.
The deceased pilots in the crash were identified as Juan Carlos Castillo and Roberto Abate. The other five victims, who were also involved with the reality show, have been identified as Laurent Sbasnik, Lucie Mei-Dalby, Volodia Guinard, Brice Guilbert and Edouard Gilles.
Cause of crash unknown
Officials in Argentina are yet to determine the cause of the crash, which occurred during calm weather conditions.
"An explosion occurred and it's believed that they must have collided," the province's secretary of security, Cesar Angulo, said, as reported by the Associated Press news agency.
ksb/sb (Reuters, AP, AFP)