"I am a Social Democrat!" Francois Hollande stands before 600 journalists in the main hall of the Elysée Palace and persists with the point. Framed by heavy curtains and the French national flag, he addresses the New Year's press conference, always a major media event in France.
And it is also the president's chance to set the course. Hollande wants to talk about politics. And about the economic recovery. "I have a conviction. It is strong," he says. "If France wants to maintain her influence in the world, if she wants to continue to help make decisions in Europe, and if she wants to remain in charge of her own fate, then she urgently needs to find new economic strength."
'Elected with the help of the left'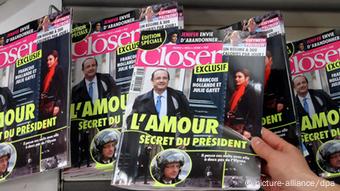 Hollande's alleged affair has dominated headlines
These 40-minute presidential monologues always serve the same purpose - to give the French renewed faith in their country's strength. But the way there requires nothing less than a radical change of course - less welfare, more market, more individual responsibility.
Hollande spoke of measures to stoke the economy, of cuts to the national budget and social services, and of a "responsibility pact," meant to lower wage costs for firms by some 35 billion euros ($48 billion). The pay-off which he promises is new jobs.
His positioning is clear, but the man with the Socialist credentials has no intention of losing his Social Democrat status. "I was elected with the support of the Socialist party and the left," he says. "Of course, I have always remained true to my convictions. Am I a Social Democrat? Yes! And this responsibility pact is no more than a social compromise. I haven't suddenly fallen into economic liberalism."
Saving till 2017
The president has been practicing this routine for more than two weeks now. In his televised New Year's address he made clear that 15 billion euros needed to be saved in 2014, and 50 billion by 2017. A new authority will be established to check every expense, called the "strategic expenses council."
"A lot of people will ask, 'why aren't you encouraging demand?' I will tell you: if all a left-wing politician did was to enlarge the deficit, then you'd have to describe my predecessor [conservative President Nicolas Sarkozy] as a left-wing extremist."
This press conference, a state-underpinning event, is certainly not intimate, but it offers Hollande a suitable platform for another issue that Hollande wants to promote in the coming year: Europe and its Franco-German engine.
"The initiatives for Europe must come from Germany and France," he said. "We have to cooperate economically and socially. Germany's grand coalition has just decided to introduce a minimum wage. That is a first step. We for our part have to balance our tax policy."
Energy transition
His next vision is a joint German-French energy transition. "Germany has a head-start in renewables, but we have our vanguard in energy storage and power grids," he said. "We have to work together to expand new industrial branches. We are very proud of Airbus, now we want joint action for the energy transition."
He also goes on to address common defense policies. "Close agreements between the chancellor, me, and our ministers" in all important issues are to create a French-German dynamic for Europe. "If we are capable of it," he adds, once again revealing the procrastinating Hollande.
And how is your girlfriend?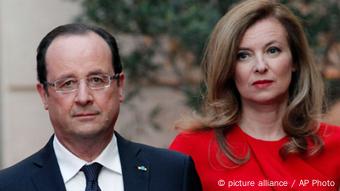 Trierweiler was admitted to a hospital with 'exhaustion'
But then the announcements of this year's new political paths are over, and the cold shower everyone had been expecting arrives. As soon as the floor is opened to journalists' questions, the first one comes: Will Valérie Trierweiler be accompanying the president on his trip to Washington at the start of February?
This is what is currently preoccupying France. Hollande's partner has been in the hospital for several days with "exhaustion," after a Paris gossip magazine reported an alleged affair between the president and an actress. "I understand you asking the question, and I am sure you will understand when I answer that everyone goes through trials in their private life. It hurts. But I have a principle: private business is dealt with privately."
In the footsteps of Gerhard Schröder
Then, the president returns to the more pressing issues of education, youth, and health. The conference lasts around two and a half hours altogether and Hollande steadfastly refuses to answer any personal questions.
That evening, media commentators will compare Hollande to Gerhard Schröder, and remind the French people that Hollande won power by promising a 75-percent tax on the rich and a southern European alliance against Angela Merkel's European austerity program.
Now, trade unionists have accused the president of declaring his own philosophy bankrupt. "This is his market-liberal coming-out," said Jean-Claude Mailly, head of the Force Ouvrière union. "Labor policy is now no longer his problem but that of employers. So we give them 35 billion euros and see what happens. This is a hasty lurch to economic liberalism. It is dangerous. He is the president of France! Not the business chiefs."