Berlin's Greens Senator for Justice, Dirk Behrendt, faced calls to quit Thursday from the city-state's opposition Christian Democrats (CDU) after an escape fit for a movie script.
It was a "worst-case event," said CDU spokesman on policing, Burkard Dregger. Behrendt replied that he stood ready to answer questions in parliament.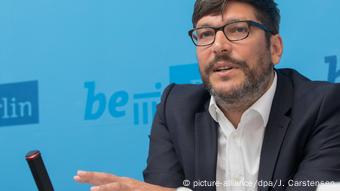 Behrendt: Ready to answer parliament's questions
By early evening, a large-scale search across Berlin remained fruitless.
Tools used
Authorities said the escapees had reported as usual for morning duties along with a dozen other inmates at the prison's automobile workshop under the oversight of three staff members.
Behrendt and prison director Uwe Meyer-Odewald said the quartet entered a heating room, normally kept locked, and used a heavy hammer to smash a reinforced concrete post in a ventilation slot. The metal rods were then severed using an electric-powered angle grinder.
The four — serving time for theft, causing bodily harm and extortion and aged between 27 and 38 years — then squeezed through the narrow opening and crept under the prison's outer fence, the officials said.
On screen but unseen?
The German DPA news agency said background images from a video camera focused on the workshop's entrance filmed the three-minute escape from 8.49 a.m. local time, apparently unnoticed by monitors in the prison's video surveillance center.
Meyer-Odewald said the alarm was first given at 9.30 a.m., adding that the workshop's angular, winding interior made it impossible for staff inside to keep all inmates in sight.
Behrendt said security precautions would be tightened, adding that an examination of Berlin's aging prisons for weaknesses was already in progress.
The city-state has six prisons with capacity for 4,250 adults, ranging from high security compounds to probationary day-release facilities.
Bleak history
The Plötzensee prison, located north-west of Berlin's city center, houses 362 inmates, according to official data.
On its fringe is the Plötzensee Memorial Center, where during World War II Adolf Hitler's terror regime executed some 3,000 people, including those involved in the failed bid to assassinate him on July 20, 1944.
ipj/jil (dpa, AP)